When planning your next conference event, it's always important to think of ways to add value for your attendees and promote your brand outside of the ballroom. While this can be done in many ways, one of our favorites is by planning conference events and parties. Conference events can be created in a variety of ways to create anticipation and buzz around your brand or event.

Today, we will talk about what goes into conference events and parties, and which type will work best for your next event. We can promise you all of the options below will build excitement and increase brand awareness so that you can take your brand to the next level with your attendees. Let's jump in!

Reasons Behind Conference Events and Parties
Before we talk about the importance of having a purpose for your event party and the overall theme of your event, we want to focus on why these additional events and parties matter for your brand. It all rolls down to marketing and building brand awareness.  Providing additional conference events and parties to hype up your attendees and build excitement will create loyalty.
The 2016 Experiential Marketing Content Report states "Seventy-two percent of consumers say they positively view brands that provide quality event content opportunities and experiences. A larger percentage of consumers (74%) say engaging with branded event marketing experiences makes them more likely to buy the products being promoted." Like we have said many times before, the purpose for creating events is to not only bring in revenue but create life-long attendees.
Have you ever wondered why so many roller coasters have that one hill or that one loop that everyone seems to talk about? Engineers create that one dramatic piece to be the highlight of the ride so that the people can't forget it, and that's the same thing you can do for your event by adding a specific highlight event party.

Create a Buzz
The next reason is to create a buzz. Everyone likes to feel special and with arrival parties, you can make everyone feel special by creating a striking party that will kick off your event. There's no better way to lead into an arrival party other than a unique grand entrance. Have your attendees walk a floral designed hallway or a red carpet where people can take photos to share across their social media platforms. Remember, creating a buzz at your event involves personalization and a distinctive theme that will stand out from the rest. Create a hashtag so they can share the love and promote your product.  

Ideas for Your Next Conference Events
When brainstorming ideas for your conference events, make sure to put your content marketing hat on. The 2018 Event Marketing Benchmark and Trends Report stated that 91% of successful businesses focus more on their live events for content marketing rather than the average business. Think of the purpose of your event. If the purpose of your event is to sell a product, who is your target audience? What interests them? Set specific goals for your event and think of ways to meet each goal. If the purpose of your event is to build clientele, then who are you trying to hook? What keeps your current attendees coming back for more? It's important to find purpose first and go from there.
Set the Purpose
The purpose of the event is what you will pull everything from. If you are struggling to think about the purpose of your event, think of what you want your attendees to remember about your event. Why are you even having the event in the first place?
We would suggest you create a mind map with the center being the purpose of your event and the arms your creative ideas that support your purpose. The purpose of your event is essentially the main idea that will be the center for all of your event goals and what your brand strives for in order to succeed and grow.
Pick a Theme
Next, think of the theme of your event and how it can connect to your conference events and parties. What colors, shapes, or logos do you want your attendees to see displayed on the walls, tables, and throughout the room that connect with your brand? The theme of your conference events and parties should always connect to the launch of your product, a specific campaign or marketing goal, but also relate to your attendees and what they enjoy. After all, if the event doesn't resonate with your attendees it will be a flop.
Also, think of ways to incorporate virtual reality or gaming experiences as we are using technology more than ever. Especially if you implementing experiential marketing, you will want to look into additional ways to experience your product other than seeing it on the table. The use of audio and visual presentations heightens senses and sells product. You could even create a product demo in VR that will allow guests to try out your newest creation.
During the event, offer swag bags that are filled with items that represent your brand and help to sell your product. Swag bags are often handed out before the launch of a product so that only a select amount of people can test the product out before it's available to the general public.  If you are not selling a product, think of things that could go into the bag that are useful and relate to the theme of your event. Over-branding the bags can come off insincere so be careful and make them valuable.
If you market the conference events and parties correctly by putting in the time and effort, it will pay for itself.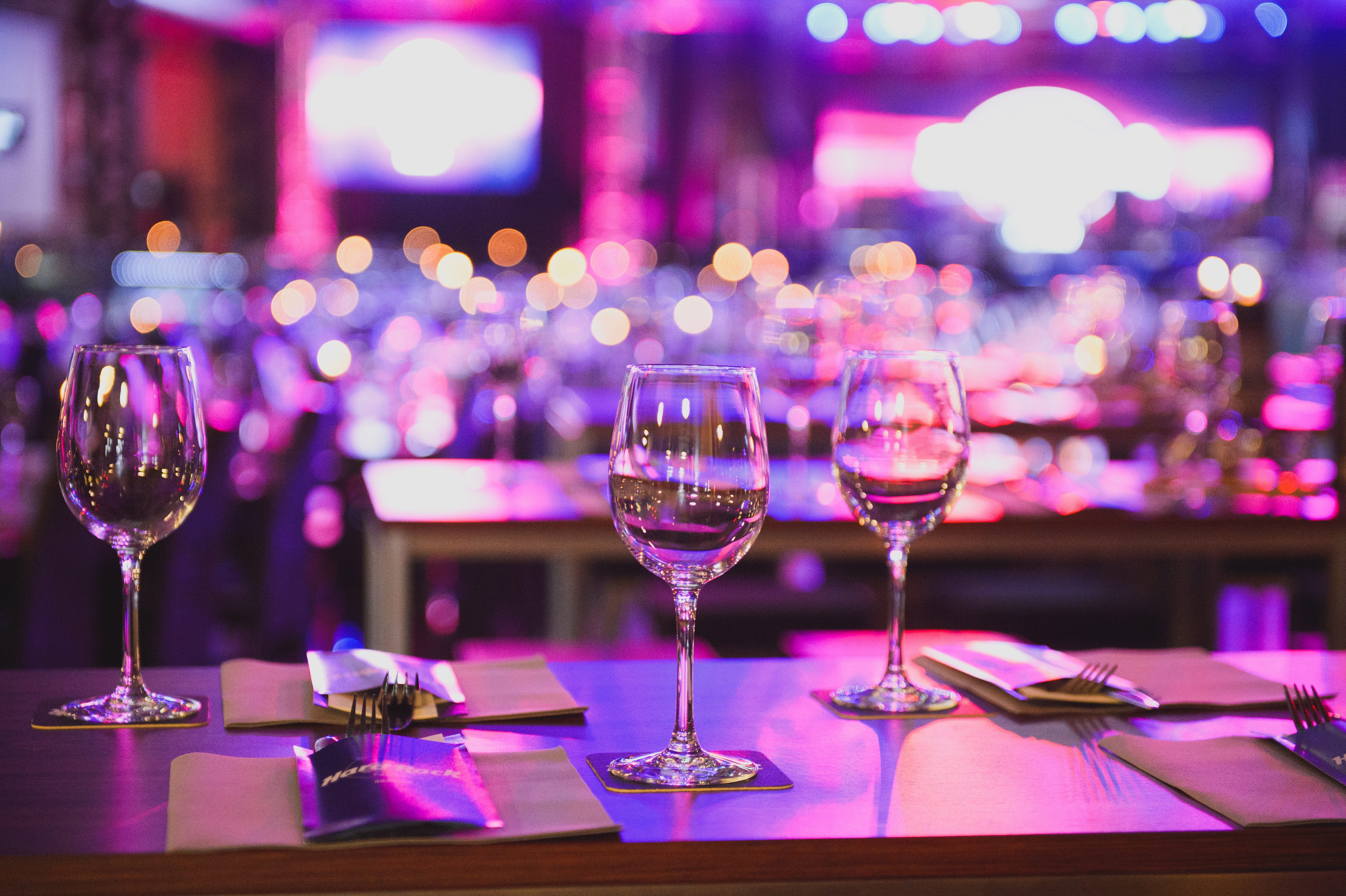 Types of Conference Events Outside the Ballroom
There are two different types of conference events that you can create outside of the ballroom. Both revolve around gathering specific networking attendees that will promote the product or brand by attending your event. Those two types of events are experiential marketing events and brand activation events.
Experiential Marketing Events
Experiential events are events that market to the attendees by establishing a theme, entertainment, and experiences that highlight your product or brand. With experiential marketing, you are focusing on a wide audience of attendees to view your brand and/or product to hopefully expand your clientele and continue to hook buyers. Through experiential marketing, you are keeping the attendees engaged throughout the event and allowing them to participate in the experience. This all can be done by creating experiential strategies that would be used during the event.
Lean Cuisine's #WeighThis
There are wonderful examples out there of experiential marketing, one being Lean Cuisine's event titled, #WeighThis. Their strategy was to take physical weight out of the equation. The attendees were able to weigh themselves based on their outlook on life, their personality, their accomplished goals, and/or their profession. This strategy allowed their attendees to participate in the event, which made it personal, which then built a connection between the brand and the person.
The results of this event were outstanding, to say the least. "The campaign garnered more than 211 million impressions and was featured across 680 media placements." The results came from experiential marketing and virtual technology. Creating an event party that centers around experiential marketing is no easy task, but by doing so you will easily gain life-long attendees. Overall, by adding experiential marketing strategies to your event you will need to be clever, unique, and model participation.
Brand Activation Events
The second type of event is a brand activation event. The difference between experiential marketing events and brand activation events is that brand activation events are more exclusive and limited to only select attendees. The phrase uses the word activation because the goal of this type of event is to activate all of your attendees' senses. To make your event exclusive you will want to make sure you are catering to all of your attendees by researching what they love. You could send out a survey or poll your audience to see what their interests are. With our fast-paced world and technology being the ultimate connection, you can quickly gather information that will positively impact your event.
The 2017 Experiential Marketing Content Report claims "50% of consumers capture and share between two and five photos, videos or social posts; and 14% share more than six posts. " Once you have your list of attendees and their interests in mind, it is important to find a unique space. Think of ways to keep your exclusive guests actively participating throughout the entire event. Keep in mind when using brand activation events you will need to come up with ways to spread the word through social media by creating a hashtag.  
Funko Fundays
A great example of an annual brand activation event is Funko Fundays. Funko is a well-known brand which creates pop culture collectibles such as vinyl figurines and bobbleheads. Every year at the iconic San Diego Comicon, Funko has an annual party that is highly anticipated, Funko Fundays.
Tickets for their annual event are extremely coveted and hard to get ahold. The event boasts exclusive giveaways and celebrity appearances and their fans can't get enough. Excitement fills the streets surrounding the event and intense energy fills the space. Life-size statues and games engulf the hallways of the event.  When you walk through the event space suspense fills the air while attendees hope to win big with their giveaways and top-secret surprises. Everywhere you look is colorful lighting and design that pumps up every attendee and mimics the exact feeling of intensity and pure joy that you see on every face. They plan this event meticulously to activate their brand, engage fans and build brand awareness and reveal new products.

What types of conference events should you have?
Pre-Parties
Pre-parties suit both experiential marketing and brand activation events. They work best when you are wanting to display a new product or when you want to promote your brand before the actual event. Pre-parties take a lot of work, so it's best to work as a team. Break the event into departments that cater to your event and specific attendees. With that being said, the social media department should work on marketing the event and finding the best attendees to invite.
The attendees that should be at this event are ones that love attending pre-parties, are social, and will instantaneously spread the word typically early adopters. The design department should work on the theme and place for the pre-party which should relate to your event but add enough hype that will activate their senses and leave them wanting more. You can do this by making sure the theme of the party relates to the overall purpose of the event and connecting all of the senses back to the theme. If you are unsure on what should be included at your next event, click here for our event planning checklist.

Arrival Parties
Arrival parties work best when you keep experiential marketing in the forefront of your mind. You can do this by keeping in mind the theme of your event and making sure it connects to the theme of your party. At arrival, parties make sure to find ways to entertain your attendees. This is the time to set the feel for your event. Creatively find ways for attendees to participate in the party and decorate the room to highlight the mission of your brand. When thinking of rooms to host the arrival party, think small. The smaller the room the better for two reasons: intimacy and buzz. Depending on the size of your event you could plan for an arrival party or arrival dinner. There's no better way to foster engagement and build connection than to create a fabulous arrival party for your attendees.
An Intimate Environment
The smaller the party space the more reason to connect with those around you and network around the event, building intimacy.  Focus on what's on the walls, the lighting, and the sound of the event, if you aren't sure what you need to enhance your vision make sure to talk to your AV company, they will guide you Use the importance of engaging the senses to guide the brainstorming of your party. Leave the chairs behind to allow people to mingle together and connect through your event.
Make your arrival party exceptional by including formal waiters, specialty drinks, and live entertainment. Live entertainment can include dancers, actors, comedians, and musicians. It doesn't necessarily mean you need to book a band. You need to find entertainment that will create a buzz around your brand, your event, or even hosted city.
When creating event parties, validity is key. With social media driving our minds and our emotions, every detail should be unique and be an experience that your attendees will remember. It's a guarantee that a unique experience will be a remembered experience.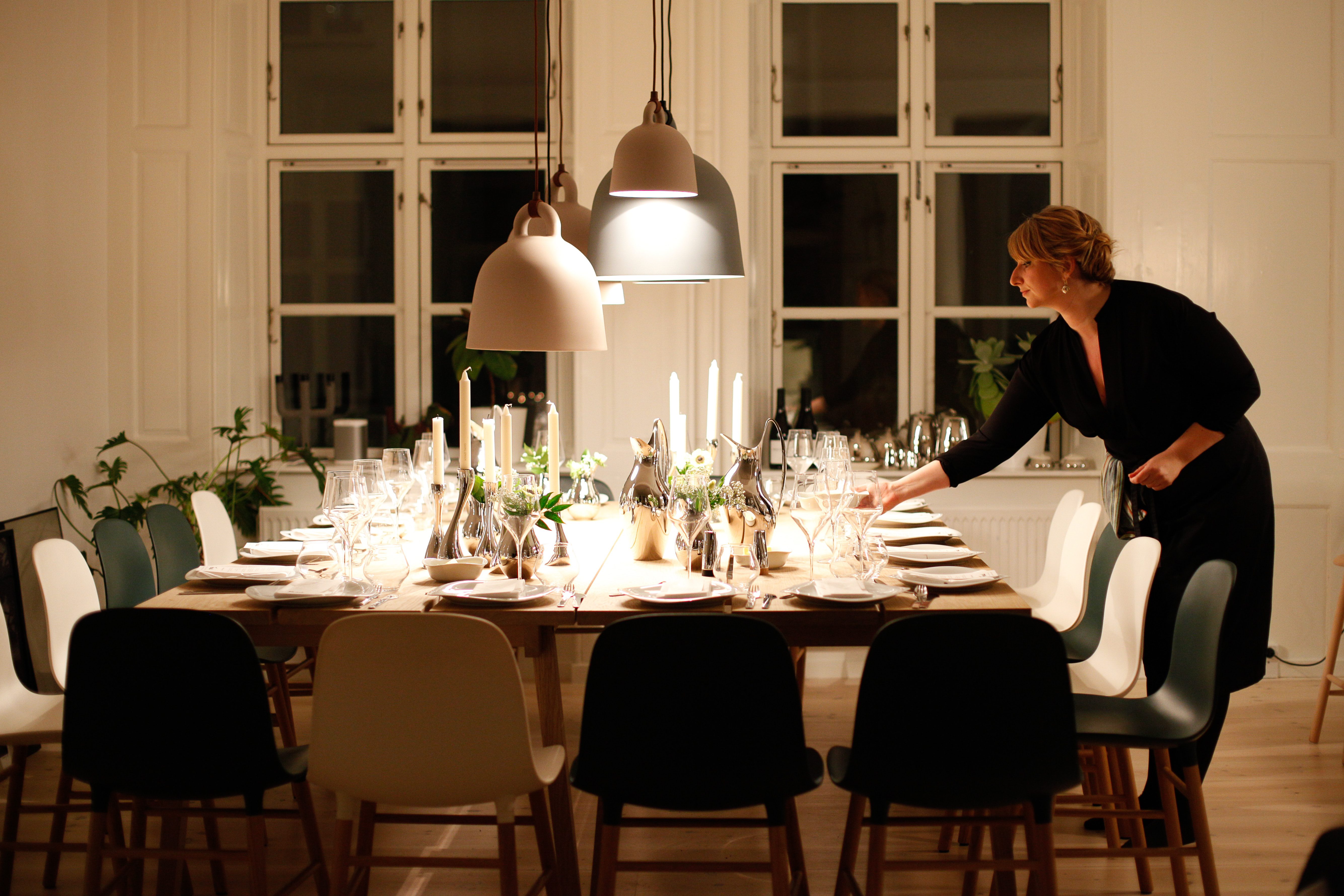 Intimate  Dinners
When planning an intimate dinner party, keep in mind the word intimate. Intimate dinner parties should be for top clients or top performers of your brand. You want to keep the guest count under 30 for proximity and paramount discussion. Keeping the number of guests on the smaller side will allow you to network and discuss industry topics with your guests. You can incorporate participation by allowing your guests to be the chefs and letting them be involved in the process.
Keep in mind with conference event parties, the goal is to create a memorable experience that will highlight your brand. If cooking is too much involvement, make sure to include a monumental moment that will set the experience as a memorable one. Many event planners invite a celebrity to be the highlighted guest of the night to woo the attendees. When planning an intimate dinner make sure you think of the atmosphere and the lighting. You wouldn't want to pick a place that is too large or too loud that would distract your attendees from what's important.  Lastly, think of the food that will be served. As technology is growing, people are becoming more worldly and most love to experience new things and challenge their palate.

VIP – Black Tie Event
This is where you lay it all out on the line for your top clients. Of course, we all want more clientele, but we all know that our top clients are our most important clients. They deserve an out of this world experience. Create a VIP party for only select attendees will not only make them feel special but create the buzz. First, start by designing an invitation that is personalized and colorful. Hire exclusive entertainment that will only be at the VIP event. In order to blow your attendees minds, nothing should be ordinary about this event. If your event space has room, it would be fun to have the event in a hidden room or speakeasy. VIP events should focus on.
After-Parties
The celebratory ambiance that flows throughout after-parties is what we all strive for. You can create this by focusing on entertainment, food, and an exceptionally unique environment. With this conference event party, in particular, it's not so much for experiential marketing as it is for giving your attendees time to network. For entertainment, you could go two ways. The first way would be to focus on the area around the event. Inviting things from that city to be a part of the celebration. For example, if your event is in New Orleans, you could include palm readers, jazz musicians, and Cajun cuisine.
The second way would be to promote your brand possibly with giveaways and sellers to end your event with a bang! After parties are important to not only celebrate all of your hard work but to create a lasting experience for your attendees. For marketing, after-parties are the last chance to sell wavering attendees on your brand and product. When brainstorming the framework for an after party, think about what you want your attendees to remember. Do you want them to remember the first day of your event OR the first day AND the last day? This is when many of you will seal the deal.

Conclusion
All in all, conference event parties are to create anticipation, buzz, build excitement, and increase marketing.  Before the event, brainstorm the purpose and theme of the event. Focus on finding a place that has the right atmosphere and energy. Think about the size of the room, the music in the background and the yummy food you will serve. To keep attendees actively involved, incorporate virtual technology and gaming. Overall, create an area that is dedicated to your product but also your attendees.  
What will you add to your next conference event party to create a moment your attendees won't forget?