What is Event Technology?
Enhance your next event with technology that allows your audience to take action! As Einsteins of Events, our goal is to create the equation with platforms and tools that lead to key insights to best evolve your event strategy.
Event technology helps you capture insights along every step of your stakeholders' journey, tracking and logging actions in a central ecosystem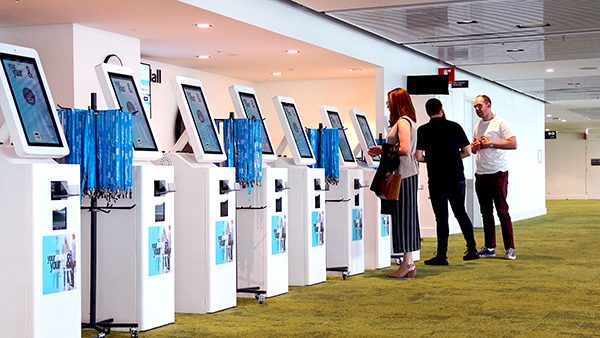 Start your attendee's journey by directing them to an event website and registration form to explore information about the event and choose what path they want to take. Offer a touchless check-in experience and choose your method for conducting on-site health screenings to ensure guests' comfort and wellbeing. Design a badge that connects them to others and the venue through attendance tracking and lead capture.
Learn About Audio
Event Platforms & Mobile Applications
Full Suite: A branded experience with multiple tracks, live chat, Q&A, exhibitor and sponsor booths, 1:1 video meetings or group meeting rooms, gamification, artificial intelligence recommendations, activity feed, and an advanced analytic dashboard.
Virtual Lobbies & Venues: Design the virtual venue that immerses attendees at every turn. Allow your partners to design the most custom booths in 2D, 3D, or mixed reality.
Event App: We help you implement a traditional event app, white-label your own app in the iOS or Google Play stores, or custom-develop the solution that best suits your needs.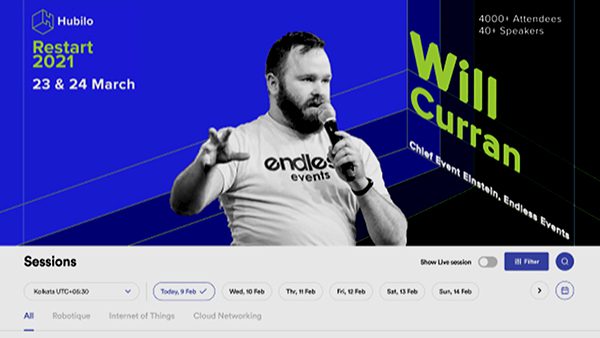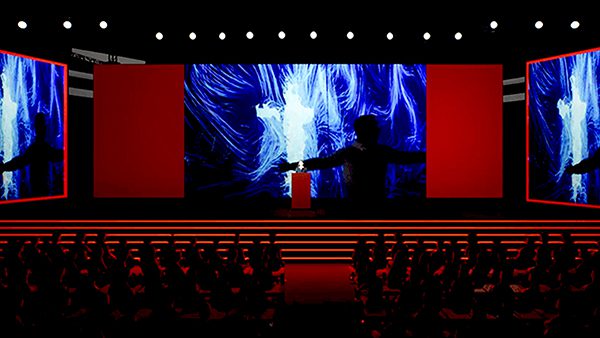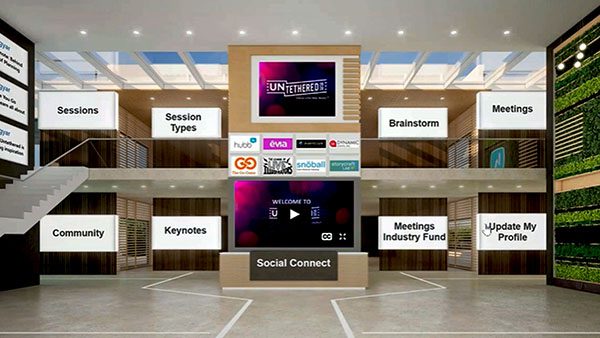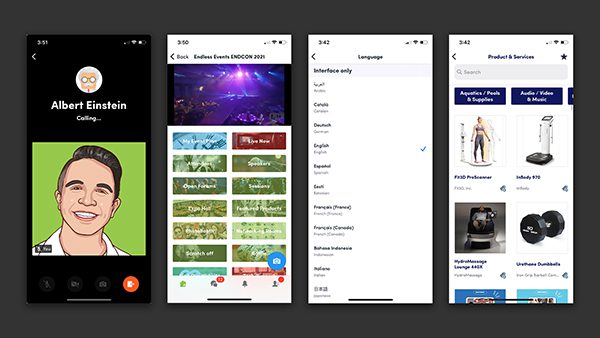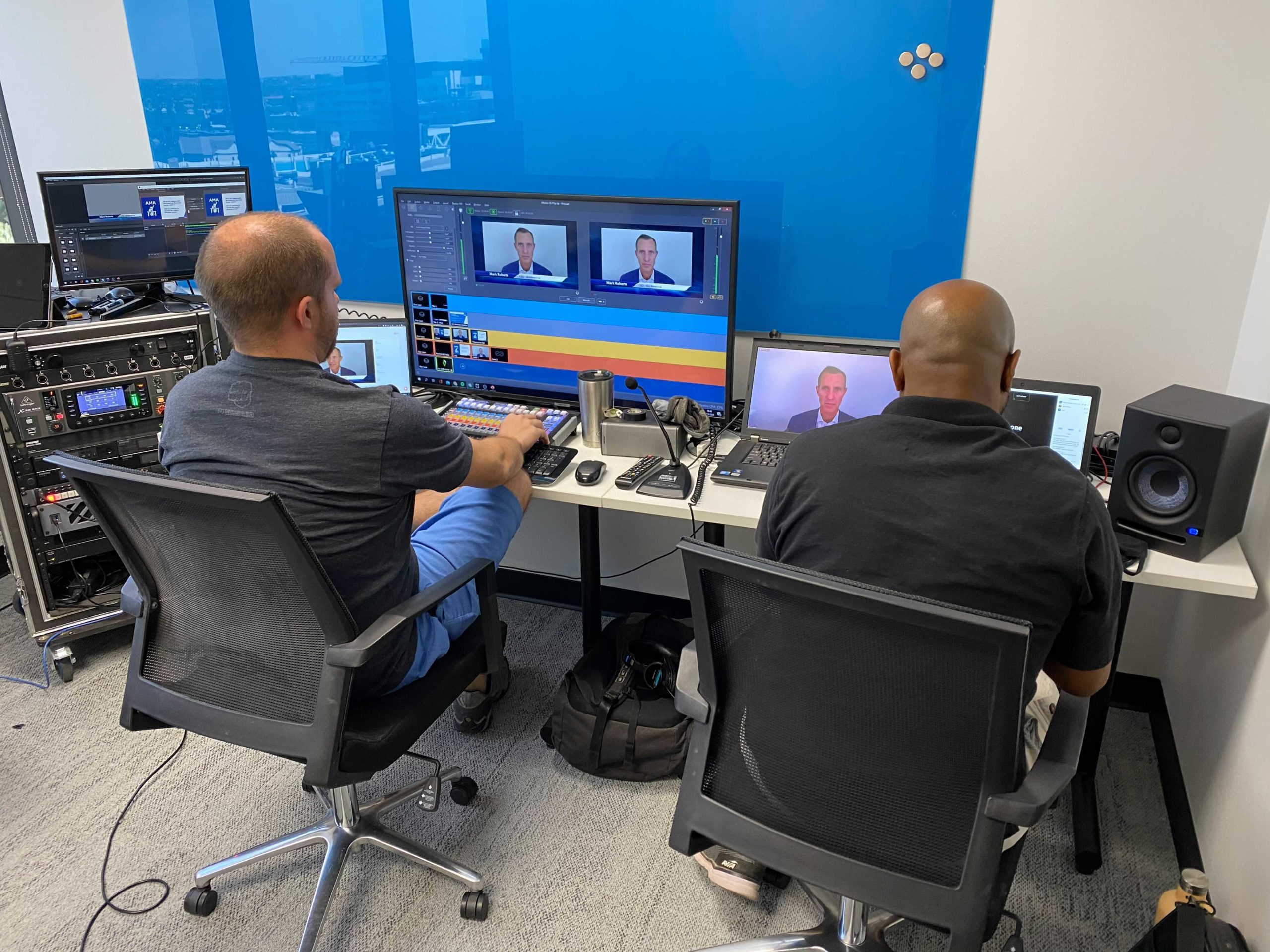 Platform Implementation & Testing
There are so many event platforms out there – and we can help you pick the perfect one for you! Our team designs and constructs your event platform especially for you and guides you on the features that fit your format best
Integrations: Is your event platform missing a feature necessary for your event? Looking to connect your analytics to your CRM like HubSpot, Salesforce, or Marketo? Look no further! We integrate features and tools into many systems.
Keep your community connected and engaged while they wait for your next big event! Launch a 365-day marketplace or event hub that connects your individual webinars, events, and networking opportunities together.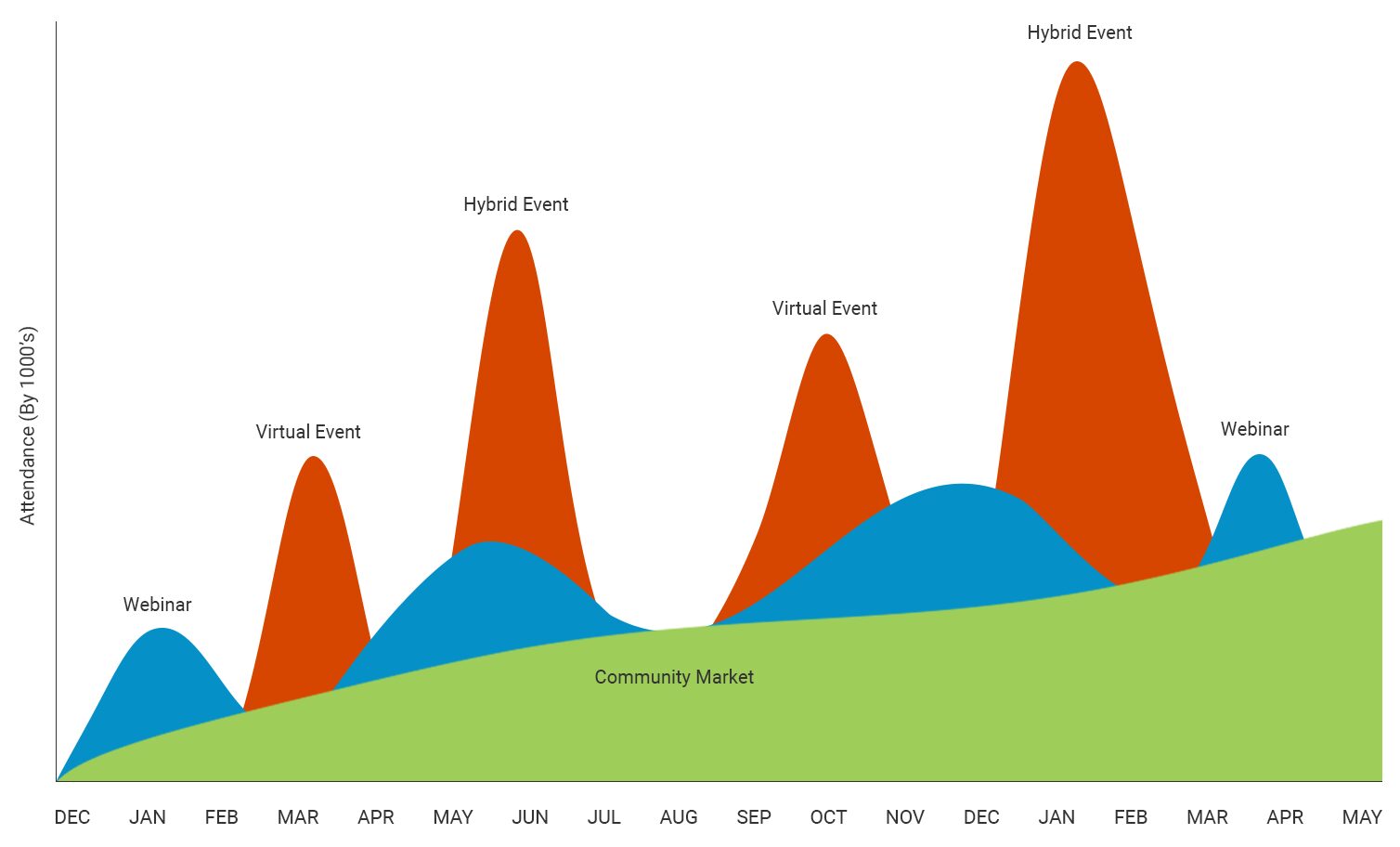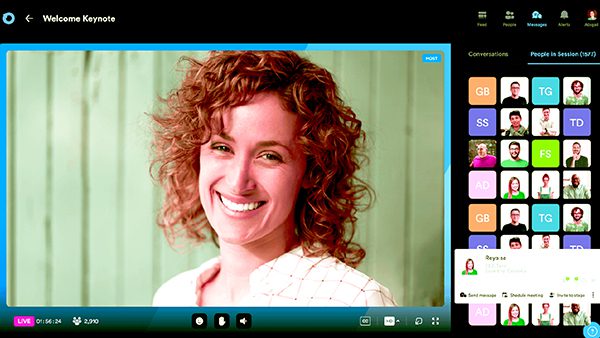 Webinar, Internal Meetings & Video Networking
Let even technology help you in your fight against webinar fatigue! Spotlight your speakers and allow your audience to come up on stage in innovative and unique ways. Connect attendees from around the world and share ideas in fireside chat rooms and free-moving environments.
Whether in-person, virtual, or hybrid, allow your attendees opinions to be heard through audio and/or video participation, polls, quizzes, word clouds, and interactive challenges. Audience engagement options are endless! Incorporate a performance, comedy night, tasting, virtual run, challenge, or scavenger hunt at your next event.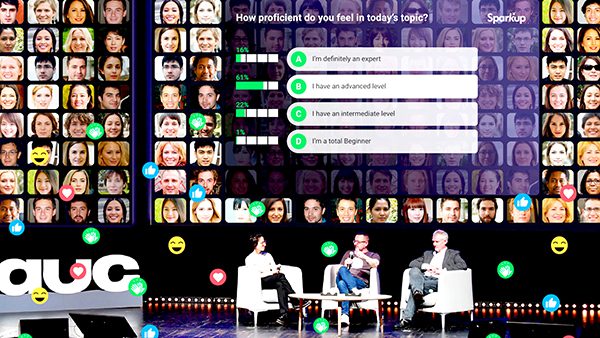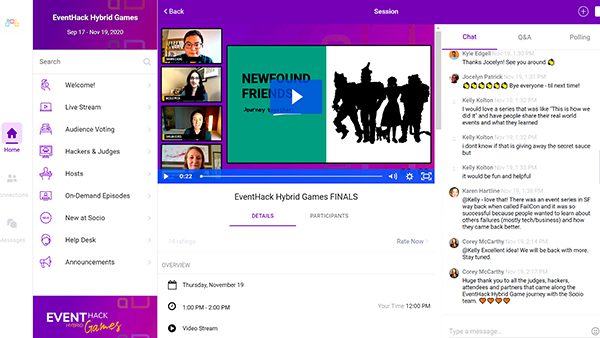 Live Streaming Players, Video Storage, & Playback
Our ability to stream up to 4K video offers transcoding for global audiences who have varying internet connections. We support your event by offering interpretations and captions in over 100 languages, video players for lead generation, a live stream TV app, and more.
Technology Care & Event Support
As your trusted event technology partner, the Endless Events team is here to support you on every step of the way. We are glad to share our enablement resources and tutorials with you! As we build out your event technology, we offer attendee, staff, exhibitor, and presenter trainings.
Virtual help desks assist attendees during registration or in the platform and the event app. Our moderators and technicians work onsite and on the platform to support your presenters, partners, and guests.
COVID-19 Compliance: We provide Safe & Sound Technology onsite to ensure everyone feels safe and comfortable throughout the entire experience.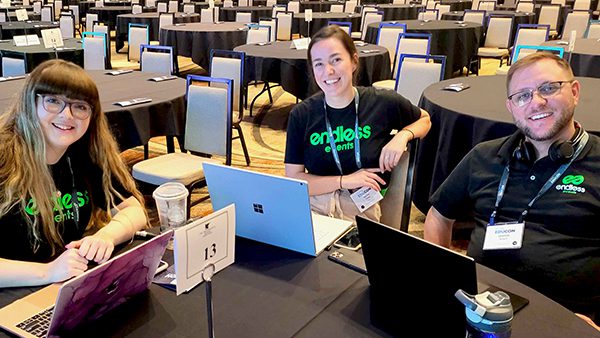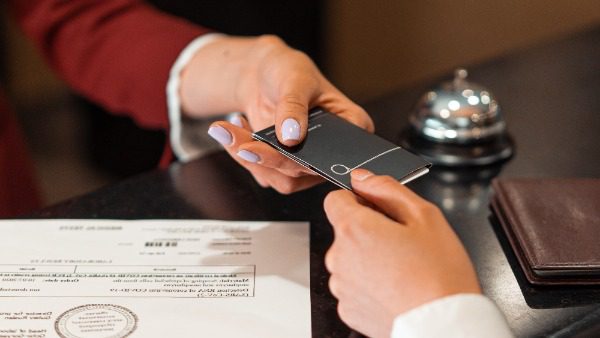 Housing Registration and Reporting
There are many ways to make the most out of housing for your event. We don't see this as the basics, but instead an opportunity to brand your event at every inroad. Make checking in seamless with beaconing, and utilize housing reporting systems to track important metrics such as attendance and lead retrival.
Optimize your event and your post-event with hybrid enhancements! Event platforms, apps, and hybrid enhancement take your event to the digital sphere. Host digital events, allow for additional networking, and collect analytics all while enhancing attendee connection.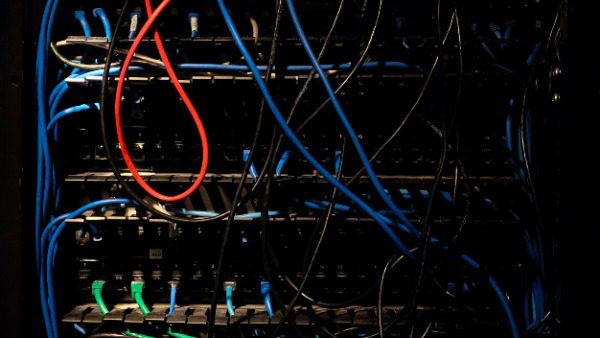 Ensure a perfect connection for everyone. Event internet requires different parameters than your everyday connection. We manage Wifi, connection, bandwidth, and speed, and can even harness event internet as a sponsorship opportunity.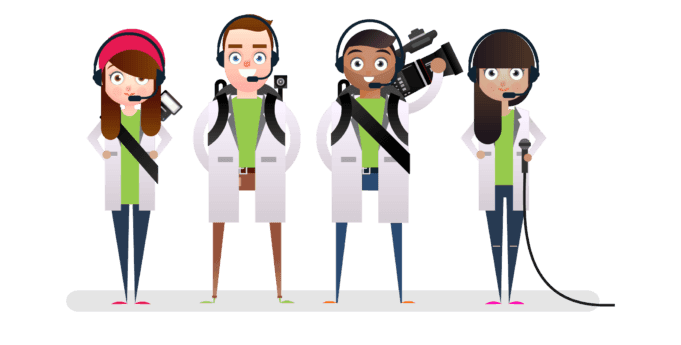 Need event technology for your next event?
Schedule a meeting with our team to sit down and discuss all of your event technology needs to seamlessly create your event ecosystem.
Schedule A Meeting
After lots of research, Fourkites trusted Endless to turn their annual customer conference into a full-on virtual event.
About six months ago, we realized we weren't going to do a live event, in-person, in a hotel ballroom. We were going to do a virtual event. So, we started scanning around looking for the best of the best company to partner with. And after a very long search, we chose Endless.

Steve Rotter

CMO, Fourkites