Even though digital experiences are our industry's bread and butter right now, some doubts still linger. Because everything is so new, that's more than understandable! And one of the biggest question marks we've noticed pertains to a virtual event RFP. In the past, these were pretty straightforward. But now that the rules of the game have completely changed, how are organizations supposed to go about the Request For Proposal process?
If that's something you've been thinking about, you've come to the right place. The Endless team is happy to introduce a comprehensive guide of what you should include in your virtual event RFP. But that's not all! You can download your very own copy of our Excel template, which includes everything you need to outline your requirements and compare potential vendors. Keep on reading and don't forget to get your hands on our exclusive offer!
Virtual Event RFP: What To Include?
As you read through what you should include in your virtual event RFP document, some things will be very familiar. In reality, the structure is similar to what you'd see with any other Request For Proposal. So the major differences are related to what you want the vendors to offer. Let's get to it:
Company Overview & Background
First things first, it's still important to give an overview of your company. What does the organization do? What are its values, goals, and message? And what do the voice and marketing look like? With any event, sharing as much as possible about your organization, what drives you, and what image you want to show the world (and your stakeholders) is paramount. This will help the vendor understand whether or not they are a good fit for you and the project they're undertaking.
Event Purpose & Goal
Every time we discussed the process of event planning in our articles, we've stressed the importance of establishing a clear set of goals. Because we can't start building a house from the ceiling down! The objectives of your event will dictate everything, from the choice of platform to the marketing strategy, engagement features, and more.
And when it comes to the virtual event RFP, defining these goals is just as important as sharing your organization's background. In fact, think of them as complementary. How will this event support your company's goals? And in what way does it fit into your overall strategy? Understanding all of these things helps the potential vendors craft the most personalized proposal, that will support your organization in the most well-rounded way possible.
Additionally, make a point to provide your attendee personas. As a production company, we far too often hear things like "our attendees are old, they need an easy to use platform". However, your vendors really need detail behind that description in order to understand how to craft them the perfect solution.

Description
Get your spreadsheets out and build out that event agenda. From the most basic things, such as date and time, to the description of each session, don't spare any details. Be as thorough as possible describing what will happen during each overall session and specific timeslots, as well as different virtual rooms.
Remember to provide more written details alongside the excel agenda. For example, on the 23rd of July, at 9 AM we will host our welcoming and introduction sessions. Every room available will include a different topic of discussion, while the activity room allows the audience to get acquainted, network, and have a more relaxed moment. The meeting room is private and dedicated to our most important stakeholders. Speaker X, Speaker Y, and Speaker Z will conduct sessions in the Main Room, Room #2, and Room #3.
Timeline, Budget & Communication
Describe the timeline of the project – up until when are you accepting proposals? How long will each step of the planning process, the event itself, and the post-event tasks last? Include these details in your virtual event RFP, along with the budget you have available for the project. Additionally, make sure you specify a communication plan or meeting plan. How often do you want to meet with your vendors? Weekly? Once a month?
The vendors need to know what you're working with in terms of money and whether or not it corresponds to your requirements. But they also need to be prepared for how often they're expected to be in contact with you throughout the process.
Vendor Qualifications
This is the section where you'll describe what potential vendors must submit in order to be considered. This should include:
Profile: Description of the organization, previous examples of experience in the field, references, testimonials, and resources that will be assigned to this event.
Specific needs: What will it take to make your event happen? From production to the platform to marketing and branding, this is where you outline everything you need the vendor to provide. Not all virtual events are made the same, and depending on the budget and goals of this project, you'll require different things. This is where our virtual event RFP template will come in handy!
Culture: The same way the values and culture of your company are significant, so are the ones of potential vendors. A culture mismatch can give way to serious issues along the way even the vendor can supply everything you need from a technical standpoint.
Subcontract vs In-House: It's fine that some things are subcontracted, but you, the planner, need to identify which elements you are okay being subcontracted vs which need to be 100% in house.
Planner will provide: The point of an RFP is to be as specific as possible with your needs and requirements. Don't keep the vendors guessing about whether or not they will have to do something like graphic design or video editing. If there's something you will provide, make it clear so nothing comes up at the last minute!
Virtual Event RFP Template: What You'll Find
Once you download your own copy of our virtual event RFP proposal, you'll find three separate excel sheets that will serve you in different ways. The first sheet will be your best friend when it comes to specifying your needs and requirements. From registration to user experience and networking, you can choose the solutions you need, remove the ones you don't want, and add rows as necessary in order to tailor the sheet to your needs.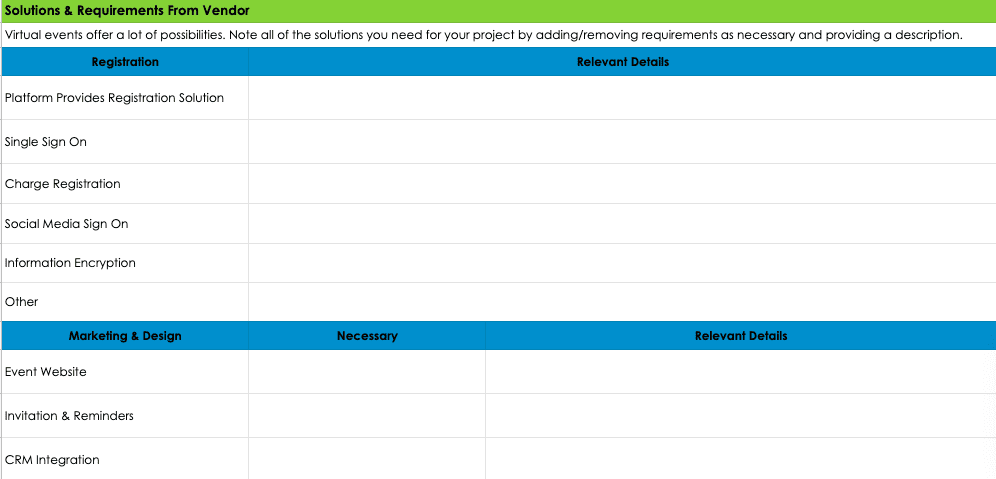 The second sheet is the one you can share with potential vendors. It includes all the same requirements as the one in the RFP, and it's up to each bidder to describe whether or not they are able to deliver on all fronts.
Finally, the last sheet is a matrix that allows you to compare what each vendor is able to provide, as well as a notes section and final price proposed by each of them. Here's a quick sneak peek (make you sure you download your copy to get full access!):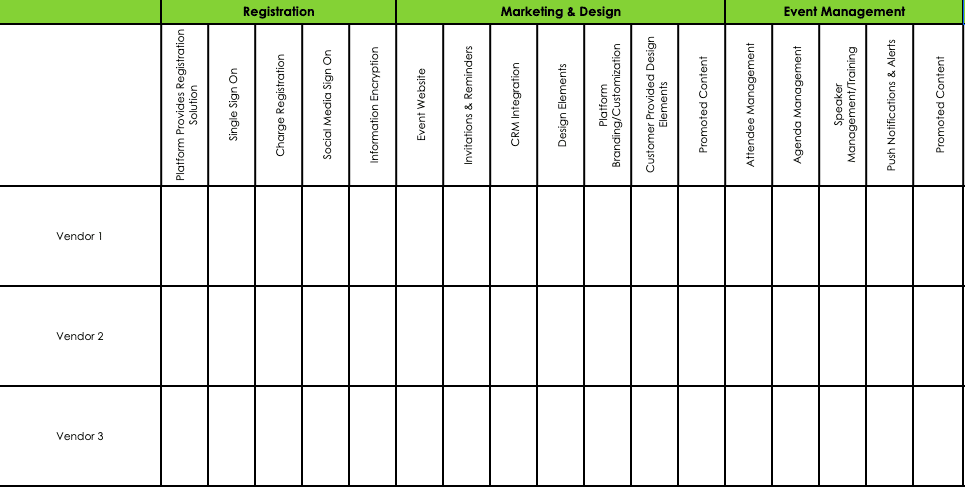 Conclusions
This virtual event RFP will take you one step further in the planning process. But if you're still not sure about what exactly your needs are or what solutions will best fit your virtual event, feel free to reach out to us. The Endless team is here to help you!
In the meantime, go ahead and download our exclusive offer. Whether you already know exactly what you want or want to get a more specific idea of the solutions that can be provided to put together a digital experience, this template will be your new best friend. So get your own copy and happy RFPing!