If you are an event planner, you know that outdoor events and festivals have been, and continue to be increasingly popular venues choices. This is why we included unique outdoor venues in our 2018 event trends. While our trend guide listed unique event venues, we are breaking them down into two sections for an in-depth look indoor and outdoor. Today's blog is dedicated to unique outdoor venues, part one of a two-part series for unique and memorable event venues.
From natural parks and outdoor amphitheaters to waterfront beaches, is sure to make an unforgettable experience. This is why we named making your next event at a unique and memorable is one of our top venue event trends in 2018.
Let's take a look
Following along with our 2018 event trends, we have decided to highlight some of the worlds most unique and memorable outdoor venues. But how do you pick the right venue? Sure, you can look at location and atmosphere but that's not enough. How do you ensure the venue suits the personality of your event? Well, let's begin with this; your venue is important. If the last few years in event trends have taught us anything it's that people want an experience, they want an escape from everyday life. Sure the traditional concert halls and hotels are great (if you are going this route check out our unique convention layouts that will spice up your typical venue), but did they give your event that WOW factor? What exactly do you need to do to have the wow factor? Let's take a look at EDC Las Vegas and all of Insomniac's events. They have set the bar for unique and memorable event venues. Why? Because all of their events, whether in LA or Sin City, are outdoor, breathtaking, unique spaces.

What Makes A Unique Outdoor Venue
Well for starters, it's something that is out of the ordinary. When you are sourcing for a unique outdoor venue you want to think outside of the box. As soon as you've decided you want to take your event to the next level by having a unique space, you'll have to begin sourcing. Ideally, you'll want to search by either location or environment.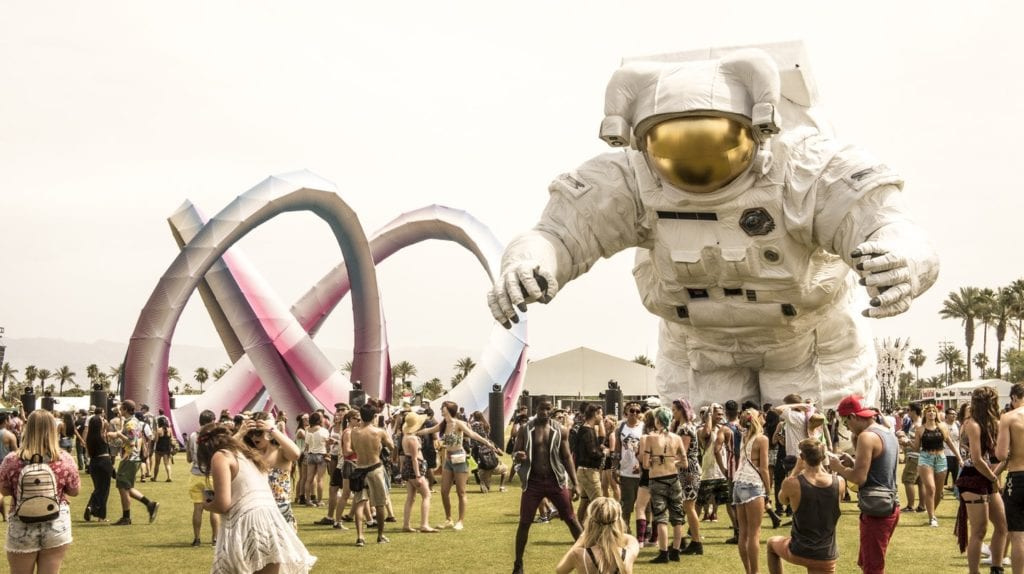 Location:
Look at venues by location in the city, or approximate area, that you are looking to hold your event. If you want a city vibe, skip remote locations and vice versa. Think about traffic, accommodations, and the way people will travel to your event when choosing a location. 
Environment:
Source venues by the environment or atmosphere you want your event to have. Look at outdoor amphitheaters, parks, race tracks, rooftops or historic venues. While you are researching you will want to ensure the venues you are interested in are logistically set to host the type of event that you are planning. If your space will need areas to support stages, trailers, lighting, and sound at a minimum you need to make sure that is possible. If you are having a small gathering, then maybe a large amphitheater isn't the way to go. Know your event and the goals you have and make sure your venue matches those. Planning your logistics will take time, especially if the venue you are using is not traditional. When you have made a decision, be sure to map out your event from beginning to end. Create a rough draft to outline what your setup is going to look like. Start from the entrance gates and work your way through the layout for each area of the space you have. Ensuring your map is drawn out to use your space will also help your logistical planning go smoother.
A look at EDC – A Truly Unique Outdoor Event Experience
EDC Las Vegas is one of the top festivals in the world and for good reason! EDC holds an attendance of over 400,000 people and showcases over 7 stages in the Las Vegas Motor Speedway. The venue is home to all things Nascar and auto but for one weekend every year, it's home to a top EDM festival. Look at the core of the venue, outdoor, with incredible panoramic views and its secluded in the middle of the desert. Watching the sun go down while listening to 1 of the 200 DJ's that headline the event and being apart of the community EDC creates is just a few things that make this a top venue. Aside from having a unique and memorable outdoor venue, there are a variety of unique indoor venues that can create a stunning atmosphere for your next venue!
Insomniac is known for hosting some of the world's top festivals at the most unique and memorable event venues. So how do you get your event on that list? First, you need to identify the personality of your event, along with your theme, values and what statement you want to make.
If your event has an eco-friendly image or if you are trying to go sustainable, it makes sense that your venue would be in the outdoors as opposed to an industrial building. There are a variety of ways that you can make your event more sustainable which you can learn about here.
Event venues can be the one thing that will make or break your event. Although it may sound crazy, if the atmosphere or environment is off then you are set to impact your overall event experience less than you'd hope.

What sets them apart?
People want to be apart of something big! Something exciting, that's never been done before, and if it has then it better be a full experience that has left an impact on your attendee's mind. Whether it's about bringing a community together, celebrating life, art or music, you are in the driver's seat to make your event memorable. More than anything people want to feel connected. Connected to music, connected to people they have never met from all over the world, because when they gather for a festival, automatically there is a sense of community.
It's About The Experience…
It all comes back to experience. If Insomniac didn't throw events at places like the Las Vegas Motor Speedway or Glen Helen Park in San Bernardino, the festivals wouldn't have the same experience. It feels like a different world, a home away from home. That is what you want to create.
They create an experience, not just a festival. From the moment you leave your hotel room to the time to sun rises and the festival ends, it truly is a completely different world. The shuttles that pick you up from a variety of locations, not only help make the event sustainable, but they create a high energy from the very beginning. Waiting in line to get in is actually exciting because you feel the energy from everyone else. You see the lights, stages, and rides in the distance and hear the beats.
The moment you finally walk into the event, you're speechless. You are standing in the middle of a massive speedway in the middle of the desert with nothing around you but mountains, sand, and stages. Insomniac understands that if you want to keep up with the evolving world, you need to make something that changes people's lives and gives them an experience they wait all year for.
What goes into creating a true experience?
I know, we've talked a lot about Insomniac and their many festivals, but for good reason. So, looking at EDC Las Vegas, even Tomorrowland in Belgium, what are the first 3 things that we notice that makes them a unique event? Well, first off, they are held in unique and memorable venues in some of the most beautiful countries in the world. Second, they go above and beyond with their stage designs, their light shows, the overall atmosphere of the event from the second you walk past the gates and the minute you get on the shuttle out. They create a different world, an escape from reality. They create an image and brand through their festivals that sets them apart from every other event in the world.
What sets your event apart?
So how do you pick a unique and memorable venue? How do you take your next festival from "that was cool" to "this event changed my life?", and trust me, I've been to both types of events, you have to source an incredible venue.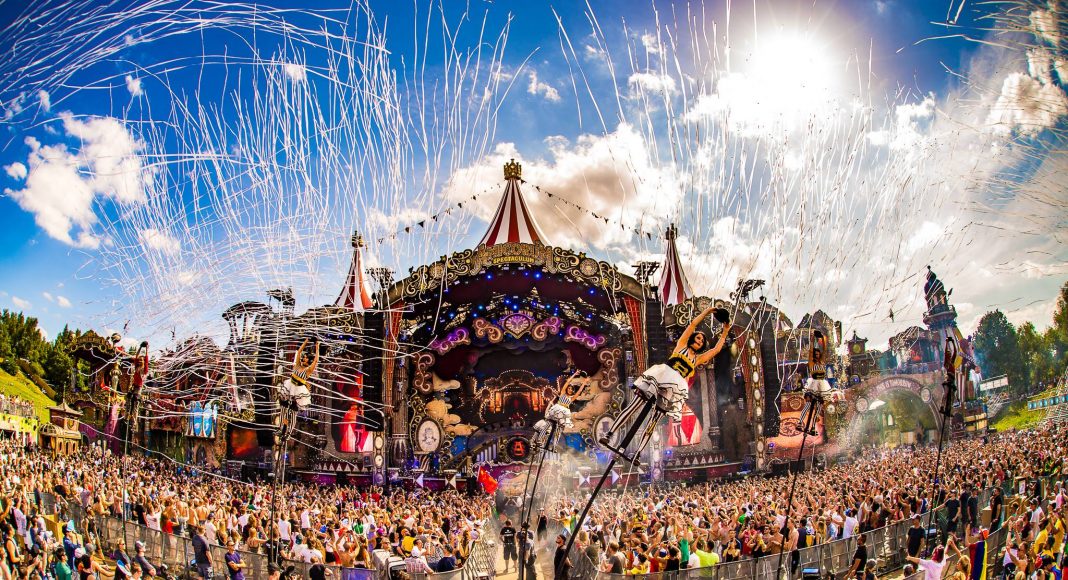 How do you plan a unique event?
Take a look at the type of event you're throwing and if you have the resources to throw an outdoor event. Sourcing the right venue may mean that your event is out of your current city, but if you create an experience that set on making a change in not just the way your event looks, but somehow impact the lives of the attendees, they will travel to it.  How do I know? I fly to Las Vegas and California from Toronto every year for Insomniacs events for that very reason, they made an impact on my life. Brands like Insomniac and Tomorrowland create not just event, but a community around those events. There are groups and channels of people that have connected all over the world through these events. They create a platform and situate themselves with music, community, friendship, love, and unity. EDC's tagline is "All Are Welcome Here".  That is what your end goal should be, to create a community around your event or festival. Starting with the venue. Now that you have an example of what an impact a well planned outdoor event can have, let's take a look at the benefits of unique outdoor venues.
Benefits of Unique Outdoor Venues
What are the benefits of outdoor venues? Aside from having a stunning scenery and fresh air all day/night long, check out the top benefits below.
Space
Having an outdoor venue can give you ample space for guests, parking, and activities. If you know that your event is set to have over 100,000 attendees,  a large venue is going to be crucial. It allows you to set up a variety of interactive areas as well as stages.
Customization
Another huge advantage to using a unique, outdoor venue is that you have total customization over the venue. Typically when you're choosing a venue, associates would require you to use their vendors (check out our guide to remove AV restrictions here). Sometimes with an outdoor venue, you have flexibility and freedom to use any vendor you may like.
For instance, with your venue being a natural, stunning space, anything you add for customization is going to increase the atmosphere. Creating unique stage designs, cool relaxation areas, bars and food vendors will immediately up the feeling of your event. Remember to use what you have and build on it. Festivals like EDC, Tomorrowland and Burning Man are known creating art in the middle of scenic beauty. Light up the sky, think outside of the box and don't be afraid to push the limits. Keep in mind budget though, as creating a stage and venue from literally the ground up can be expensive. Always check permits needed as well. 
Drawbacks of Outdoor Venues
While an outdoor event has its own special type of magic and a lot of benefits, there are also a few drawbacks we want to mention so you can weigh your decisions.
Weather
This is the most obvious. There is simply no way to be certain of the weather. There are some things you can do to avoid some weather like not having an outdoor festival in Arizona during monsoon season greatly will reduce the chance of rain. But the weather is natural and unpredictable as far out as you will be planning. Always make sure to have back up plans and rain/weather plans in place should mother nature put on a show.
Bathrooms 
If you decide to have your event somewhere like a local park it's likely they will not have adequate bathrooms for your event. Find out if your venue has restrooms, how many and how far they are from your actual event. If you need to you can always bring in portable restrooms but it is another step in planning and budget that is unique to some outdoor venues.
Cost
The beauty of a lot of outdoor venues is they are a big blank canvas. This means you can build your vision from the ground up. The downside of this is the cost. When you build staging, rigging, lighting and more into space it's going to accumulate costs quickly. It's likely you will need generators to run power too which is an additional cost. If you choose to make a truly unique outdoor venue, keep in mind that a truly unique outdoor venue is going to run up your costs and budget accordingly.
Our Favorite Unique Outdoor Venues
Now, you've read all of the reasons why you should look at hosting your next event at a unique and memorable venue it's time to actually see this venue event trend in action! Below are some of our favorites venues across the world to give you some inspiration. 

Gardens By The Bay – Singapore
Singapore's most famous and stunning garden has become increasingly popular for international travelers over the last couple of years. Singapore is known for its Orchid's and the venue offers much more than spectacular florals. Equipped with lit up towers, a flower dome and waterpark, Gardens By The Bay is a top choice for event planners and travelers from all over the world. Check out their site here for more information.
Gorge Amphitheatre – Washington
If you are looking to host a top festival or event inside one of the worlds most natural, rocky beauties then look no further. The Gorge Amphitheatre holds 20,000 attendees and is home to some of the most unique music festivals including Paradiso.
With stunning mountain views set with serene lakes and a large campground, it's no wonder The Gorge is on so many travelers bucket list.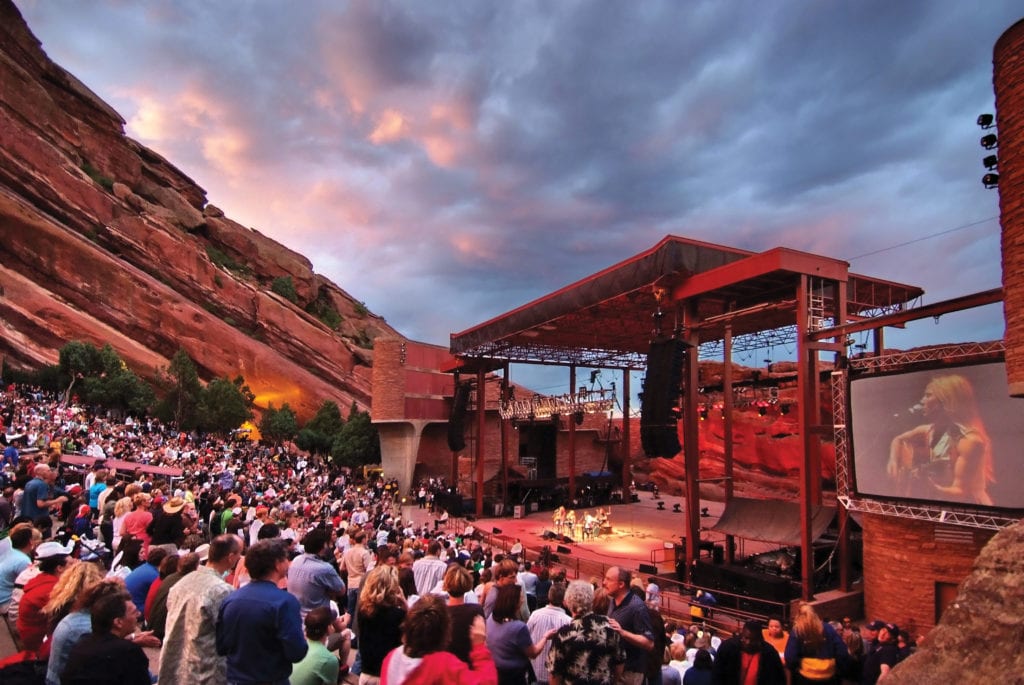 Red Rocks Amphitheatre – Morrison, Colorado
Another stunning venue with perfect acoustics and the arguably the world's most beautiful natural amphitheater is Red Rocks Amphitheatre. Top music sensations like U2 and The Beatles have performed on this stage that is made up of two 300ft rocks and stone. When you step into this amphitheater you feel like you are in a different world! 

Ontario Place – Toronto, Canada
Ontario Place is one Canada's top event venues, what used to be a waterpark has since become a top festival venue. Home to events like Digital Dreams and the Budweiser stage, Ontario Place gives attendees a stunning view of the city lights.
This venue gives you the best of both worlds with being in the heart of the city while also on the Toronto Waterfront. Give your attendees a big city beach vibe on Echo Beach while watching the sunset with the bright city lights.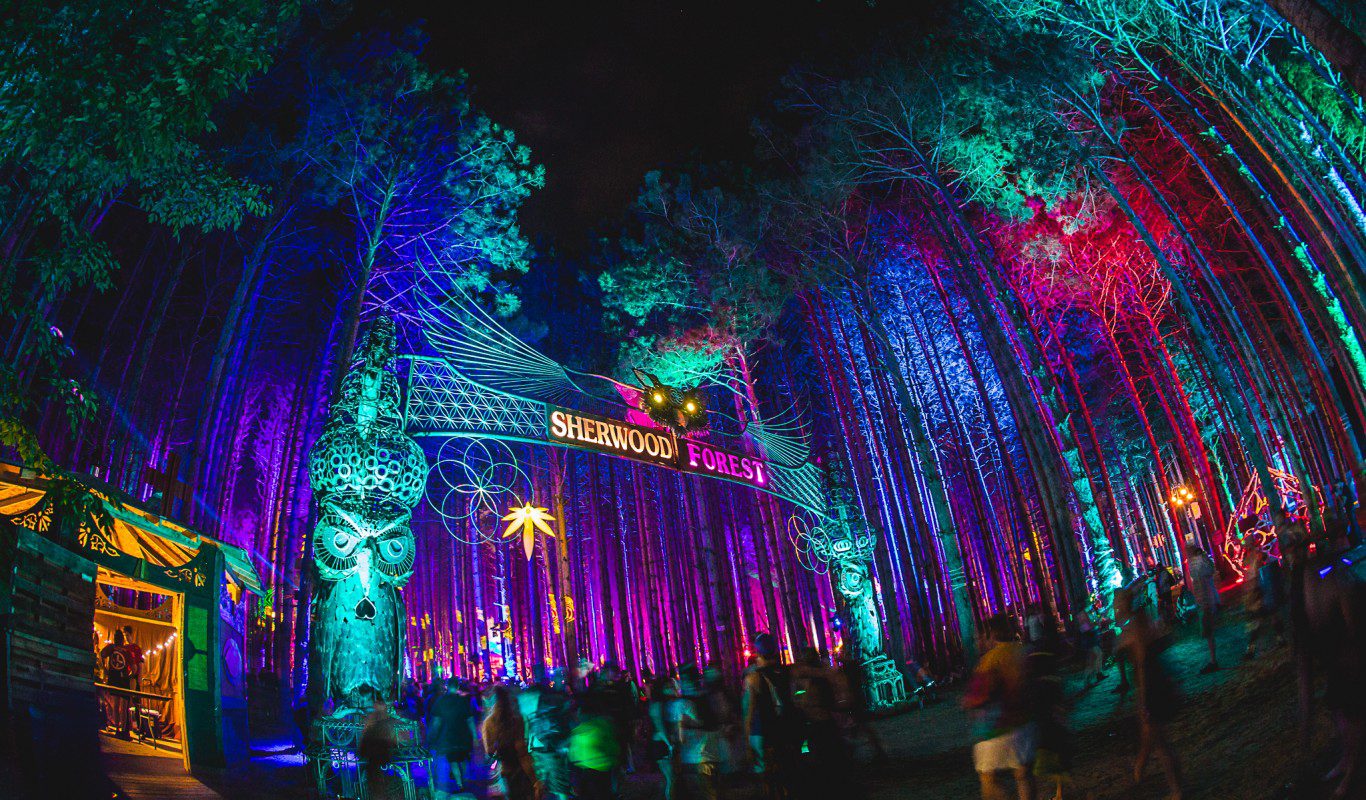 Double JJ Resort – Rothbury, Michigan
This four-season resort is home to one of the largest camping festivals in the world, Electric Forest. Double JJ is a family owned site that offers over 80 acres of event space. Light up the night in their stunning natural forest and set up camp for your attendees. The venue is set up with a 60,000sq ft water park and offers a variety of accommodations.

Hollywood Bowl – Los Angeles, California
The Hollywood Bowl is one of LA's most iconic and historic venues for festivals, concerts, and events. The venue holds over 20,000 attendees and is known for its beautiful architecture with beautiful arches that make this venue famous for concert-goers and attendees.  It's one of the cities most accessible venues and is one of the top rated venues by attendees from all over the world.

Óbudai-Sziget – Budapest, Hungary
Obudai Island is home to one of Europe's most exciting music and cultural festivals, Sziget Fest. The island is over 260 acres and is surrounded by a natural forest and stunning island views. Obudai holds multiple events throughout the year, however, has plenty of downtime for visitors to enjoy peace and tranquility.

Bayfront Park – Miami, Florida 
Bayfront Park in Miami is one of the world's most iconic parks in the world, for one, it's in the heart of Miami. Aside from the glam and luxury lifestyle that Miami promotes, the park has absolutely beautiful views of the ocean and waterfront while still maintaining the city vibes.
Bayfront is home to Ultra Music Festival and Miami Music Week, where thousands of attendees, DJs and top music industry talent gather to celebrate music, community, and dance.

Empire Coachella Valley – Indio, California
In the valley deep in California sets Empire Polo Club, known for the world-famous Coachella Music Festival. Empire is a top-notch valley located in the Colorado desert. The total venue is over 600 acres that are set up for campers, multiple stages, activities, and parking. The polo club itself is approximately 78 acres. The panoramic views and sunsets are breathtaking with this beautiful valley vibe.
The beautiful thing about the valley is that its organizers are already focusing on sustainability and reducing their carbon footprint. They work with vendors and partners to promote a bunch of environmentally friendly initiatives.
What To Take Away
Now that we have gone over a variety of unique and memorable venues, think about two things.  What do they all have in common, but also about what sets them apart?  They create a community, no matter what type of event it may be. They use the natural landscape and views to heighten the experience. This makes the venue and events some of the top in the world.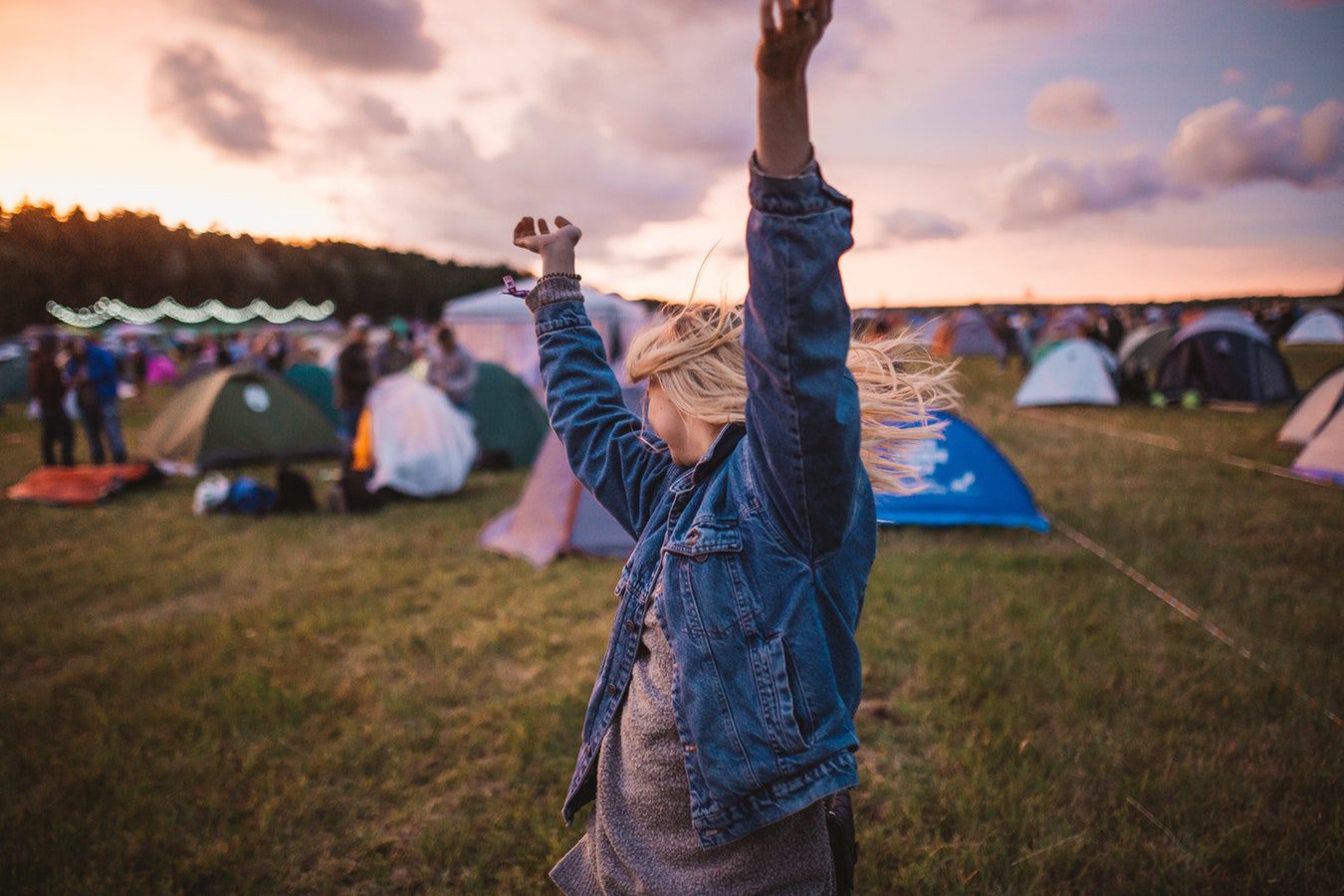 There you have it! Some of the worlds most unique and memorable outdoor venues! Not only do the above venues make for incredible photo ops, they create a completely different world for their attendees. Planners use the space and think beyond what a basic event would be to create a memorable, life-changing moment. Check back next week for part 2 of unique and memorable venues. We will capture some of the world's most unique and beautiful indoor spaces.
What is your favorite outdoor venue or event you have been to? Let us know in the comments.