If you are planning a convention, you want it to stand out, be unique, and interesting. A unique convention layout can make your convention a memorable experience for your attendees. Conference and convention design has evolved past the standard layouts of before, and convention attendees appreciate experiencing something fresh and new in layout and presentation.
Changing attitudes, perspectives, and corporate culture give convention planners the opportunity to design an event that can enhance their brand. They also open up the door to a more interesting, inspiring, and memorable experience.
Traditional Convention Layouts
Long-standing traditions in convention design involve three basic styles – theater, classroom, and banquet layouts. While they are not unique convention layouts, they have stood the test of time and are used again and again.
Theater
The classic theater design involves row seating and a stage for presentations. Although practical, these layouts can make the convention experience less enjoyable. Attendees can only sit and listen, which often leads to boredom or distraction. Even a series of the most engaging speakers will eventually make the audience feel disconnected.
Attendees often feel trapped in a row of chairs, unable to easily enter and leave the room when needed. If planning a theater layout for a convention, it is advised that you create several aisles for increased comfort. No one likes to walk in front of a long line of people when leaving the room.
Classroom
This classic layout provides tables so attendees can write, use digital devices, and have space to place personal items. These layouts are functional, but typically fail to inspire interaction and engagement. When a classroom layout is necessary, you can create increased interest with linen table treatments that are more engaging than the standard white.
Banquet
As a convention design style often used for meetings, workshops, and conferences, banquet style involves the use of round tables for up to eight people. This arrangement can create an intimate table space where interactions can occur allowing attendees to interact and mingle.
While this layout is practical and flexible, it has the drawback of making it nearly impossible or at best uncomfortable for some attendees to see the speaker while sitting in their chair. Also, the attendees toward the back of the room may feel disconnected.
Unique Convention Layout Ideas for Larger Events
Modern convention design offers new possibilities that foster engagement and create a more exciting experience for those in attendance. Trends in corporate culture are moving towards enhancement, learning, and development. There is a need to create strong communication channels throughout all levels of the corporation. These unique convention layouts can produce a convention experience that allows attendees to establish new contacts. This is helpful on both a personal and professional level.
Cabaret Style
This style is a fresher configuration of the classic banquet style, a truly unique convention layout. Cabaret style solves the problem of back-facing chairs found in traditional theater style. It simply eliminates the forward seats that make the layout uncomfortable.
The round tables naturally lead to interaction and communication amongst those seated together. Therefore, attendees are more easily able to make connections. This layout also ensures that every person has the space they need,  the ability to view the presentations, take notes, and have access to the table area without strain.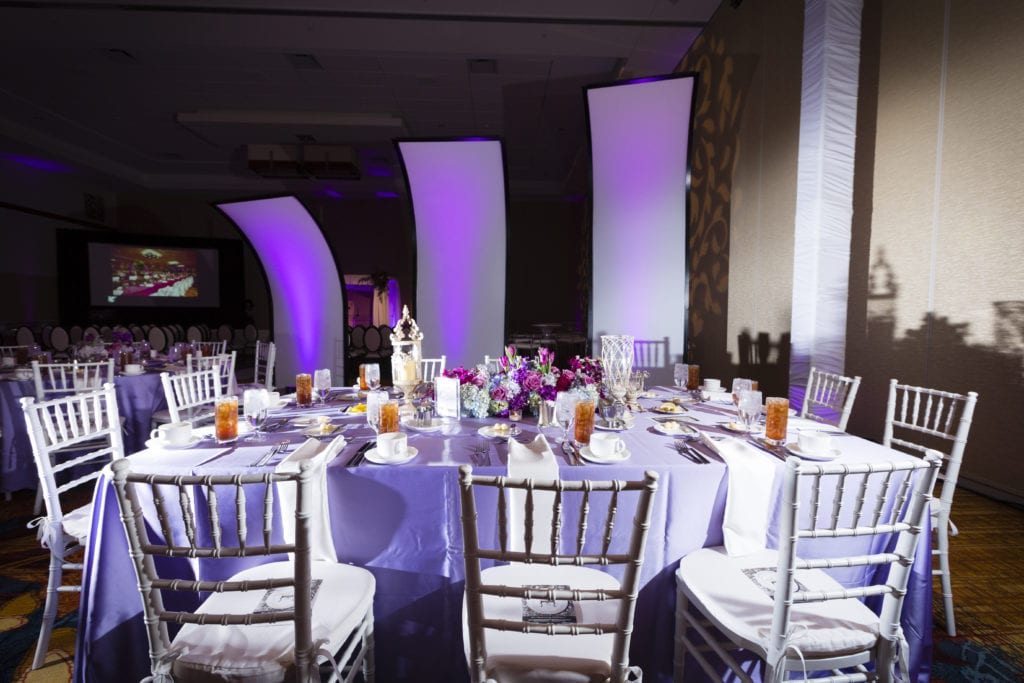 Photo Credit: Nathaniel Edmunds Photography
Consider More Layouts for Large Spaces
Hollow Square / Boardroom Style
A boardroom style layout with inward facing tables is one of the most effective unique convention layouts for smaller groups. This design creates a space in which the attendees recognize that participation is acceptable, desired, and even expected.
The sharing of ideas, concepts, and viewpoints can be helpful in generating inspiration, engagement, and collaboration. Many businesses now employ a more interactive approach to work, recognizing that retention of talented employees requires recognition of their skills and inviting feedback.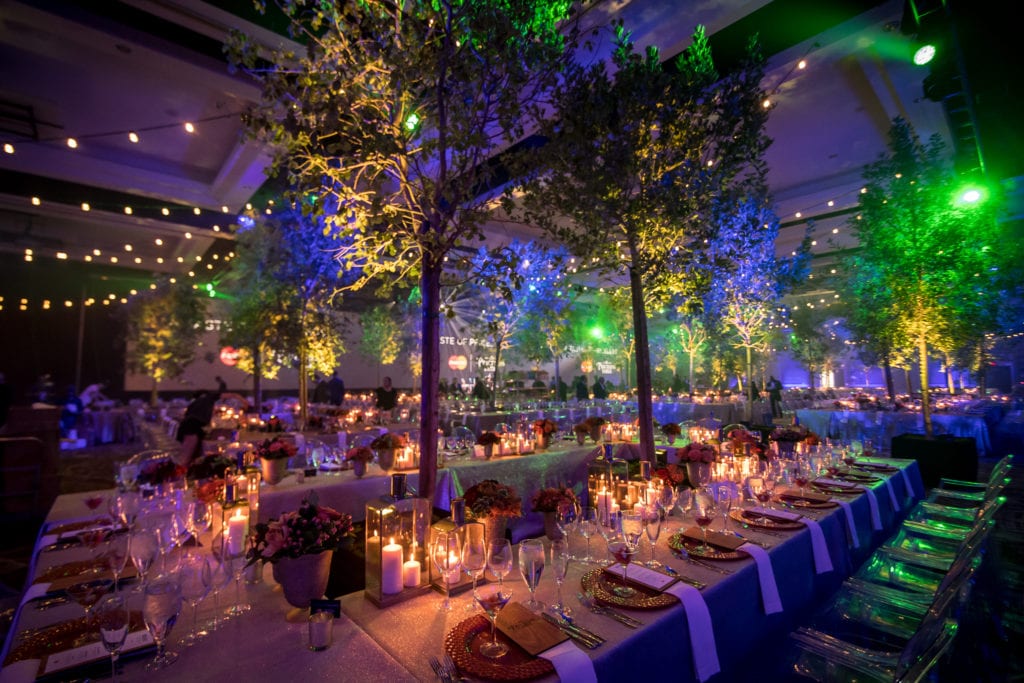 Photo Credit: FIRST Global Events Agency
U-Shaped / Horseshoe Style
A U-shaped layout creates a more open atmosphere for meetings in a more relaxed, informal setting. This layout removes the table barriers and creates a space that fosters contemplation, insight, and sharing.
For smaller groups involved in a collaborative effort, or for training and enhancement, this layout can stimulate interaction in fresh ways. Some attendees may initially feel uncomfortable with the face-to-face layout, but this quickly dissipates.
Looking for inspiration from your attendees? This layout is the perfect way to learn how they think and discover hidden talents or insights that could lead to important corporate advancements.
Half-Moon Style
This convention layout makes it possible to have presentations that are more casual and intimate. Yet the style still invites discussion, questions, and feedback. Attendees naturally feel a part of the presentation, with the speaker so near.
This layout inspires interaction, sharing, and stimulates a collaborative give-and-take. If the business culture is casual and modern, this layout can bring on the type of interaction that can reveal new methodologies, approaches, or systems. Take advantage of this layout for groups that appreciate interaction and a more collaborative corporate culture.
Chevron / Herringbone Setup
For conventions with live demonstrations or entertainment on a runway, this V-shaped layout makes it possible for a central interactive element to be closer to every attendee. It allows speakers to reach crowds more directly. This setup can be a welcomed change to the standard theater style.
It can also be effective when combined with tables for a classroom style. Moving away from the standard square can be an effective way to utilize space so that every attendee feels a part of the presentation, rather than feeling stuck off on the side with limited vision.
Casual / Cocktail Style
To establish a more organic look and feel to your event, creating a more casual layout can make attendees feel more comfortable and relaxed in unevenly placed tables and chairs. The lack of straight lines and orderly arrangement dismisses the "classroom" feel an emotional response. This layout can also trigger a more engaging atmosphere.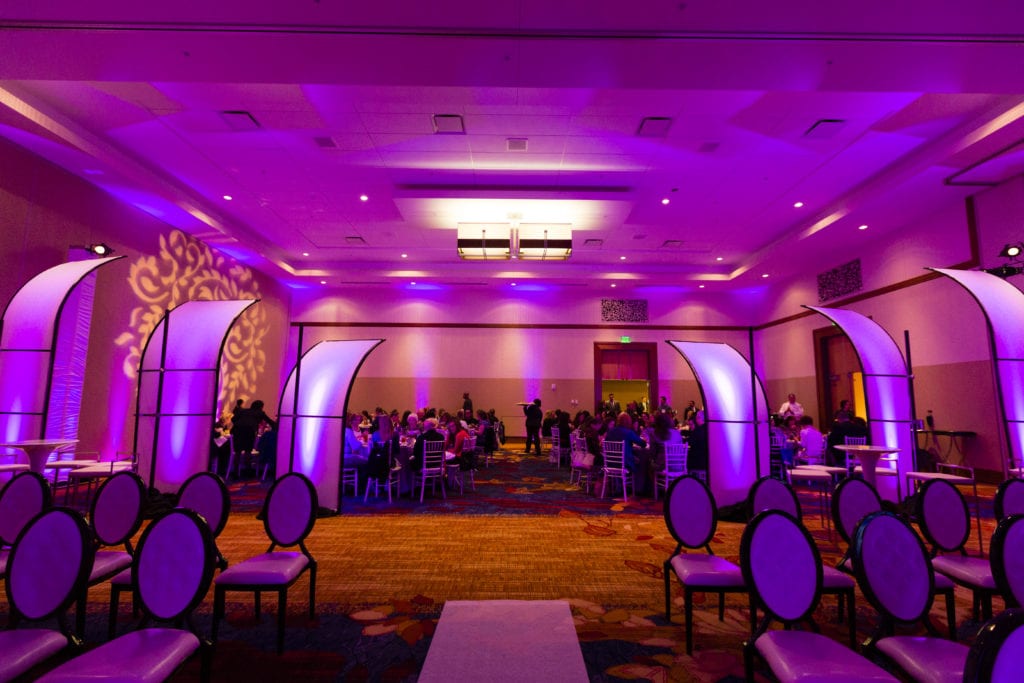 Photo Credit: Nathaniel Edmunds Photography
Unique Convention Layout Ideas for More Intimate Events
U in a U
A U within a U can be the perfect unique layout for training events. The central U can be used by a series of presenters, panels, or different teams or levels of management with specific training needs. The U-shaped tables and chairs naturally encourage interaction and discussion. You can design the interior U to face inward or outwards, based upon the purpose of the workshop, convention, or conference.
Mixed Rounds
The use of seating with both rounds and crescents can be more comfortable for attendees. Towards the front of the room, the round tables have eliminated the front seats, so attendees can more easily see and absorb presentations by the speaker or trainer.These individuals don't need to strain to watch the presentations, and they have a surface for their devices.
This layout is also practical as there is no need to shift to another space for meals. Interaction at tables is more natural, in part because of better seating plan capabilities.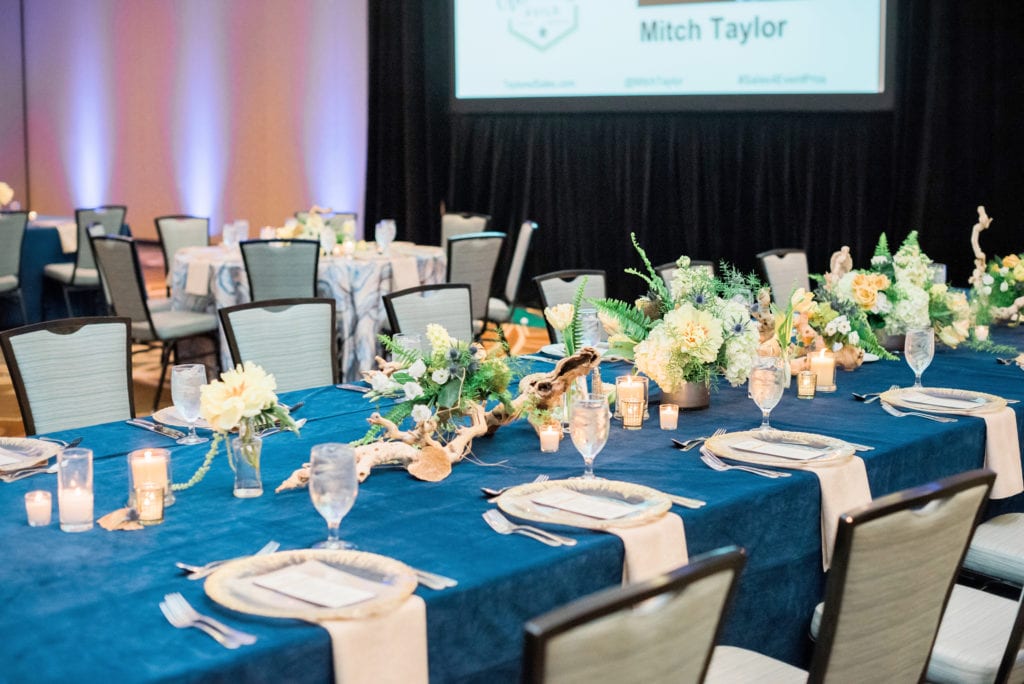 Photo Credit: Rachel Elaine Photography
E-Shape Layout
For smaller groupings, or when space is limited, an E-shape layout can be a practical solution. For both in-house training or outside meetings, an E-shape can make it possible for greater numbers to attend.
It also provides a practical way to view presentations or training information, as well as space for place laptops, tablets, and other personal items. This layout can be useful for large training seminars, workshops, or conferences, based on the room configuration. To add interest, linen treatments can help make this layout appear more attractive and inviting.
Other Important Layouts to Consider
When creating a unique convention layout, your design must include more than the presentation space. Modern event planning often uses indoor and outdoor spaces for better communication. It also creates a team-building environment that is less formal and more comfortable. Every area must be thought through and specifically designed to align with the culture of the organization and event.
Lounge Areas
Often the favorite hang-out area for convention attendees, planners should work to make these areas inviting, warm, and comfortable. Color comes into play in human response. Single-seating lounges make it possible for attendees to perform tasks, and multiple seating areas foster communication and collaboration — and both should be available.
A "getaway" space allows attendees to connect with friends and family when at a convention. An enclave space makes it possible for several people to work or speak together. They're close enough for comfortable interaction but with adequate space to stretch out.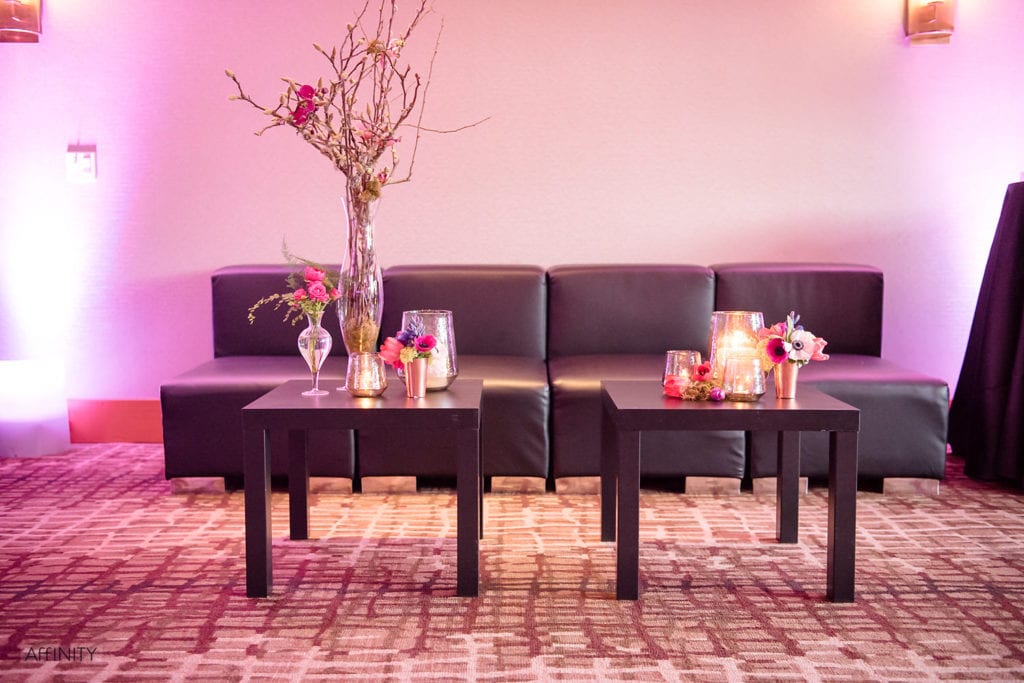 Photo Credit: Affinity Photography
Outdoor Areas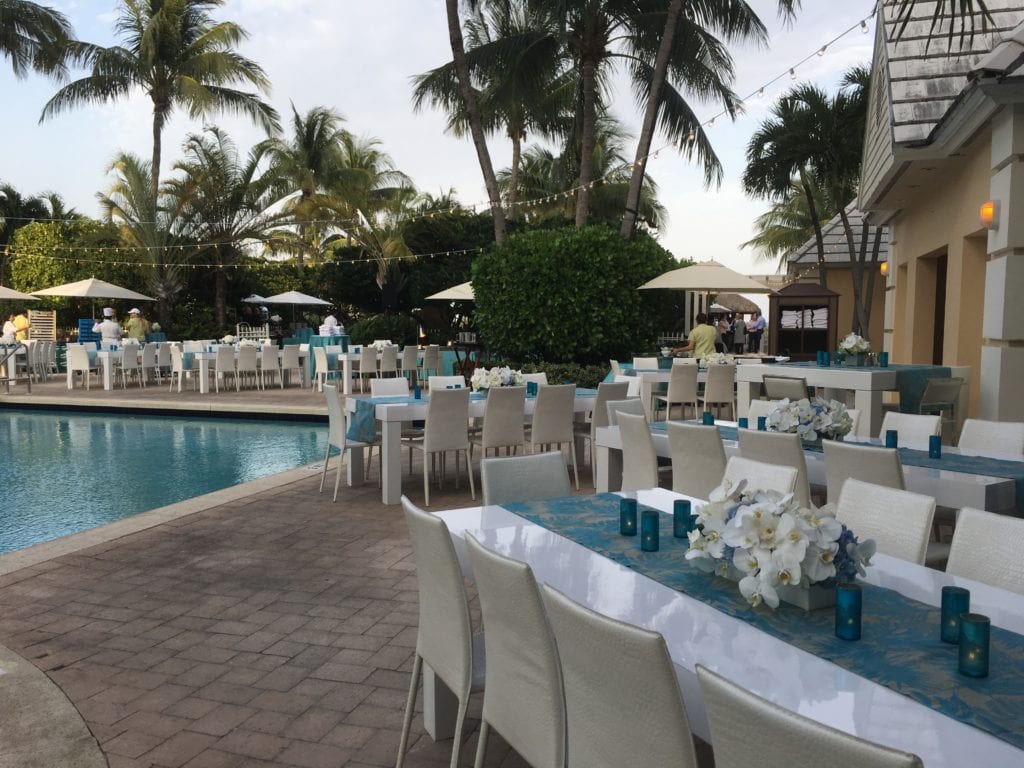 Photo Credit: Fabrizio Cuomo of McNabb Roick Events / SBI
Your outdoor event areas are often the first contact for attendees. The right linen color choices and other design elements can help the layout stick out. Outdoor seating areas support the purpose of the event. Consider unusual furniture arrangements with couches, chairs, and colorful table designs. The ability to pick up items for tactile engagement can be one of the first ways to take the layout above and beyond the ordinary.
Many conventions in warmer climates provide welcome tables at the entry to the venue. Others with more questionable weather conditions may need sign-in and welcome to be managed in an indoor space. In either case, make it unique.
Atrium / Lobby Areas
Pre-convention activities can occur in the atrium or lobby area of the venue. Consider adding tables covered with linen in layered color combinations that mirror the company branding, a featured release, or a combination.
For sign-in tables, shy away from the usual uninteresting layout. Go for a design that draws the attendees over and speeds up sign-in, including several tables can help. Add interest to the tables by adding design features that attract attention, such as linen colors, florals, greenery, or branded elements.
A New Look for  Convention Layouts
As corporate cultures evolve, the "top down," authoritarian approach is being replaced by a modern collaborative environment. Training conventions, workshops, and conferences are geared to inform, increase production, and promote a range of company goals. Your venue layout can inspire more interaction, engagement, and production.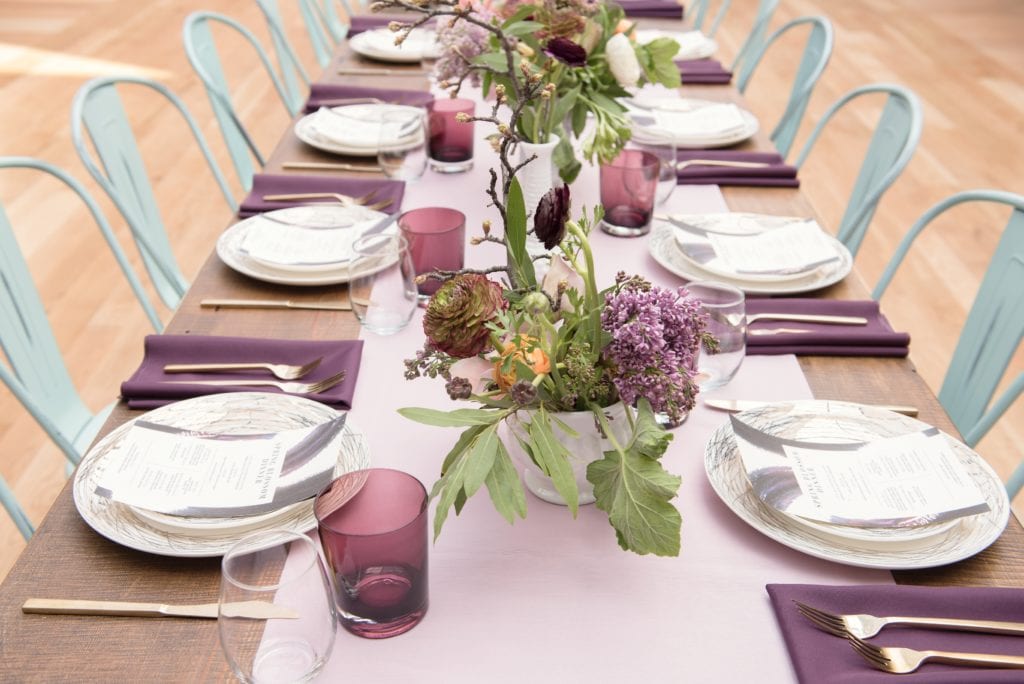 Photo Credit: Mary Rafferty Photo
Every detail, including how you arrange the tables and chairs, in addition to the colors used in the design, creates an emotional response. In planning a convention, eighty percent of the process occurs prior to the event itself. Paying close attention to the personality of the leaders and understanding their expectations should guide your choices. Ensure you have access to the presentation schedule and any new/featured products before establishing your unique convention layout design. This helps make sure that all elements blend and that you support the overall goal of company leaders.
Rather than going with one of the standard traditional layouts, create an inspired space with one of these unique layout configurations. As with any event, the color scheme is critical when creating a room that is both memorable and unique. The right layout can impress guests and leave them inspired, in addition to making the event a success.