You're gearing up to plan your next event, but you already feel overwhelmed between finding a venue, planning your A/V, and picking the perfect caterer. You need a little help, and that's a smart move. Pulling off your biggest event of the year takes a lot of work, so there's no shame in asking for some help. 
A Google search opens up countless event companies. Some call themselves an event production agency, while others are "event management firms." They sound similar, but they're two very different service providers. Let's dive into the most significant differences between event production versus event management.
Event Production Versus Event Management
Both event production and event management companies will help you simplify your event — albeit to a different degree. They both can offer expert advice and make your event go off without a hitch. Production and event management companies can travel across the country to help execute your event, too. Whichever option you choose, both vendors will make your event look effortless and high-quality. Your vendors should work so seamlessly that attendees don't even notice all the hard work happening behind the scenes. 
But that's pretty much where the similarities end. These are two types of companies, so let's examine the significant differences between event production and event management. 
How Event Production Works
While event production can sometimes help you come up with stellar ideas for your next event, they usually take your existing vision and execute it. They blend technology with creativity to pull off amazing events, though. Since 53% of event organizers say finding the right technology is their biggest challenge for virtual and hybrid events, an event production company can help you pick the right tech stack.
Event production agencies specialize in creating the overall vibe and emotion behind an event. This is a smart way to boost your brand's event if you want jaw-dropping lighting, audio, and other artsy features that get attendees pumped for your event.
Every event production company is a little bit different, but they usually offer help with the following: 
Logistics

Stage design

Video

Lighting

Audio 

Teleprompters

Sourcing vendors and crew

Managing budget

Equipment sourcing

Setup and takedown
Event production pros will often travel to your event, so you aren't saddled with local providers. If you're hosting a conference or workshop, your production folks can gather speakers' PowerPoint slides and change the slides for you. And don't worry: they'll rehearse with you before the event, so you know everything will go off without a hitch.
However, it's essential to know that event production companies are more on the setup and takedown side of event planning. But hey, if you're sick of breaking down your setup and lugging heavy equipment out of the venue, an event production company is a lifesaver.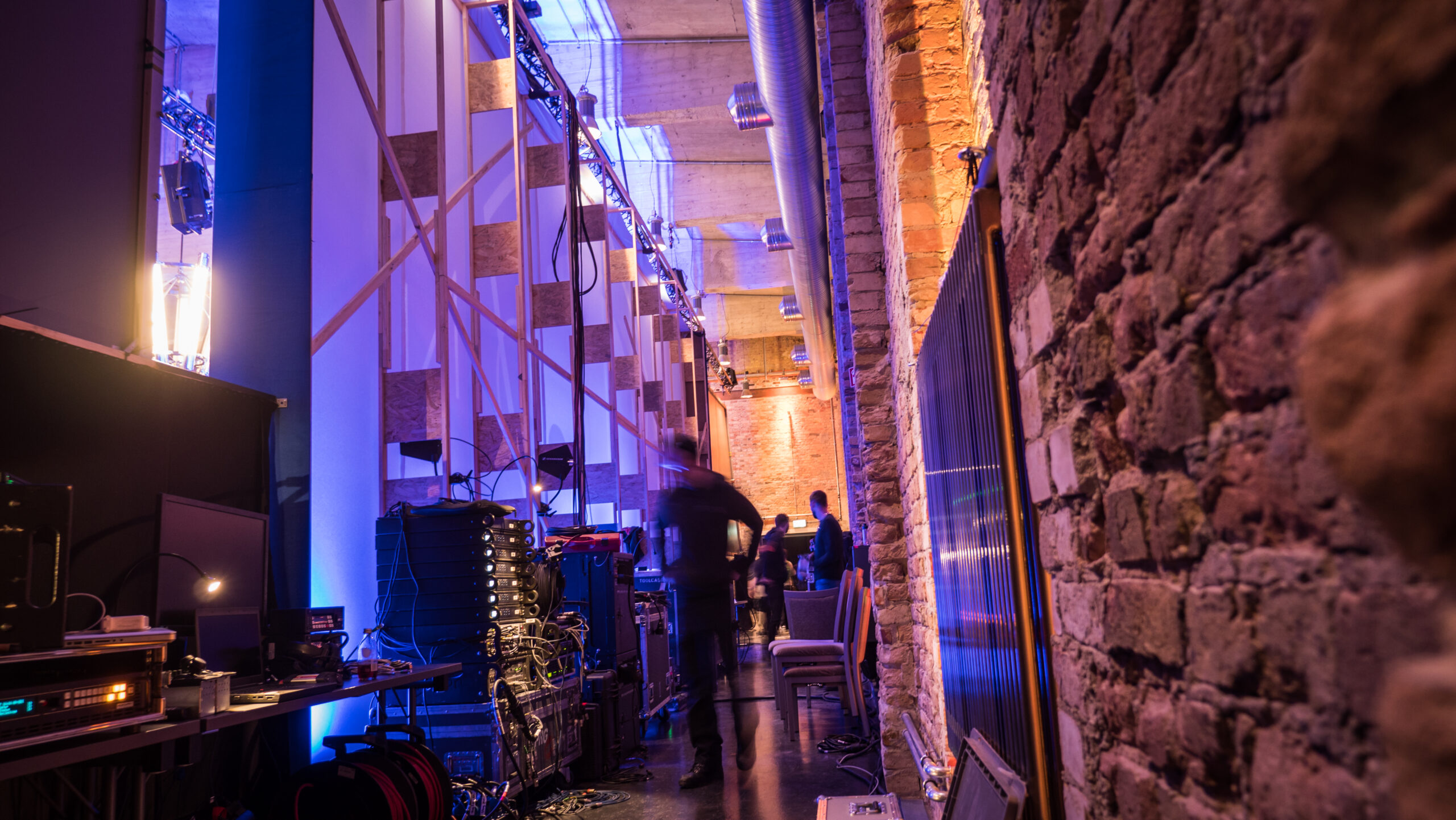 That said, production companies are best for brands that want to plan their event with the production company in an advisory role. Event production companies can advise you on cool new trends or technologies, like holograms, that will make your event stand out. Your production company can advise you on tech setup, permits, and anything else you might need to consider. Production is the way to go if you want tech advice from professional tech geeks. 
Event production is probably the best fit for your event if you want to handle 90% of the planning and need technical expertise or equipment that you don't have in-house. This way, you get more control over the event while the professionals fill in the gaps with creative, audio, and video that will make your attendees ooh and ahh. 
The Ins and Outs of Event Management
While event production primarily focuses on executing the tech side of your event, event management is more of a big-picture service. Event management companies handle all of the moving parts for your event: an event management company takes your vague ideas, molds them into an actionable plan, and executes them down to the smallest detail. 
Event managers take over a lot of event planning tasks, so if you need help with scheduling and strategy, this is the right option for your event. Since 49% of brands say scheduling events for international audiences is their biggest challenge, you can overcome many finicky issues with an event manager in your corner for bigger events.
Event management companies can handle the following: 
Venue selection

Vendor collaboration

Parking and transportation

Catering

Technology

Safety standards and permitting

Staff training

Scheduling

Crisis management

Backup plans (in case your venue falls through, for example)
Event management companies are typically larger than production companies, too. They have the chops to handle high-profile fundraisers, conferences, galas, workshops, and summits with their scalable, structured processes. 
Keep in mind that event management does overlap with event production. Event management can also help you with A/V, graphic design, setup, and teardown. Since they can handle everything an event production company does, event management companies offer a wider variety of services that you won't get with event production. They blend event production with end-to-end event planning.
An event management company is ideal if you need a vendor that can serve as an extension of your internal marketing team. They take ownership of the planning and executing your event — heck, they can even follow up with you after an event to look at your metrics and see how the event performed. 
Event management companies are also ideal if: 
You're hosting a massive event and need a lot of resources to pull it off. 

You have a small, scrappy event planning department and don't have the internal staff to do a big event. 

You're stressed at the idea of doing a large event — or this is the first time you've planned an event.
Your event managers should be your "fixers" for the duration of the event. They're the ones who keep you moving. And you know the wildest things can happen at conferences, too. If a speaker calls out sick or a once-in-a-lifetime storm knocks out the power at your venue, your event management company will work to make things okay. 
Event Production Versus Event Management: What's Best for You?
Event production and event management might sound similar, but they're two different disciplines. Production companies are great for setting up your physical space, choosing technology, and setting up A/V. Management is best if you need holistic help with planning and executing your best event yet. 
Event production does have a time and place, but event management gives you more help for the money. If you need more hands-on help with event strategy, creative, and design, go with an event management company like Endless. 
Endless is now a full-service event management company offering nationwide event management across the U.S. We provide nationwide event management. Our distributed team can handle planning, technology, and production. Check out our event management process and see Endless in action.