Imagine walking onto the field of your favorite teams stadium for a dinner of extravagant proportions. The tables are set, bars are open, and there is a call over the PA asking everyone to take their seats*. Suddenly, the lights go out like its Super Bowl 2013. In a flash the seat you are sitting on lights up to match the color of your companies brand – then the tables – then the bars.
Now the once beautifully set room is a stunning exposition of colors and lights that no one has seen before. That is the scene setting the power of light-emitting diode (LED) Furniture, and you should definitely give it a try at your next event!
What is LED Furniture?
Let's get scientific. LED's are two-lead semiconductor light sources. It is a pn-junction diode, which emits light when activated. A color changing LED isn't one LED in a package, but three LEDs along with a small computer to drive them. The LED is made up of red, green and blue LEDs each of which can be controlled by a microcontroller. (Thanks, Google… and nerd/geniuses). For us non-nerd/geniuses event folks, LED lighting gives us beautiful uplighting, monitors, projectors, and yes, furniture.
LED Furniture has been exploding in the event industry as another way to make an impression on our attendees. It is often made of kind of opaque plastic with LED lighting units throughout the body of the piece that radiates a warm glow of color selected by the designer. These can be adjusted remotely ($$$), directly on the device ($), to color match pretty much any shade you'd like ($$$) or those on a preset cycle of options.
Using it Well: A Little LED Furniture Goes a Long Way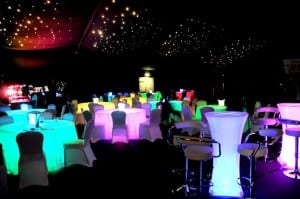 Any good designer will incorporate LED Furniture in a way that compliments the overall look and feel of the event. A formal gala may not be the best setting for this type of rental, but at your high energy after party, these can make a huge impression.
What're Your Options
If you think about it, LED Lighting can be added to any piece of furniture your heart desires. Here are a few options that you can consider: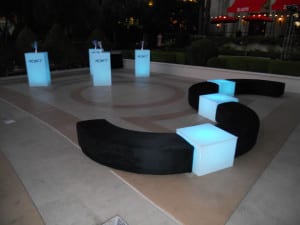 LED Seating
The type of chairs and sofas and other alternative seating options that can be LED lit are endless. One word of caution when it comes to seating is that you should never sacrifice comfort for a cool looking chair. With advances in manufacturing and even in 3-D printing, you can explore creating exclusive, custom pieces easier than ever before.
LED Tables
From Dining to Cocktail and Gaming Tables, if you find the right vendor, their inventory on LED light enabled tables can create a stunning surprise and interactive opportunity for your guests.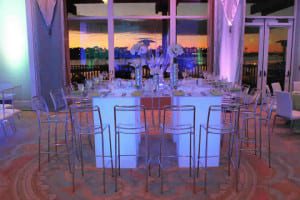 If you have a raffle or auction, you can plan to have their tables light up during the announcement of their winnings. Maybe you incorporate the lighting of your tables into the entertainment on stage. Again, the options are Endless.
LED Bars
This is one that we have seen in events more and more. With the bar being one of the most popular sites at an event, why not take the usual and make it more of a statement piece. A plus of LED lighting is that you can set multiple colors along the length of the bar to create gradients of colors. BONUS: It is a great way to make a big impression with an Ice Bar.
LED Décor Pieces
There is a ton of options with lighting your décor pieces – from vases, DANCE FLOORS, fabric columns, and more, LED lighting can truly be the centerpiece of your event décor.
Who has it?
We do! Endless Entertainment can provide our clients with some incredible LED furniture options, many of which are included in the photos above.
Now that you have seen some options of existing LED furniture, what else would you throw some lights into to make a statement at your next event?