We get it. Event attendees always expect to be wowed by creative scenic design. And your clients are always looking for new ways to deliver on that expectation. But it can be hard to continually find inspiration, especially if you often plan events of a similar nature. That's why we've put together a massive list of 100 scenic design ideas, including the themes and types of events they are best suited for. We're sure you'll be finding that inspiration you need, even just a few items in!
Scenic design ideas for water-themed events

1. Turbine
The undulating shapes of Turbine's panels make you feel as if you're bobbing in an endless expanse of ocean. Team one large Turbine backdrop with front lighting or uplighting so you create a sense of enormity. Or break up the flow with other panels, for instance, Wave.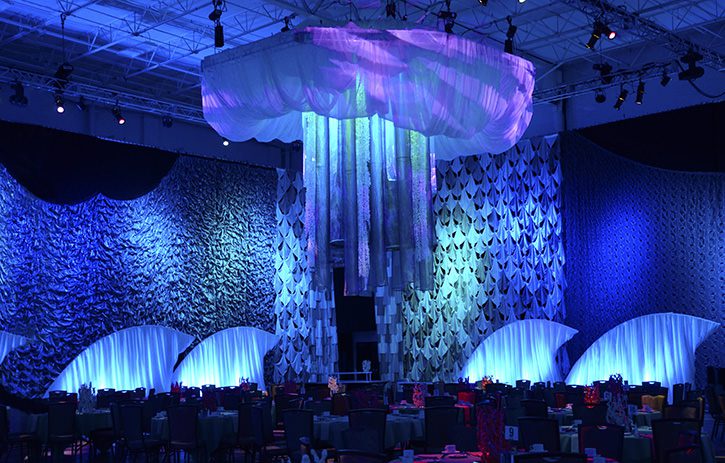 2. Batty SuperZippers
These Batty SuperZippers look much like seaweed, so they provide the ideal backdrop to the jellyfish chandelier featured at this sea-themed event. Creating an underwater oasis is easy with zip-together textured panels lit up with moody blue lighting.

3. Shoal
It's no coincidence these panels are named Shoal because they resemble a school of fish traveling the ocean currents together. Use front lighting or uplighting to bring Shoal to life. Create a single look, or intersperse them with other panels for a varied effect.

4. Fishscale
The layered, textured panels of Fishscale truly do resemble its namesake. Use them for a water-themed event, or even to allude to the unique metallic sheen you can only find on our fishy friends. Team your Fishscale panels with front or uplighting so they can work their magic on your staging.

5. Confetti
What starts as a sheer fabric will become iridescent when lit. Confetti is very versatile. Use it solely as a stage backdrop, or layer Confetti to create a multi-dimensional effect. The waviness of Confetti is perfect for depicting water at an ocean-themed event.

6. Wafer
The undulating effect created by the modular Wafer panels makes them ideal for a watery backdrop. This is particularly true when teamed with brilliant blue lighting. Wafer panels look best with front lighting and uplighting. You can even choose to assemble Wafer panels as a projection screen.

7. Wave
Once you catch a glimpse of Wave, it's easy to see how well it would suit an ocean-themed event. Each panel features wave-like curves that catch the light. This adds watery depth to your scenic design. Alternatively, use the unique fabric surface as a canvas for projection mapping.

8. Voile Column
The translucent quality of Voile fabric columns is ideal for creating a mysterious and tranquil atmosphere, just as you'd find in the watery depths of the ocean. Use Voile with a selection of up, back, or front lighting to create a stage backdrop packed with atmosphere.

9. Un-Curve
At first glance, Un-Curve has a high-tech feel. But with just the right lighting, you can highlight the Un-Curve snap-ins so they look like water drops when positioned vertically, or like fish when placed horizontally. Un-Curve fits in the Un-Panel frames and works as either a complete wall or just in columns.
Scenic design ideas for organic, nature-, or science-inspired themes

10. ADA SuperWall
ADA provides a flowing organic element to a contemporary space, whether that's an event lounge, cocktail bar or gala entrance. You can complement ADA with lighting, but we just can't get past this custom-finished gold wall feature.

11. Violet SuperColumns
Looking for a floral feature for your scenic design? Violet Supercolumns will help your ballroom, staging, or event lounge bloom. Use with backlighting, and you'll see where Violet really shines.

12. Lola SuperColumns
With Lola, the sky's the limit when it comes to creating a nature-inspired scenic design. Lola SuperColumns represented tree trunks at this event which showcased an Amazonian Rainforest theme.

13. Mantis
Just like its namesake, the Mantis has a spiky, leggy look with interlocking panels that add depth and texture as a stage backdrop or standalone wall for smaller event spaces like lounges. It's great for back and front lighting, but we love how it allows you to play with concealed up lighting for some added drama.

14. Web
These futuristic spider webs are versatile as a complete stage backdrop solution, a paneled element, or we even imagine this one across the front of a bar in an event's lounge space. Web adds intense depth, texture, and a high-tech organic feel, whether front-lit or up lit.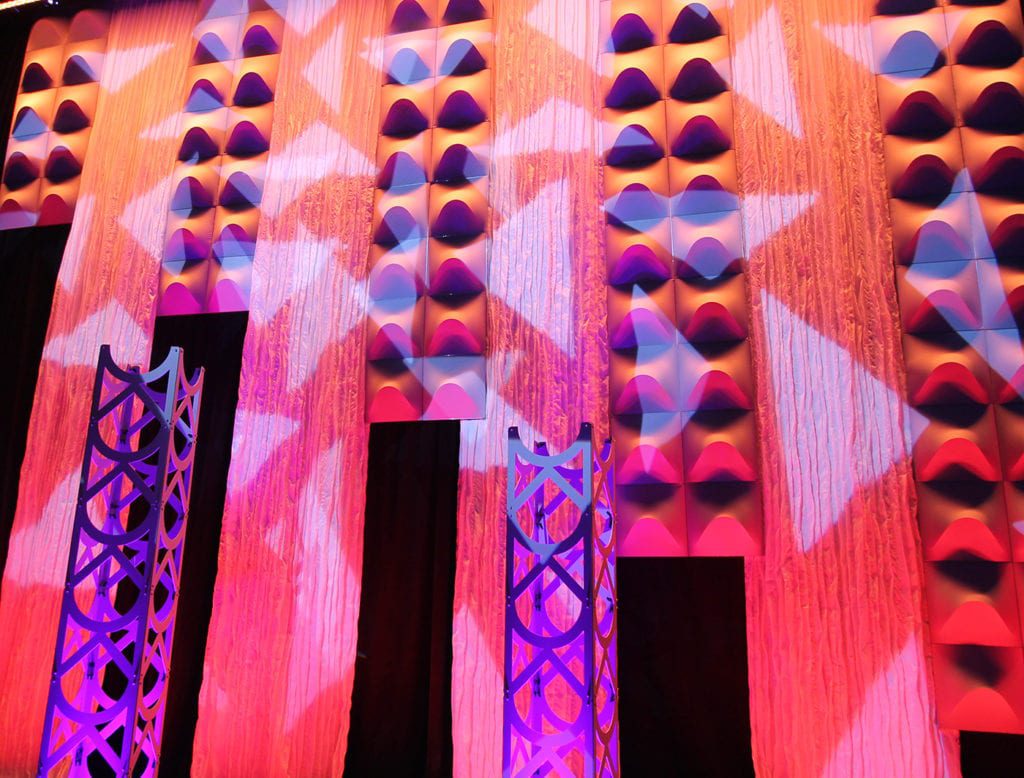 15. Dune
Show your admiration for nature's beauty with Dune. These fabric-colored panels that work with both light and projection are reminiscent of undulating dunes sculpted by whirling winds. Bringing texture and shape to your stage backdrop is what Dune does best, whether alone or interspersed with other modular panels.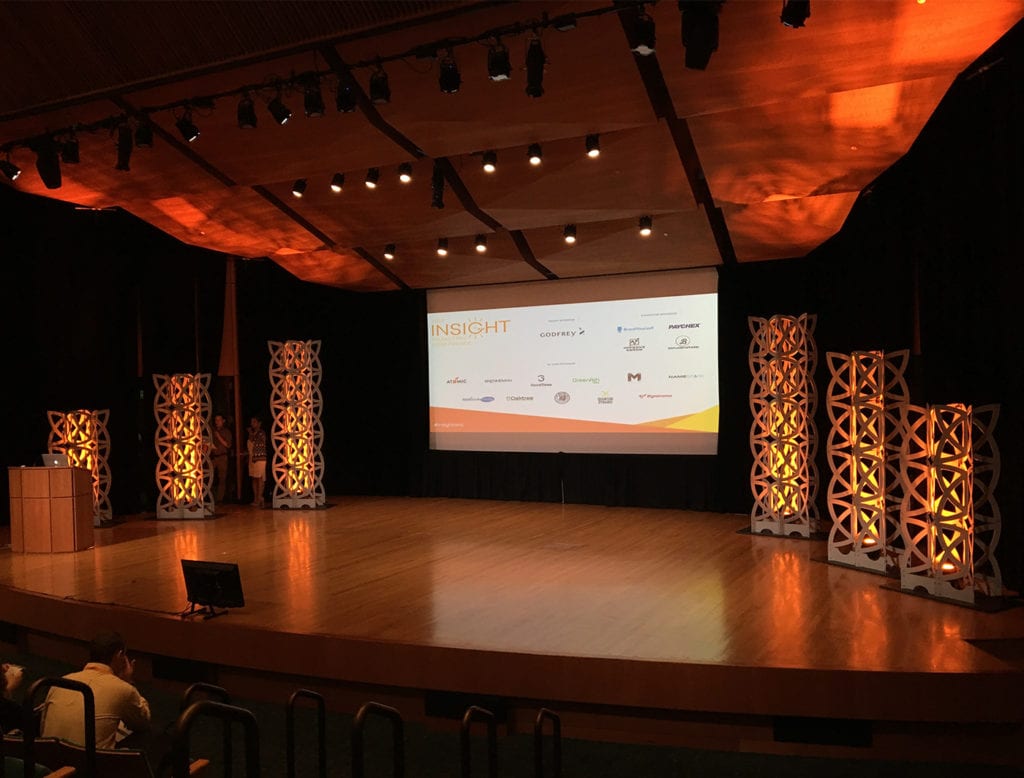 16. Knot
Whether you need a full stage backdrop or some feature columns, Knot packs a big punch, with little effort. The interlocking panels can be lit from the front, back, or even have uplighting concealed within them. Knot represents the interconnectedness of the universe so is perfect for science events, music sets and galas alike. It's all in how you use it.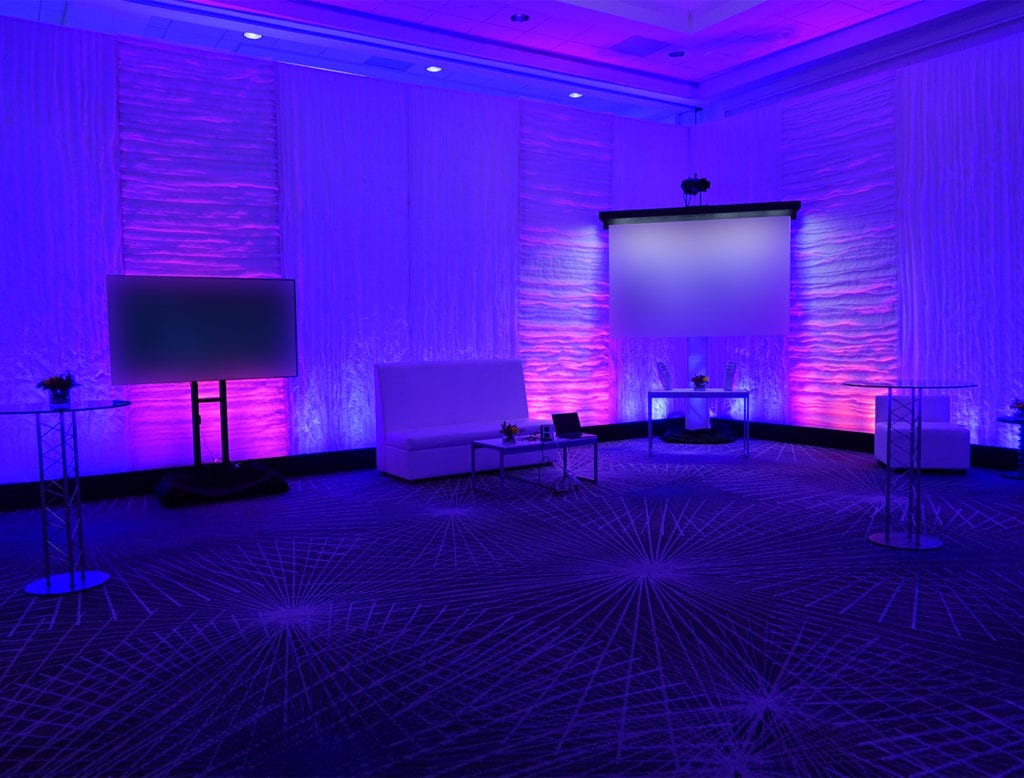 17. Cirrus
Mother Nature really knows how to set a mood. Create a soft, serene ambiance with Cirrus panels of wispy folded fabric. Your choice of color and lighting direction will determine the effect – whether heavenly or reminiscent of sunrise or sunset.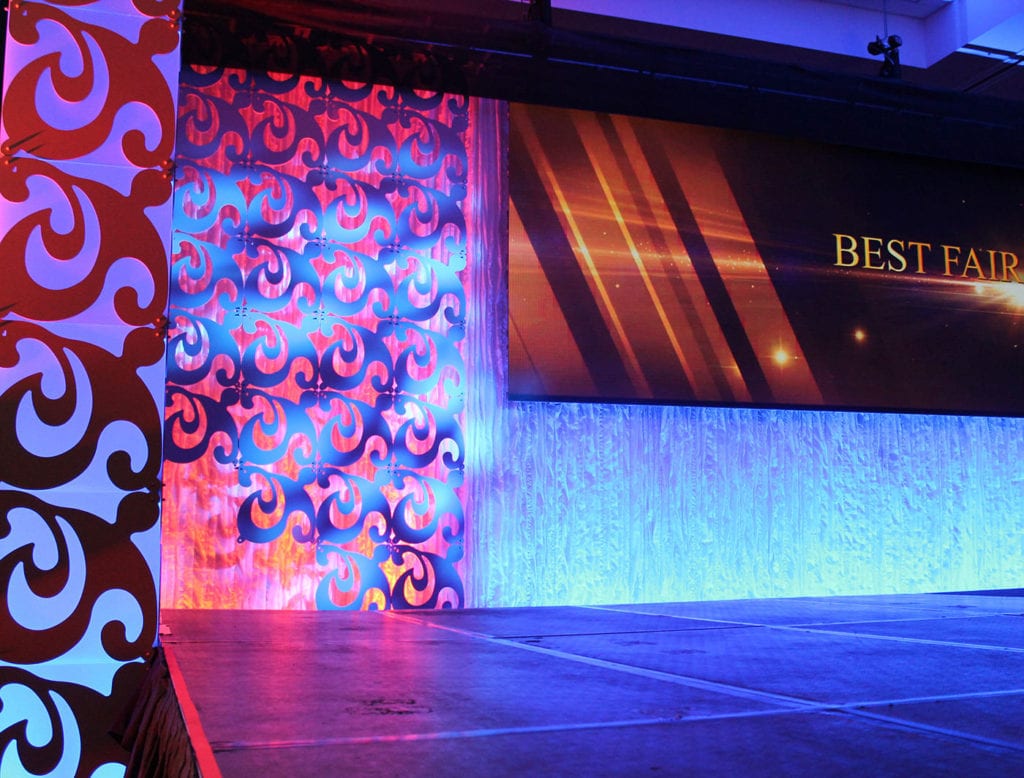 18. Rise
Cool sophistication is where it's at with the Rise ridged fabric panels. Use front and uplighting in icy hues to turn Rise into a backdrop reminiscent of frosty glaciers. This scenic design element can be used to add texture to the ordinary walls of an event space or combine it with other elements to create a multi-paneled stage set.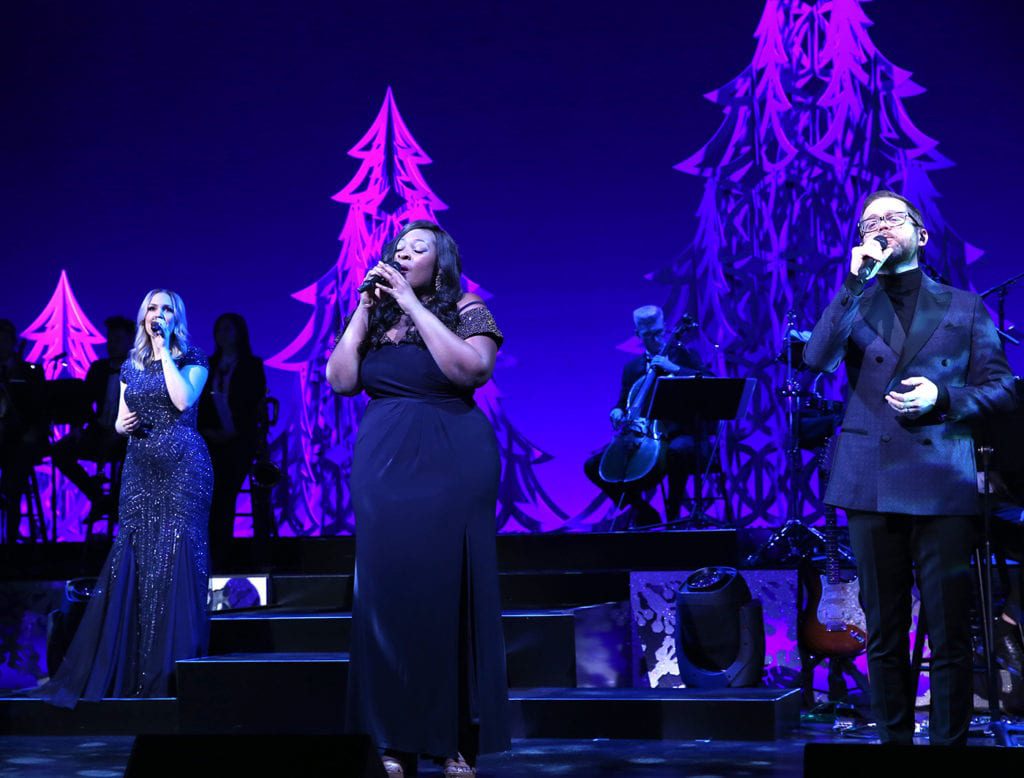 19. Fir
Looking for a way to incorporate trees into your event without the upkeep of the real thing? Fir's panels are interlocked into a three-dimensional tree shape that's a favorite for the holiday season. Whether it's an onstage production or a corporate Christmas party, Fir comes in three sizes, so it has you covered.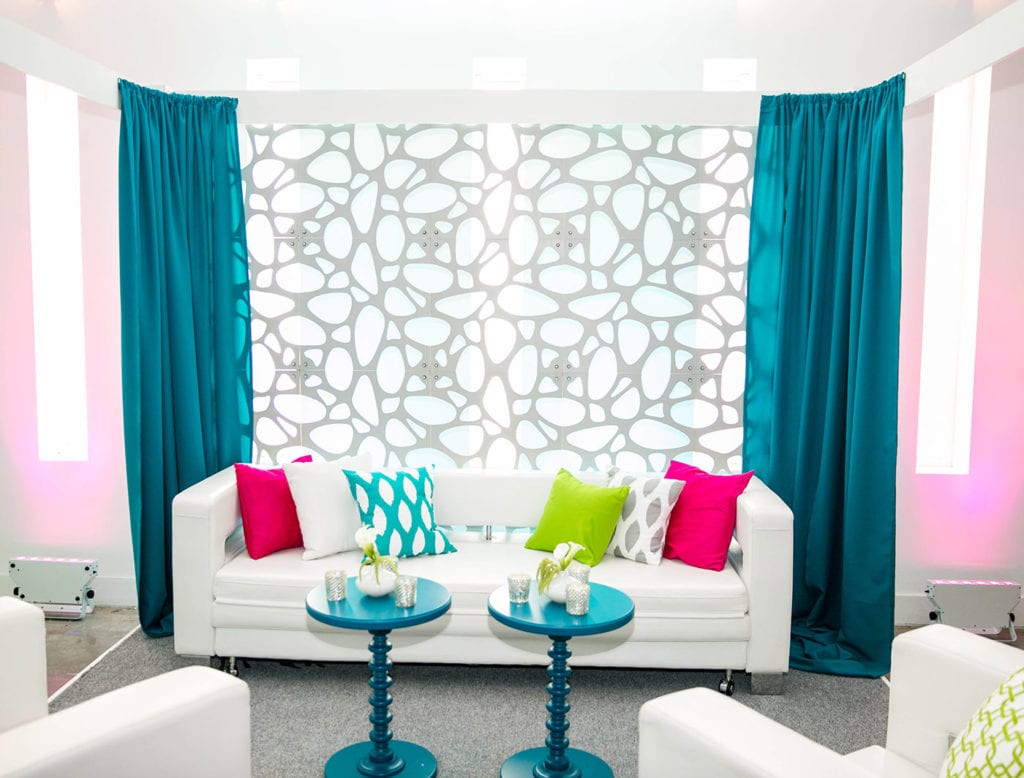 20. Blubby
Blubby is a crowd-pleaser that is open to interpretation. Some see pebbles, and others see webbing. But one thing's for sure – it draws attention. Keep a neutral look for small event spaces favoring an airy feel, or go large and well-lit for a staging backdrop.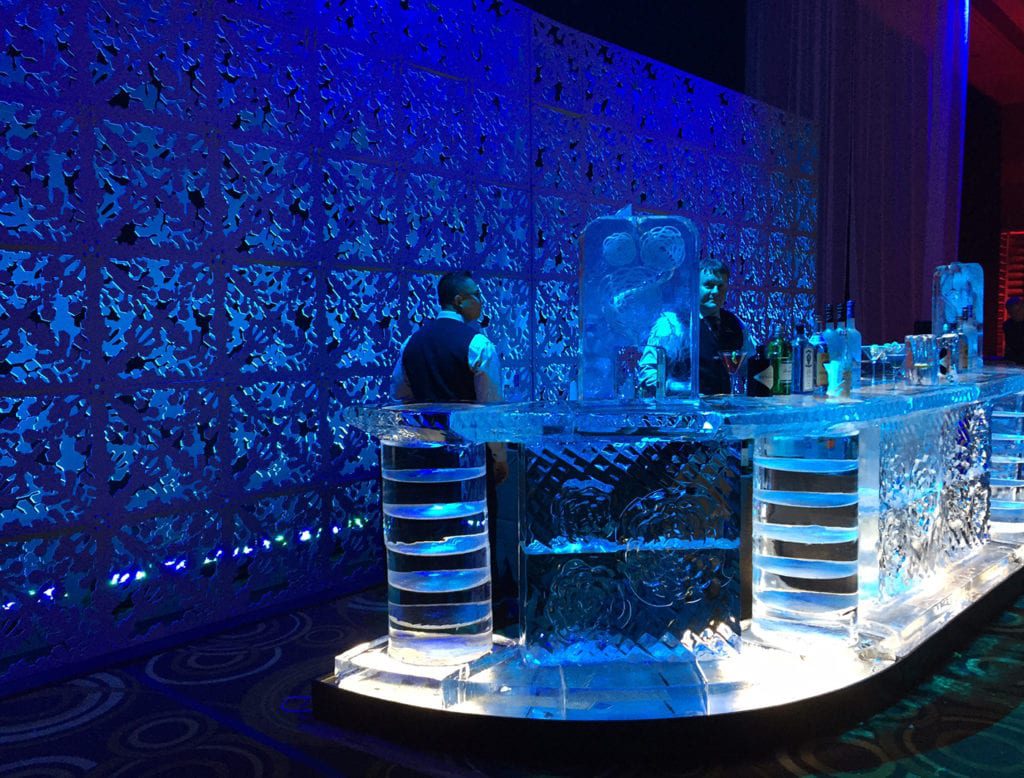 21. Yetiflake SuperWall
Want a stage design just like a winter wonderland? Yetiflake brings an icy beauty that's perfect for an ice bar, music performance, television production, and more. Add a frosty glow through the negative space with backlighting, or use front and up lighting to bring the snowflake shapes to the forefront.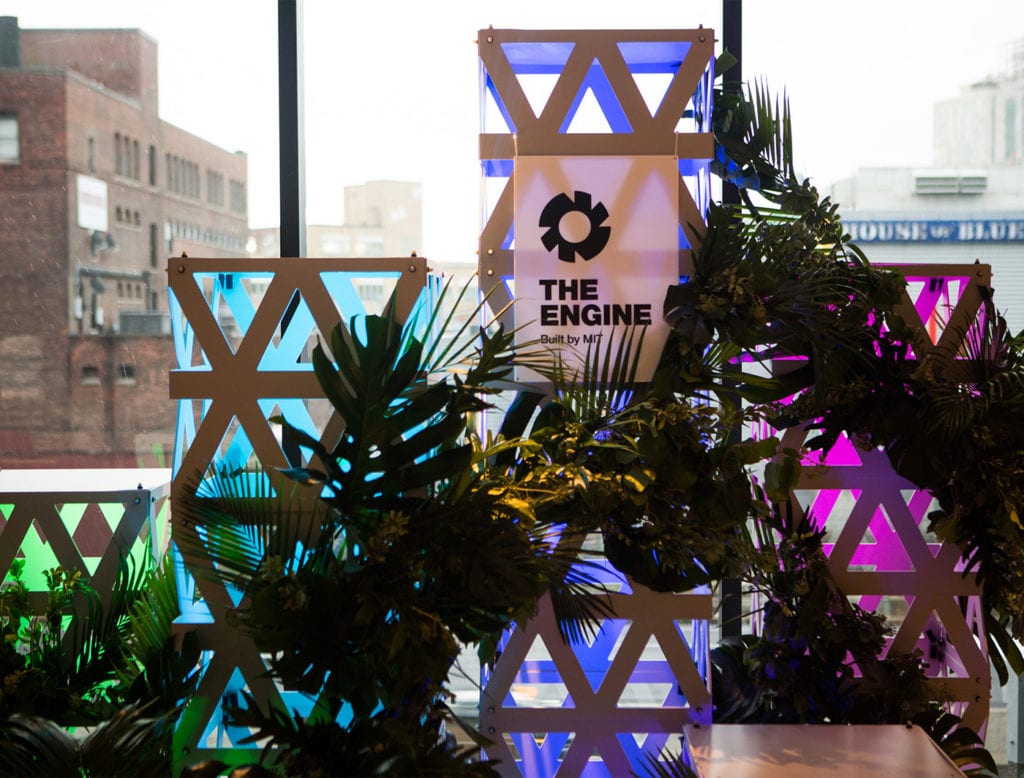 22. Triad SuperColumns
Triad SuperColumns are a geometrical delight, but they also strongly resemble garden lattice, which makes them the perfect element to team with plants (whether real or artificial). In the scenic design pictured, we love the juxtaposition of neon lighting, the clean white lines of the Triad panels, and some lush greenery.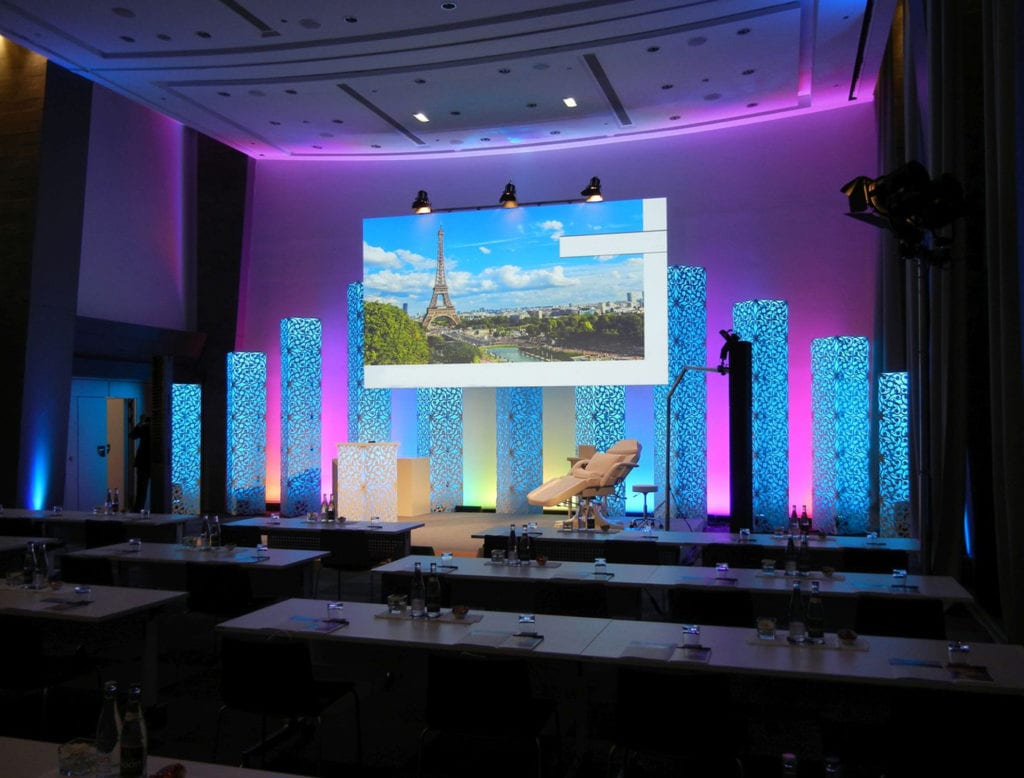 23. Pippa SuperColumns
Pippa SuperColumns are another delightful floral option in our collection of scenic design ideas. Their fine detail makes them ideal when you'd prefer to keep the rest of your stage design simple, as you can see in the conference pictured.
Industrial-inspired scenic design ideas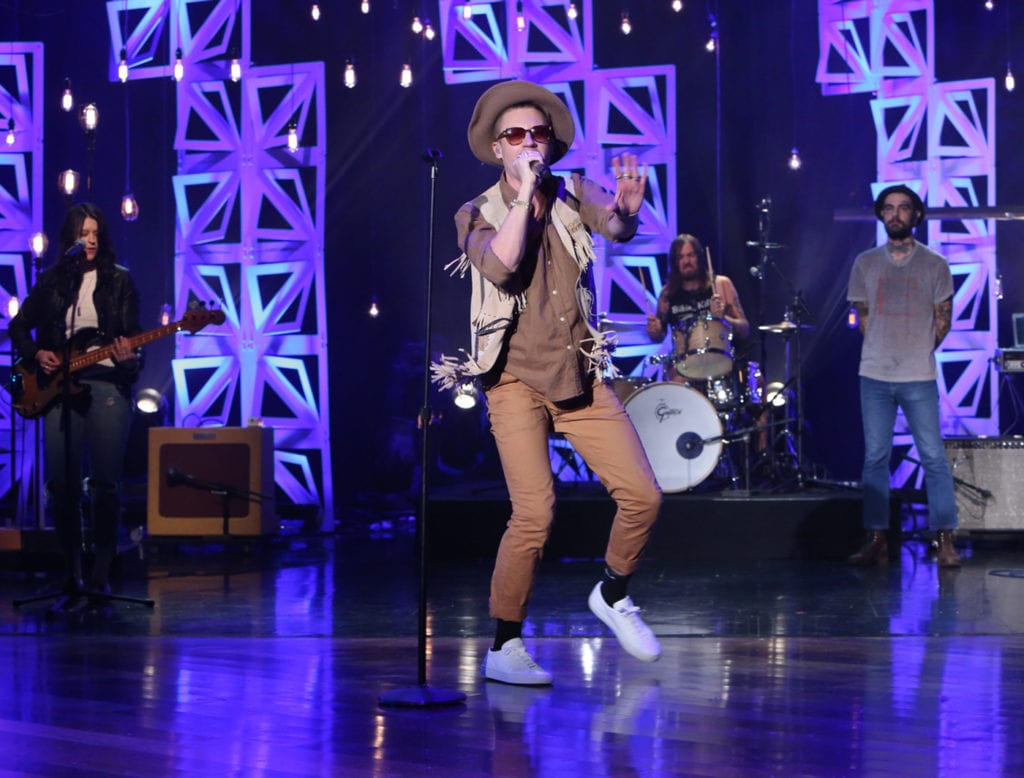 24. Razor SuperColumn
Sharp and edgy, Razor is where it's at for multi-dimensional industrial wow-factor. Team with front lighting or backlighting to create different looks to suit your space. These versatile 3D panels can be used for anything from backdrops at staged events, to statement pieces at art shows or to draw razor-sharp interest from crowds at a cutting-edge trade show booth.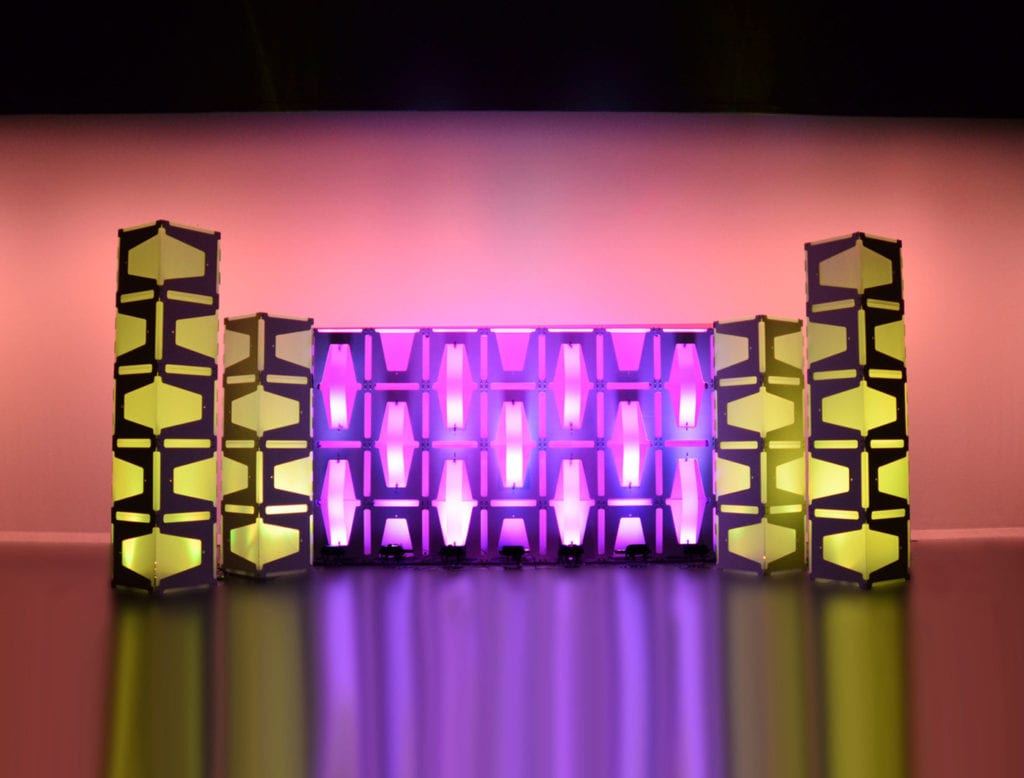 25. Un-roll
Looking for a scenic element that lets the light in? That's where the Un-roll shines. This thin insert snaps into place to create depth and a look that's both futuristic and industrial. Works well with front, back, or uplighting, whether you choose a horizontal or vertical feature (or a combination of both)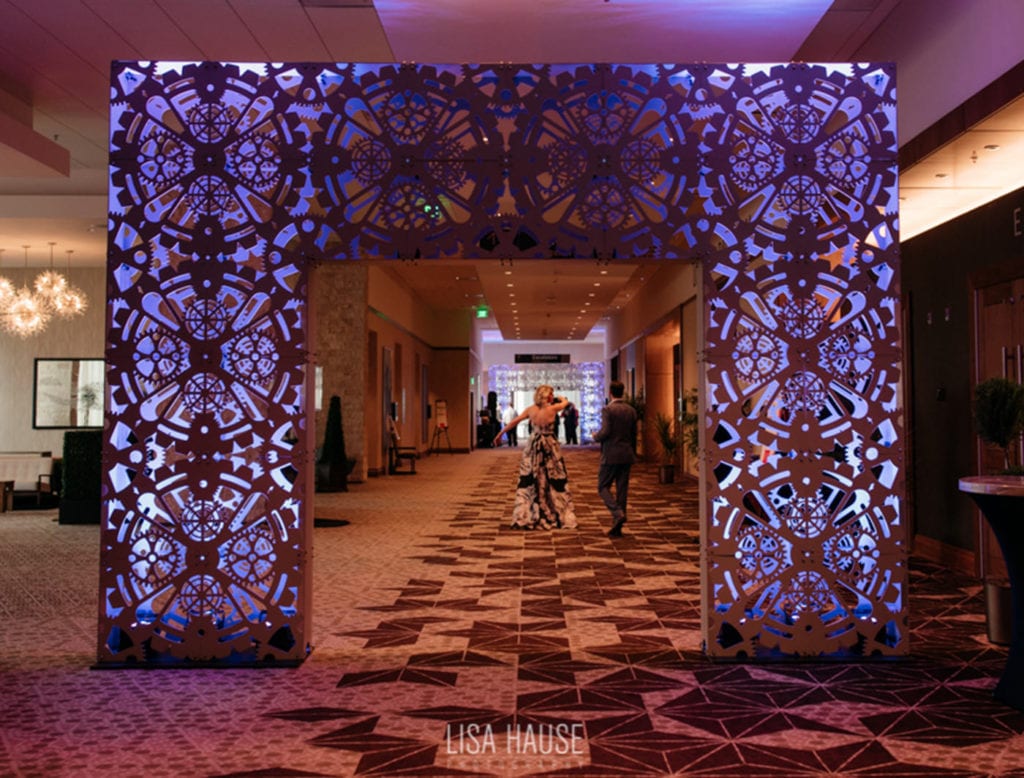 26. Gearz SuperArch
Whether your event is industrial-themed or you want to add an edge to an otherwise classic space, Gearz is the element to give your venue some wow factor. Check out the unexpected addition of this Gearz SuperArch which serves as a steampunk entrance for these awards.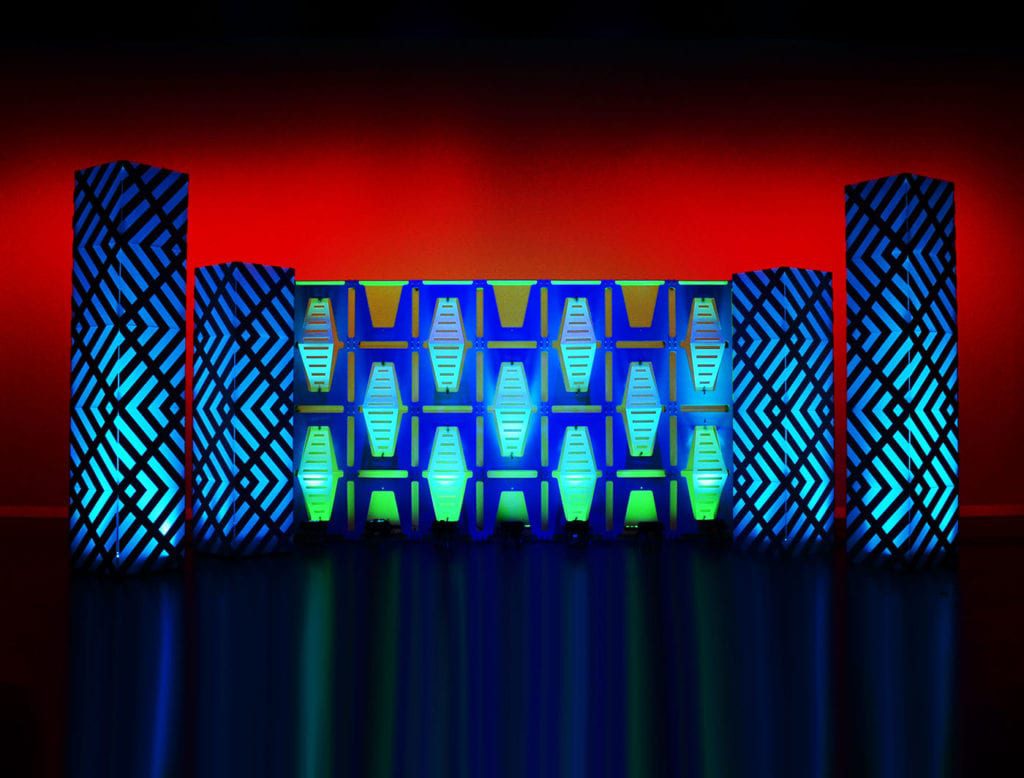 27. Un-Reel
Un-Reel is a versatile snap-in feature for the un-panels. While it holds some obvious industrial appeal thanks to its grate-like appearance, it was created to resemble old film reels, which also makes it ideal for the backdrops of televised productions.

28. Starburst
Although named for the stars, Starburst also makes us think of plane propellers, and it's this quality that lends them an industrial vibe. Try pairing Starburst with Gearz or Xplode panels to maximize their thrust and be sure to add front or up lighting to complete the look for your scenic design.
Tech or futuristic scenic designs

29. Chadz SuperWall
You can't help but think of UFOs when you look at Chadz modular 3D panels brilliantly lit to highlight their negative space. If you're looking to transform a space with just one scenic element, make it Chadz for maximum impact.

30. Hologram
Hologram may look subtle on its own, but add some front or backlighting and some modular panels, and you'll see that subtlety was only an illusion. Hologram's sheer panels add a mysterious sense of depth to any scenic design but really shine in a futuristic setting.

31. Circuit SuperColumns
It's easy to create a high-tech feel with Circuit SuperColumns. Team with neon lighting and your supersized circuit boards are ready to take center stage and draw your event guests into the future.

32. Bitty dreams
Looking for a way to disrupt your tired and traditional backdrops? Bitty dreams make tech events come alive. String these bad boys up to look like they're floating and add some front lighting for the best effect.

33. Frosty SuperColumns
Frosty are the building blocks of the future, ready to bring any stage, corporate event, or convention lounge to life. Leave them plain or add Circuit or Roundabout panels to create columns that make a statement.

34. Atlas
Today, tech makes the world go round, and Atlas is the element that ties the two together. Use Atlas panels as a single or multi-panel backdrop for any tech-based event, enhanced with front and uplighting to make them pop out of the background of your scenic design.

35. X2C
Looking for a way to bring your stage design into the future? X2C is the structure that will bring it to life. Use it with your choice of SuperLever panels like Hologram or Webb to create unique ground-supported columns to take your stage decor to its upper limits.

36. Un-Split
A high-tech futuristic event makes the perfect home for Un-Split snap-in panels. Each insert is split down the center, allowing you to push them forward or back to create your desired effect. Our favorite? Splitting them up so that they resemble a helix and pairing with some neon lighting.

37. Trax
Who said pleats are old-school? Trax is a pleated lightweight drape that will add a space-age feel to any event. Use front or up lighting to bring Trax into its element as a stage backdrop – whether you're creating an edgy look for a conference or a music performance.

38. Misia Origami
We don't think we've ever seen a ceiling net as futuristic as the one at this concert. As an engineered soft element, Misia Origami is incredibly versatile and creates a high-tech feel without the need for modular panels. Use with front or uplighting for best effect.
Scenic design elements that look best with lights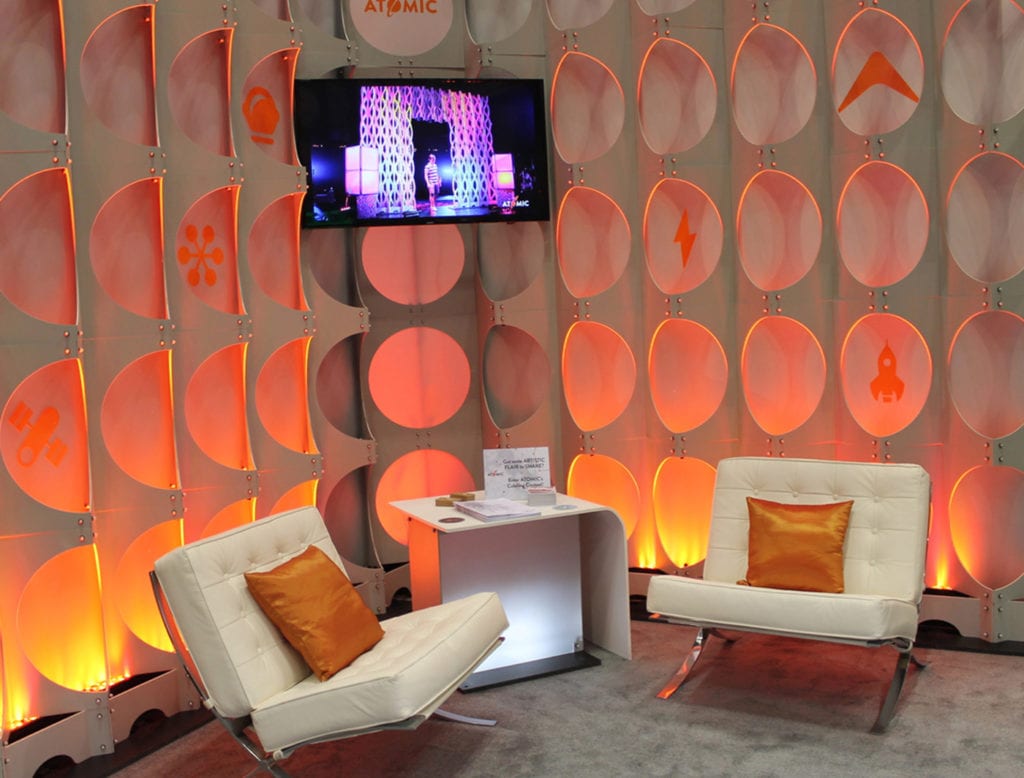 39. Flare
What we love most about Flare is the impact it creates when lit from within with concealed lighting. Flare adds wow-factor to smaller spaces like trade show booths, but it also stands up well when configured into archways and staging features at larger events.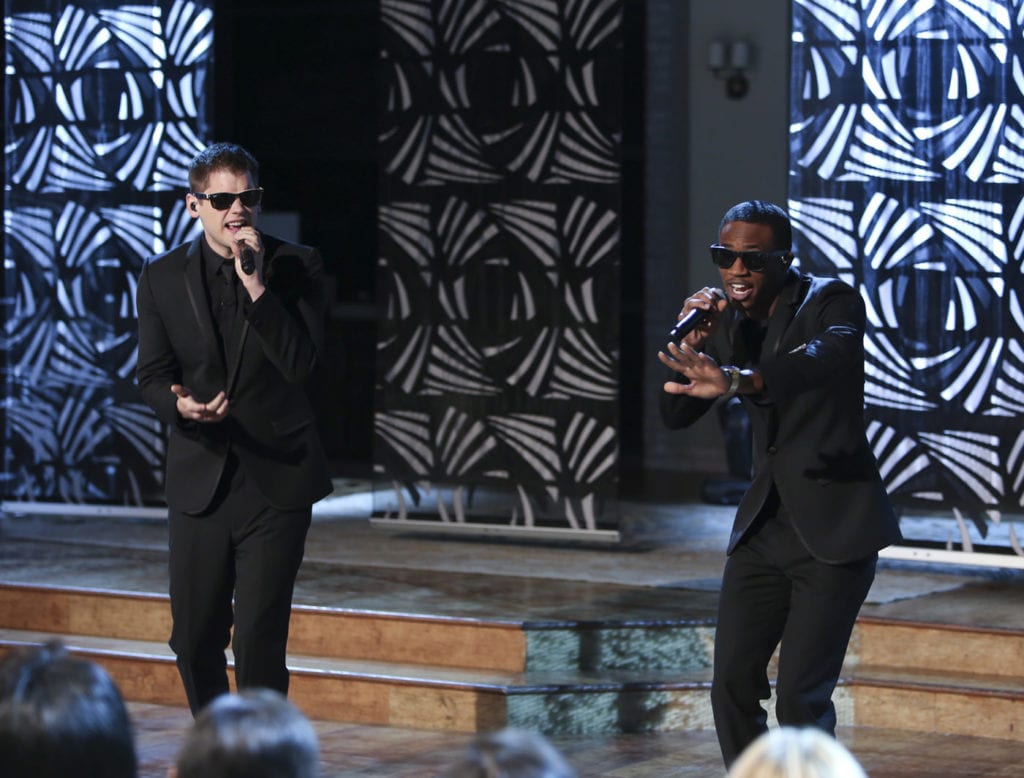 40. Jagger
Jagger patterned fabric panels are ready to rock out at your next staged event. Seen here with just natural lighting, they are at their monochromatic best but add some neon uplighting, and you'll be sure to create a buzz.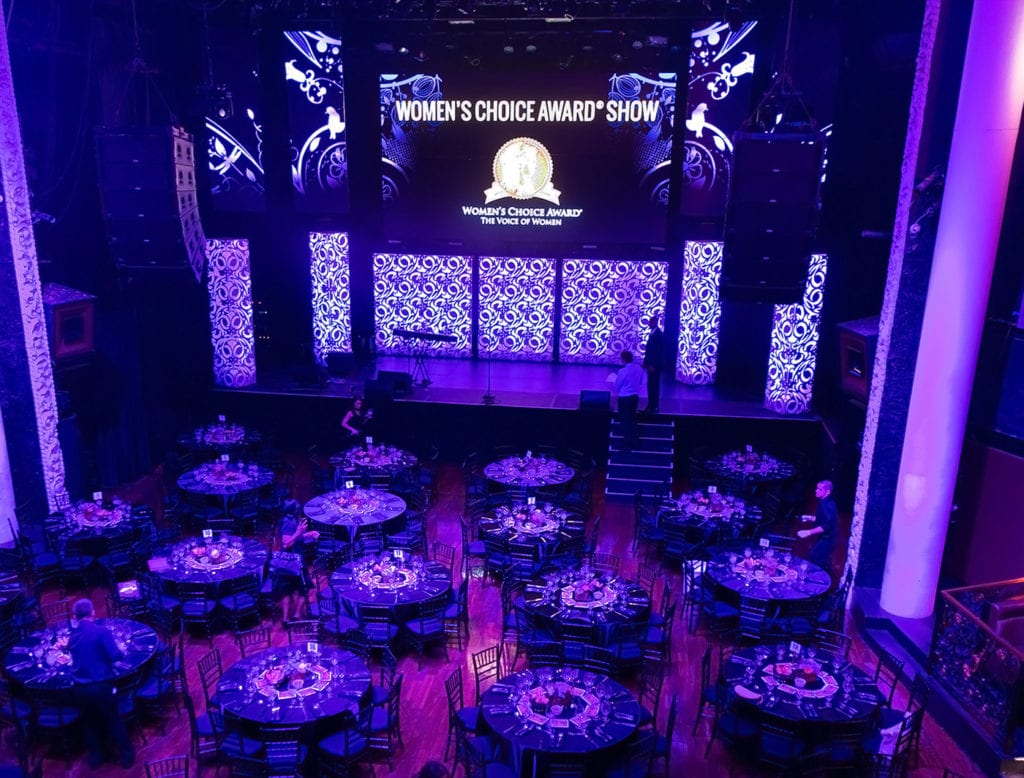 41. Lola SuperWall
Let Lola woo your guests as a stage-wide backdrop at a conference, performance, or award show. This scenic design idea is all kinds of cute, whether front, back or uplit, and can easily be complemented by Lola Super Columns for a more stunning impact.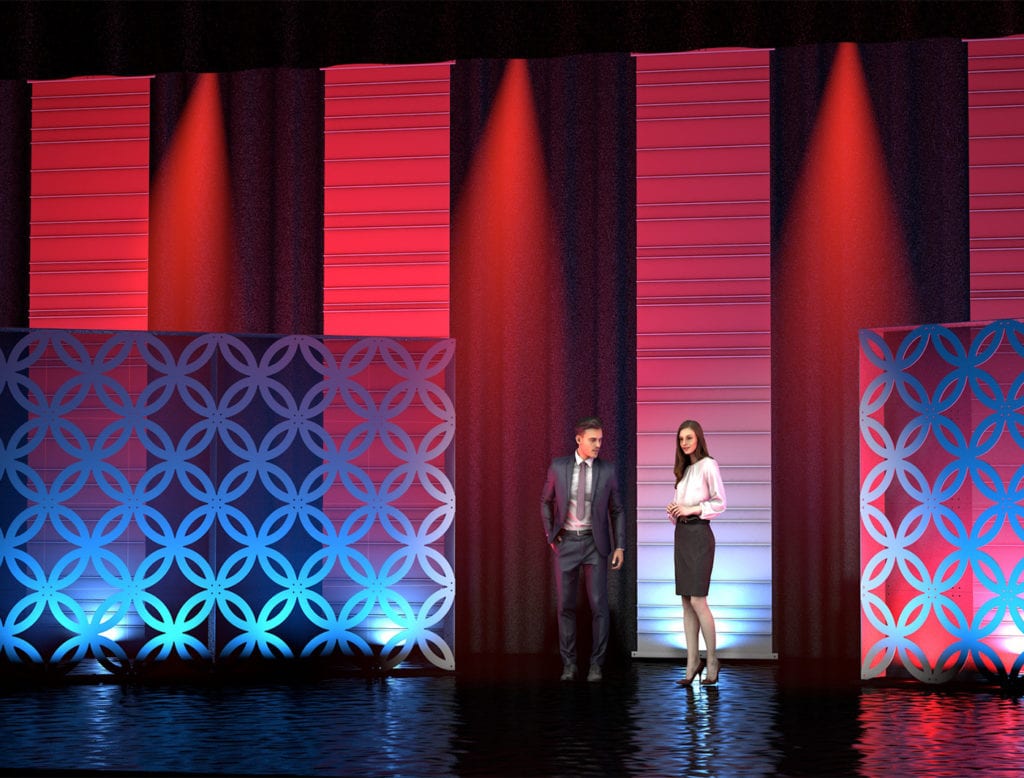 42. Loop SuperWall
For a look that's a little bit retro, let Loop be your standout feature wall at your next staged event. With front lighting or uplighting, we think Loop works best for conferences and trade shows.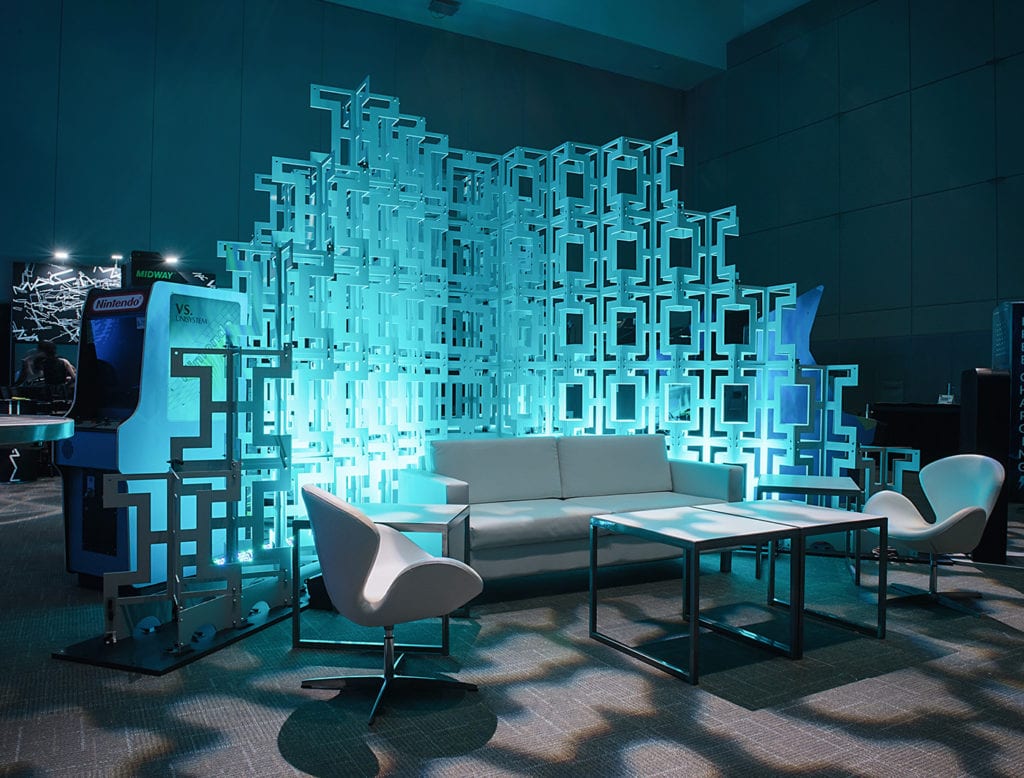 43. Arcade FASTwall
If you're low on space, Arcade FASTwall helps you create a big impact. Its flexible nature means it can be lit with front lighting, backlighting, or some moody, concealed uplighting. Arcade has a retro throwback feel, but because it is so sleek, it works well for corporate event staging or even as a trade show booth wall.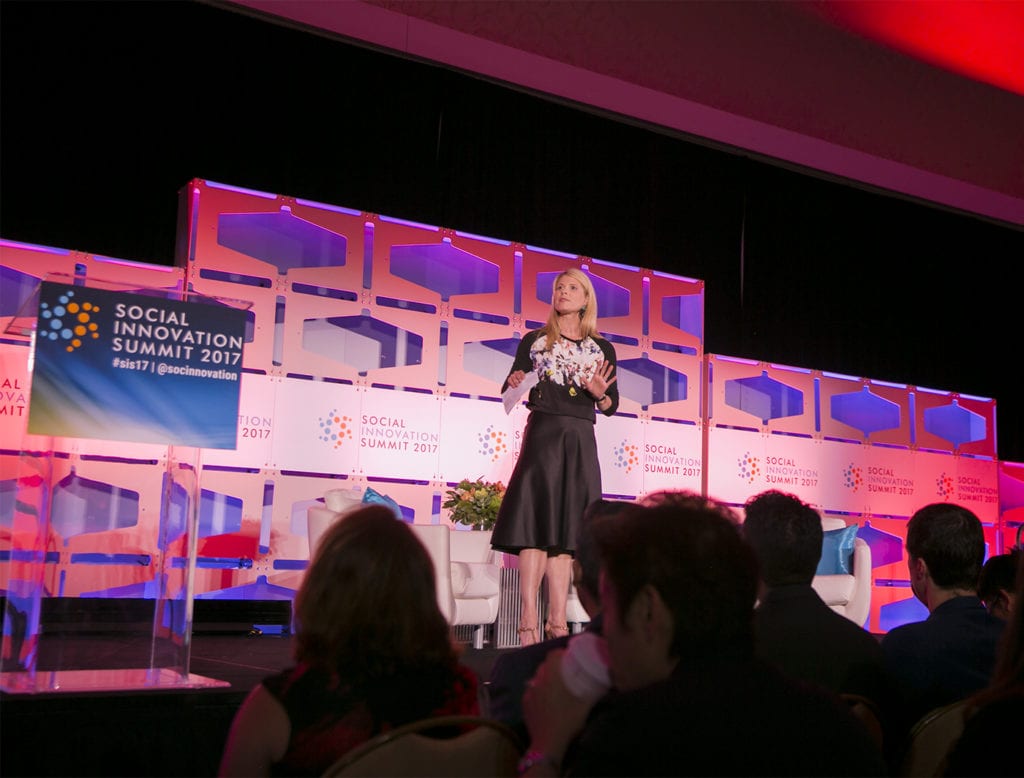 44. Un-Panel
Un-Panels are the foundational scenic element for snap-in panels like Un-Curve and Un-Reel. And yet, as you can see in the scenic design pictured, they are a powerful element on their own. All you need is the right lighting to hero the negative space of the Un-Panel, and it makes the perfect feature wall, stage backdrop, or trade show booth partition.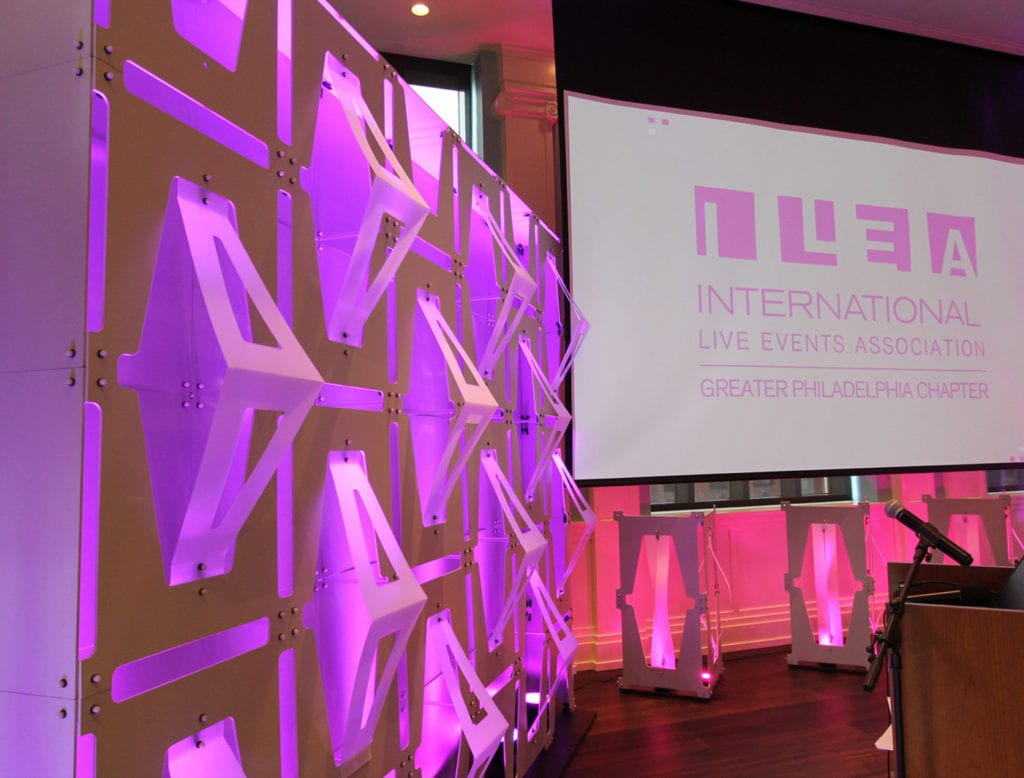 45. Un-Cut
Un-cut is an insert for the Un-Panel frame that's perfect for adding dimension when you don't have a lot of stage depth to work with. Let the emerging Un-Cut inserts and some top-notch lighting create a stage backdrop to remember.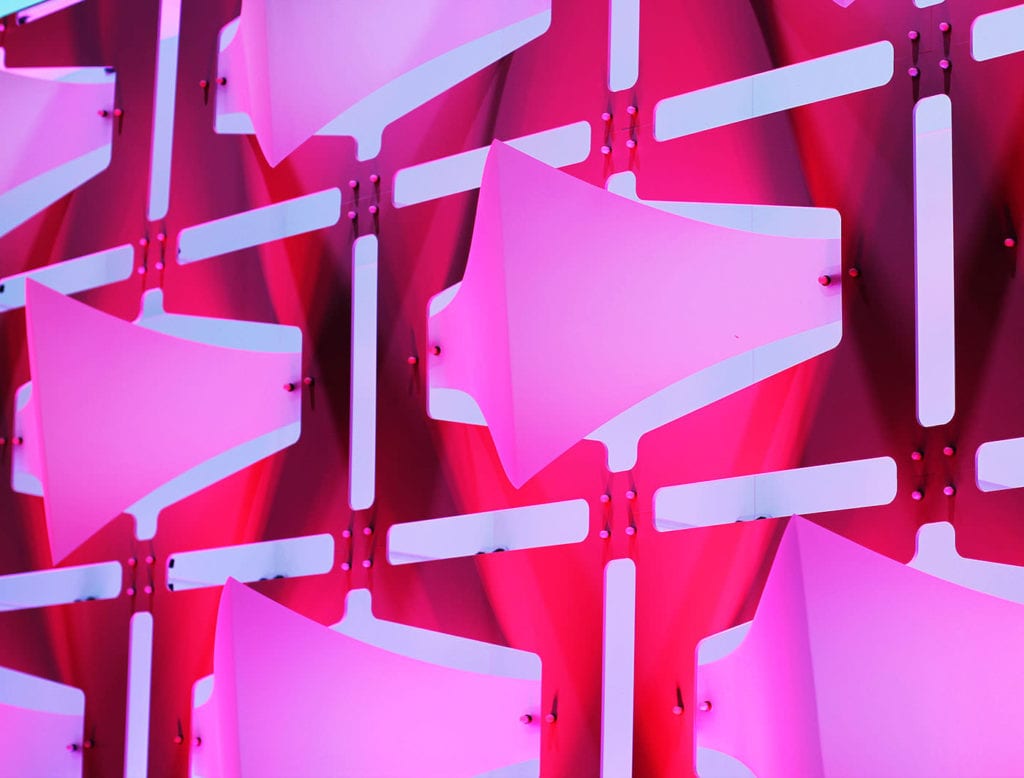 46. Un-Bend
Choose your direction and choose your lighting with Un-bend and you have a dimensional scenic design that's ready to wow. Un-bend teams with Un-panel framing to create a big impact with little effort. Use it as a backdrop for a conference, music performance, awards show, or a gala with a difference.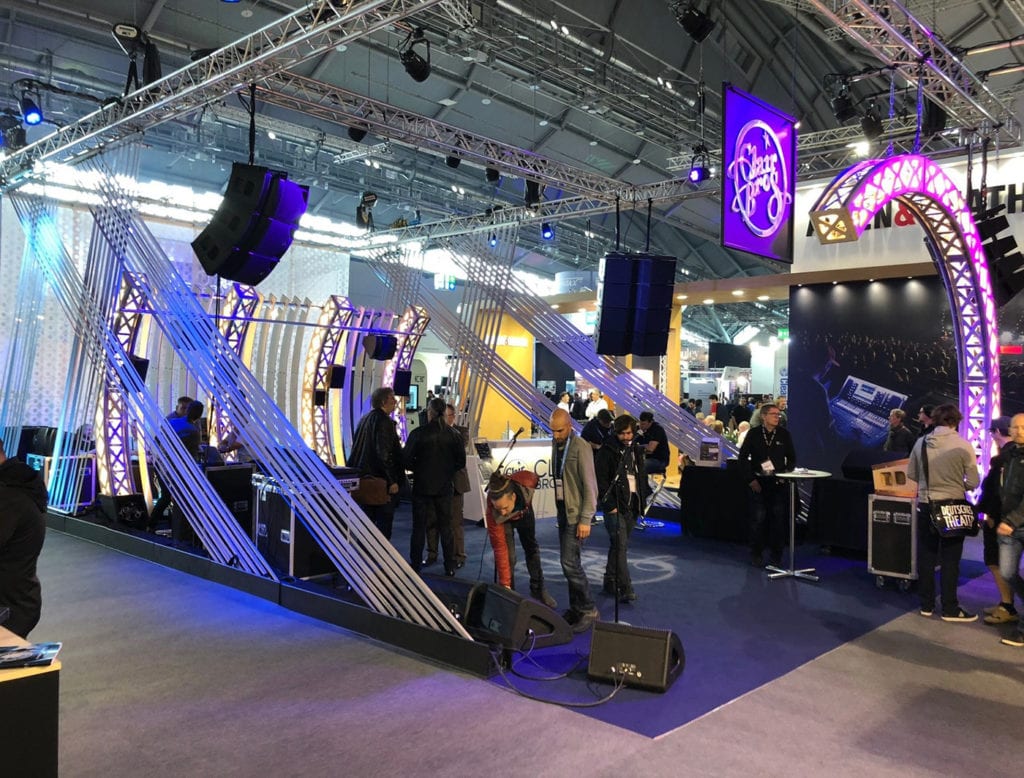 47. Udon
All it takes for Udon to shine is some front or uplighting and thoughtful placement. These strips of elastic fabric can be twisted and positioned any way you please to create truly unique scenic designs at galas and conferences alike, but they're also suited to smaller-scale decor like to dress up a trade show booth for instance.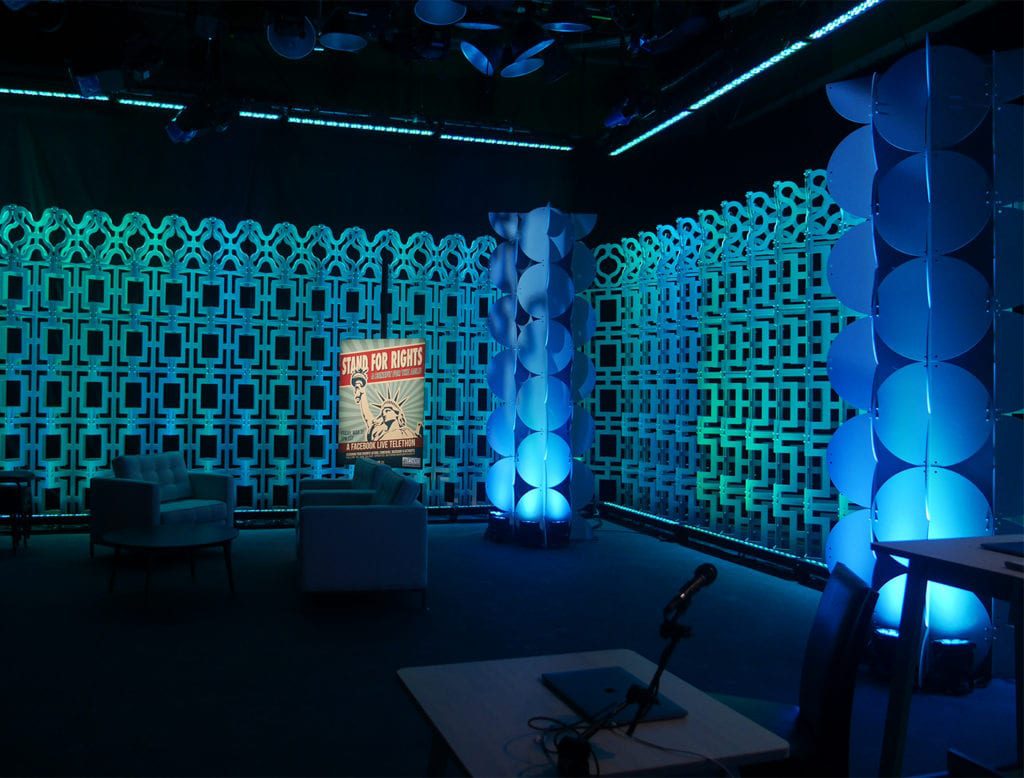 48. Bubblegum
The playful rounded panels of Bubblegum set them apart from other modular staging elements. Use them in columns to dress up a trade show booth or to cheer up an empty corner of an event lounge.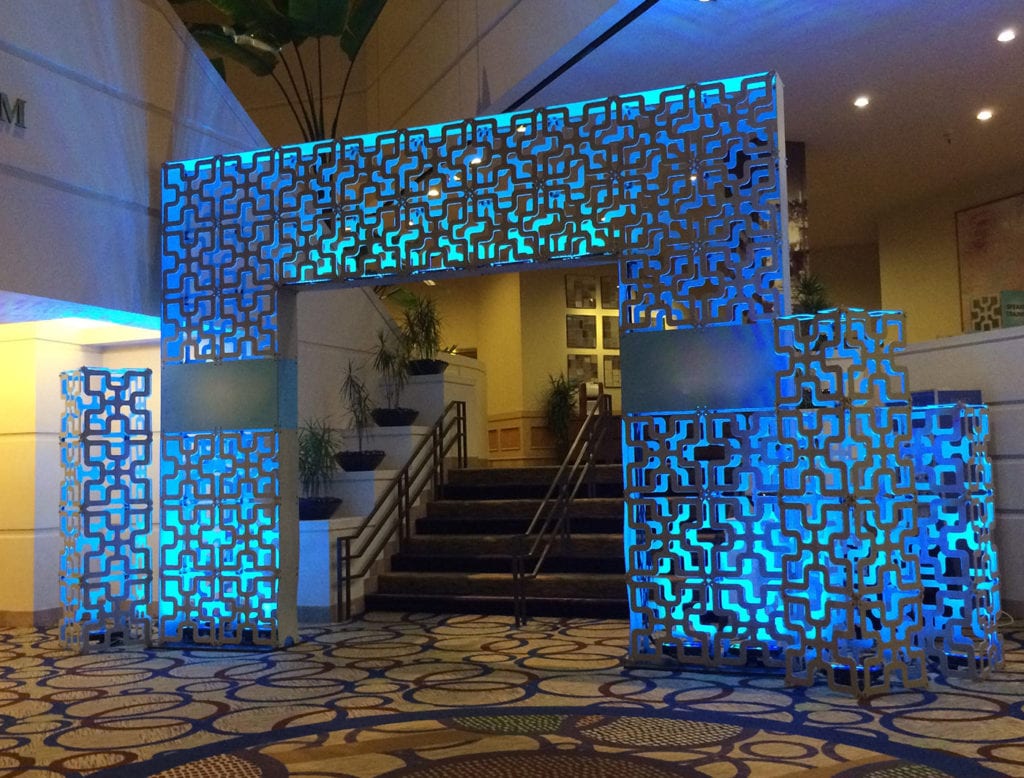 49. Clover SuperArch
Wow your attendees right from the first moment with a Clover archway that's brilliantly lit. Whether you're planning a conference or a gala, Clover panels can be adjusted to suit the space at hand and also provide event-goers with the perfect photo op.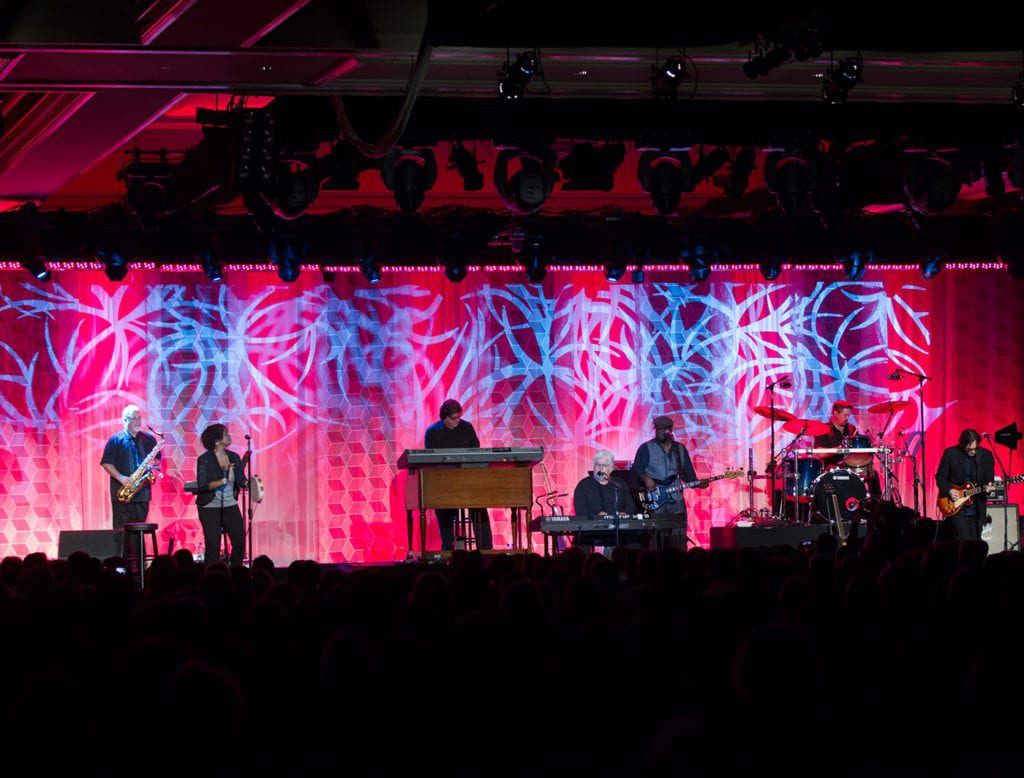 50. Qubix
Qubix is ideal for those events where stage depth is lacking because although the panels are only 2D, their unique design transforms into a 3D look with the right lighting. So whether it's a trade show booth or a small-scale production, Qubix can create high impact, with minimum fuss.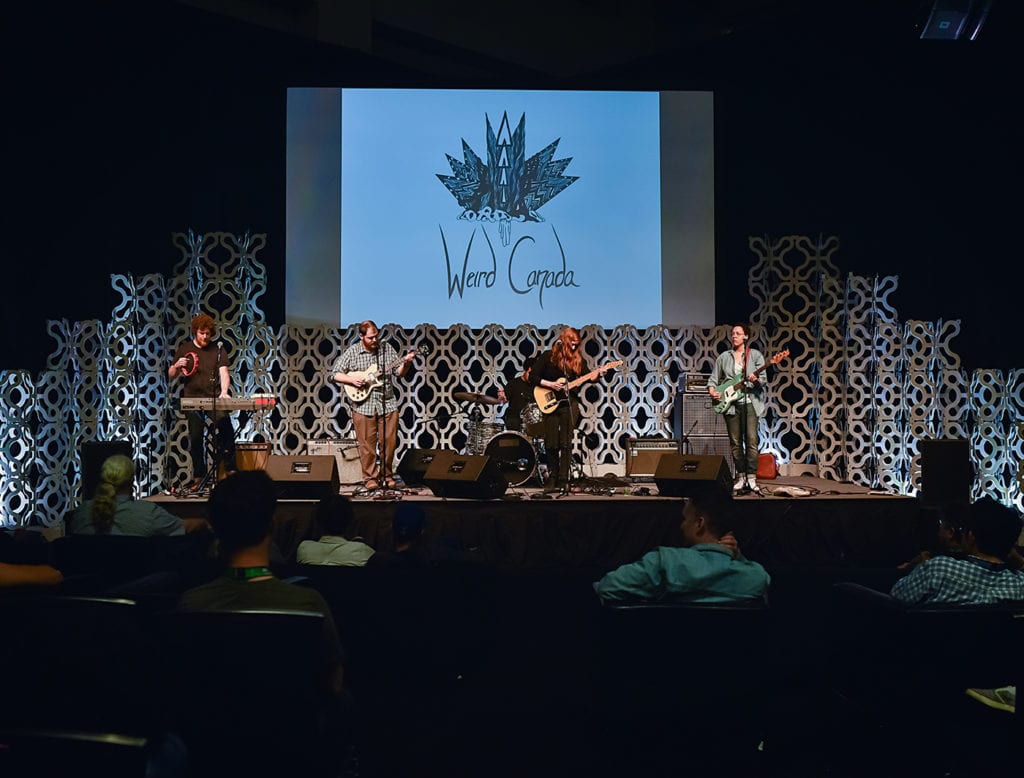 51. Roundabout FASTwall
Roundabout's ground-supported design not only makes it functional as a freestanding wall, but it adds an incredible sense of dimension to event staging. Roundabout is best with front or uplighting but works well with backlighting too. Get creative with this scenic design idea for your music, corporate, or trade show event.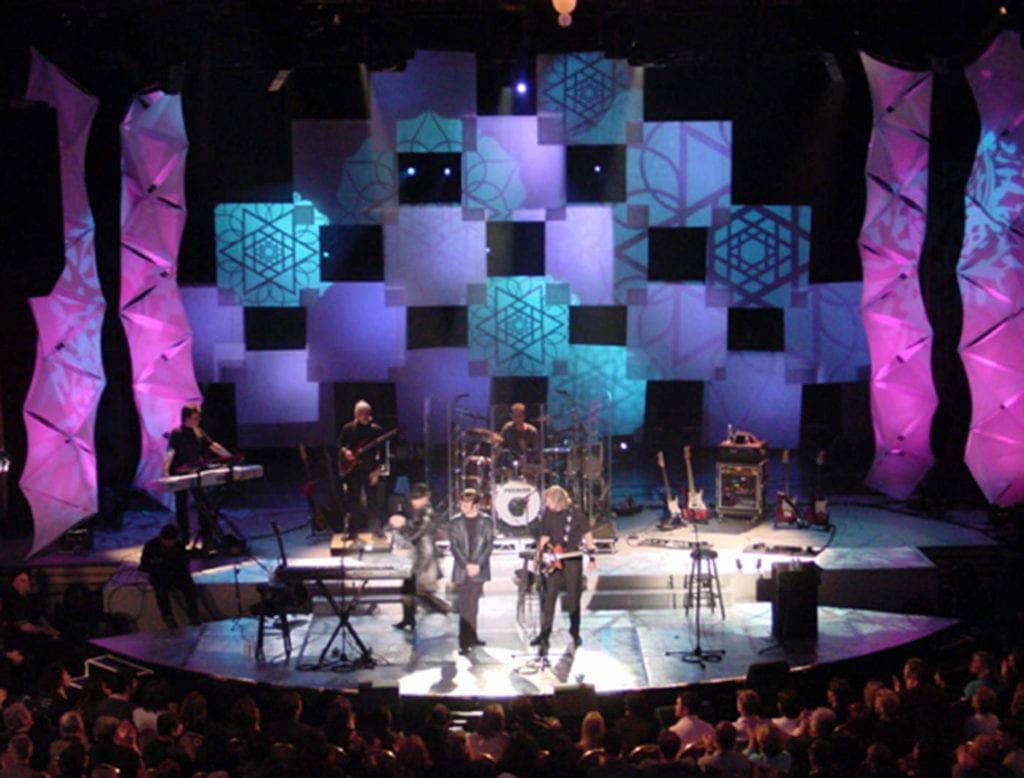 52. Tetra Columns
Tetra Columns are an engineering feat that adds height and interest to your staging. Because of their height, they are perfect for staging on a large-scale, but are available in shorter versions too, which means they can be used for styling an event lounge, or a tradeshow as well. Tetra Columns are just begging for you to get creative with some front or uplighting to transform their white fabric into a thing of beauty.
Theatrical-inspired scenic design ideas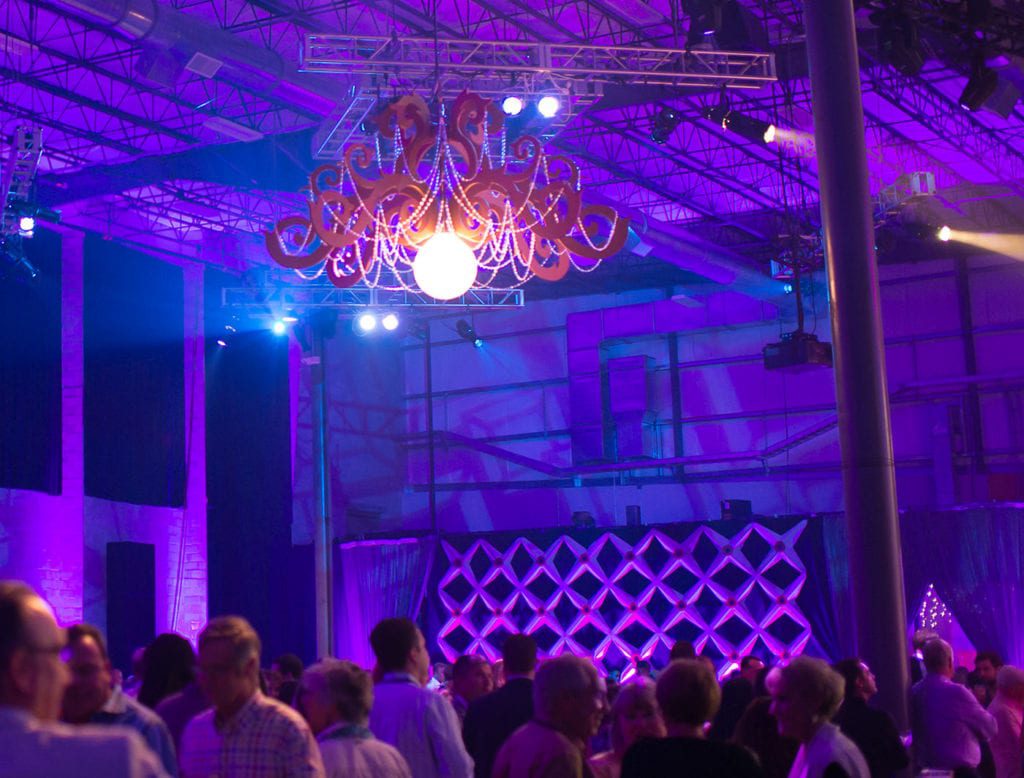 53. Julietta Chandelier
You can't help but let the Julietta Chandelier steal your heart, with her elegant arms and crystal-like beading that catches the light just so. Use Julietta in ballrooms, as onstage decor for intimate speaking events, or at the next award ceremony you plan.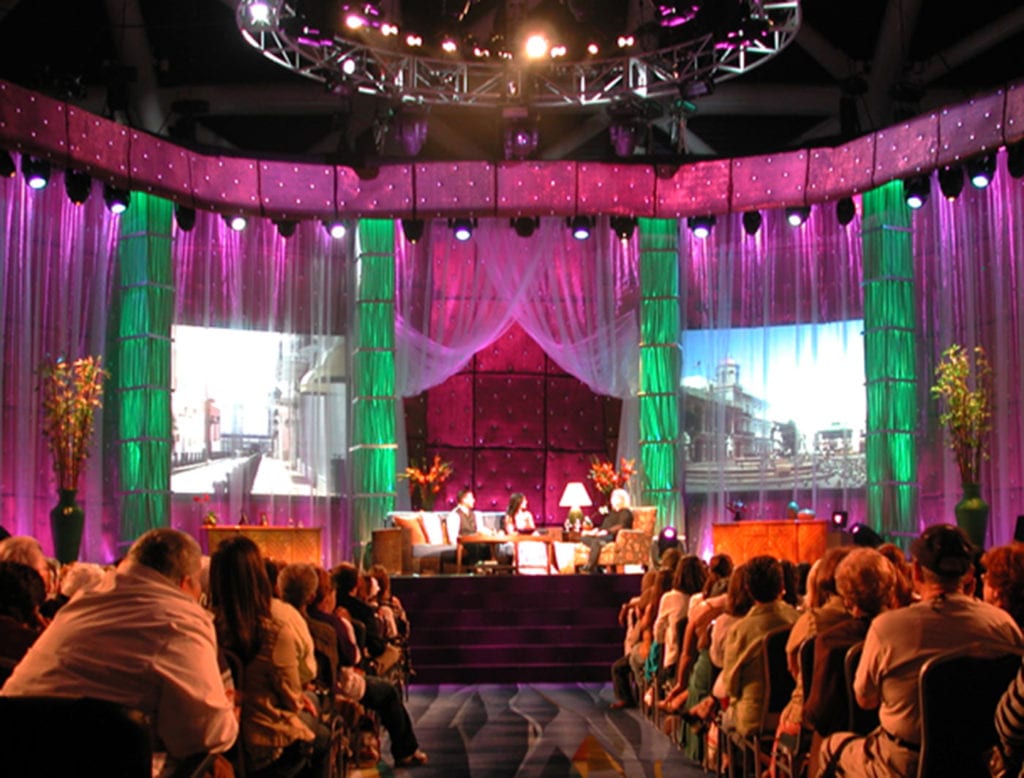 54. Pleated column
Pleated columns make an interesting alternative to the 3D draping commonly used to create a sense of theatrical drama. Aluminum frames hold them together to create a semi-structured look, and internal reflectors bounce your on-stage front and uplighting for a magical effect.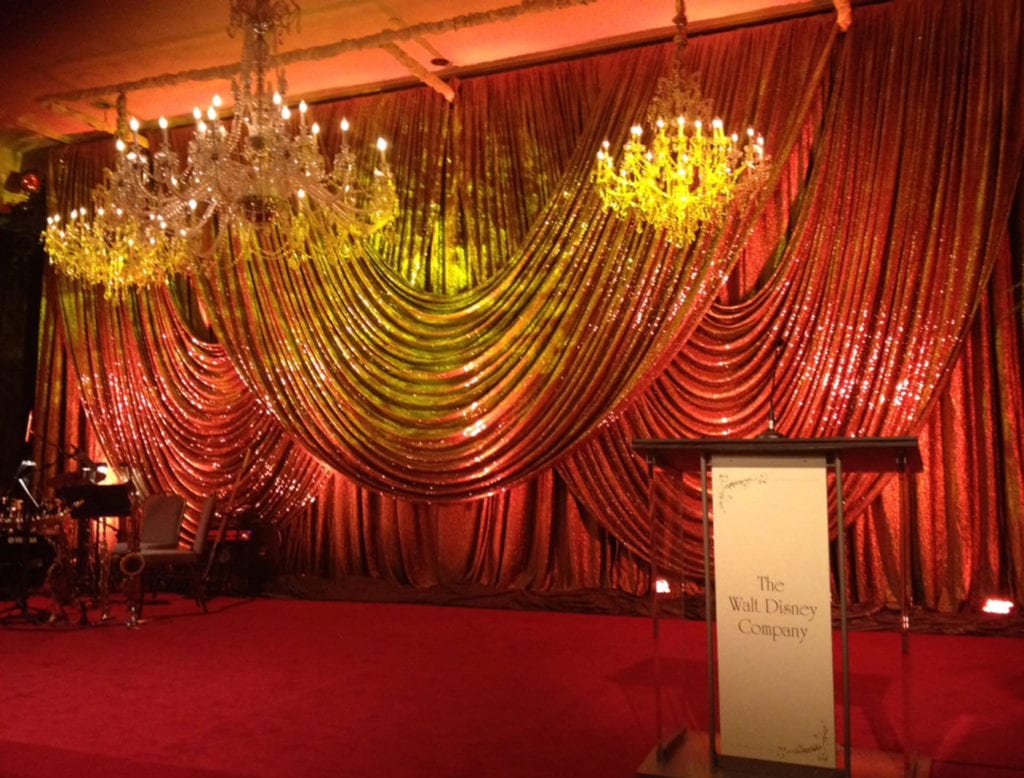 55. Gold Sparkle Dot
The ultimate in glitz, these Gold Sparkle Dot drapes are sure to dazzle at any upscale event. Consider them for a gala, corporate awards dinner, or something more magical – like this Disney event. Heighten the drama with front lighting or uplighting.
56. Buule
Use a single panel as a backdrop in a lounge or go grand with an expanse of Buule onstage. This white flowing drape is the best front or up-lit to add a luxurious feel to your event space.

57. Cappuccino
If you're looking for a floor-to-ceiling elegance, then Cappuccino drapes are a must-have. Drapes, swags, and legs are lit to perfection with front or up lighting enhancing their natural sheen.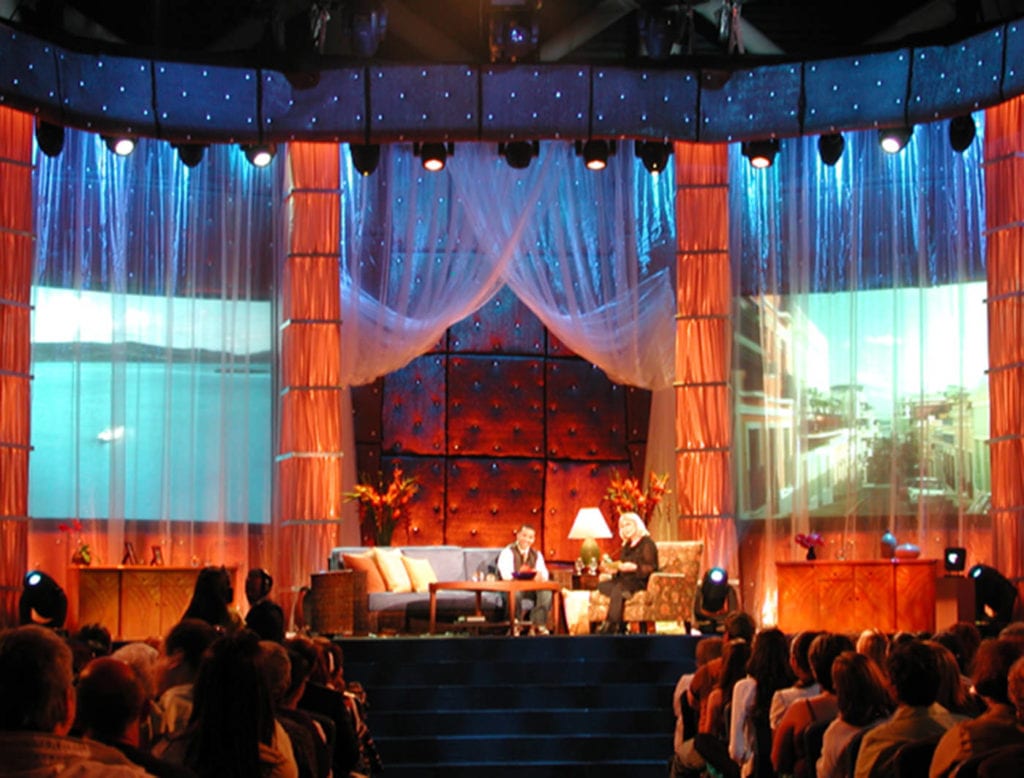 58. Glister Sheen
Multi-layered theatrical staging is where Glister Sheen shines. These versatile fabric products can be layered and gathered in any way you like. Team with some front, back, or up lighting to get that shimmering effect.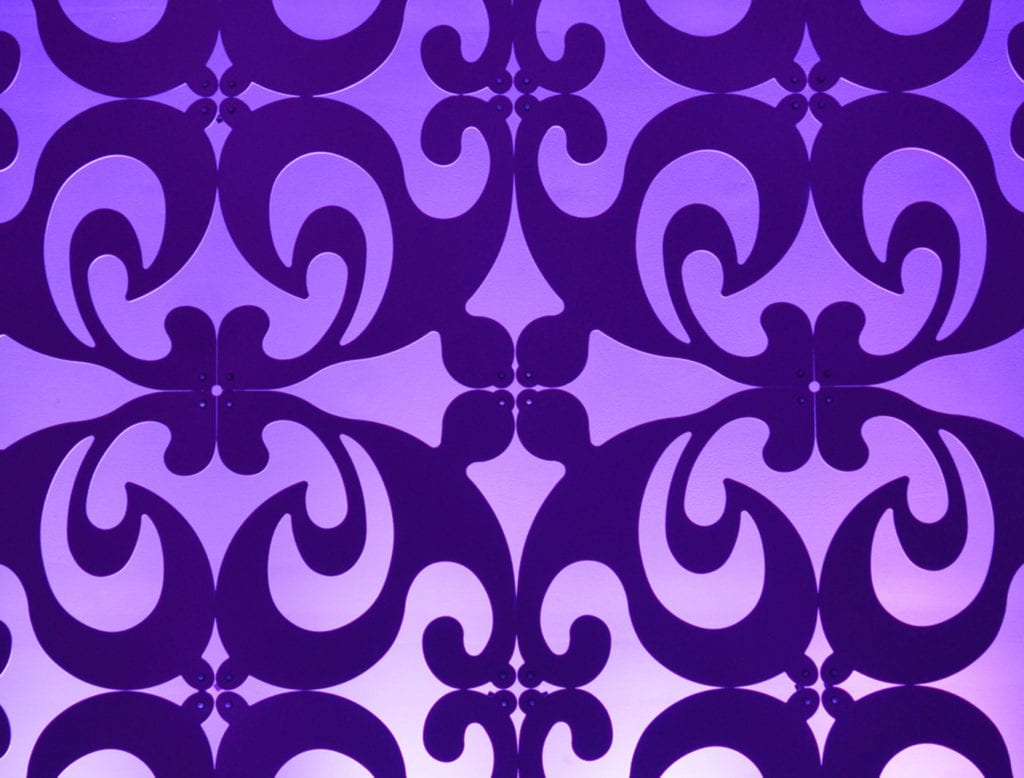 59. Violet Superwall
Violet brings elegance and romance to studio spaces, event lounges, dinner functions, and stages alike. Influenced by the Art Nouveau style, Violet blooms with some lush lighting. You can play with her patterns too to create just the right design for your event.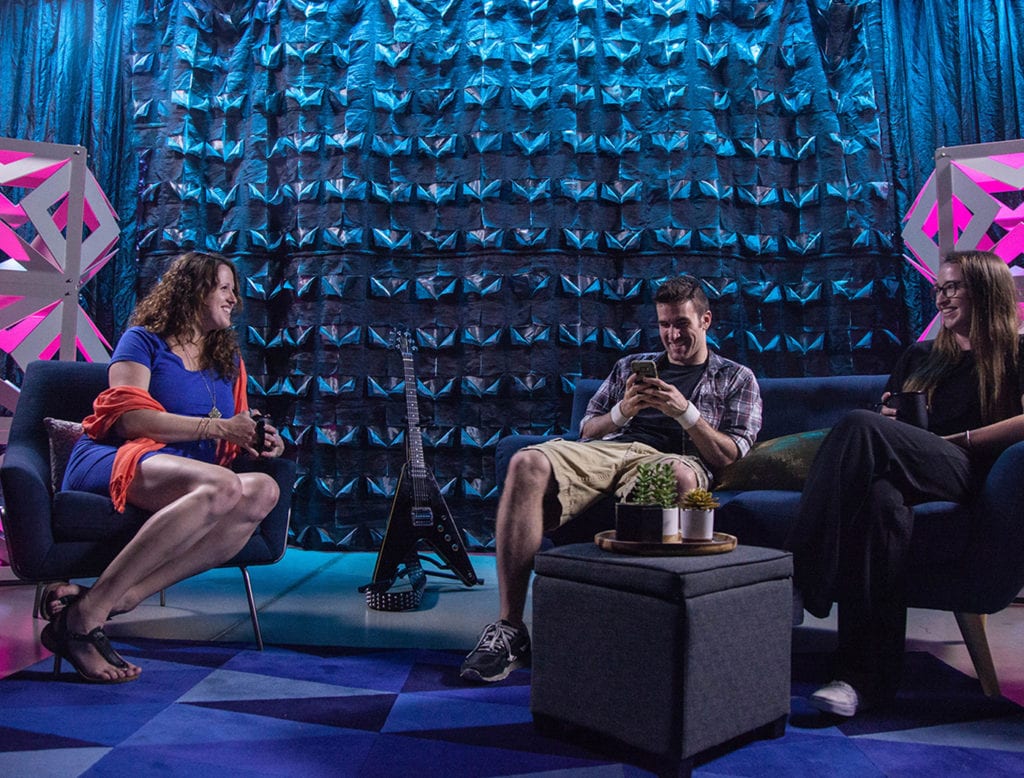 60. Stax
Bring some metallic edge to your next event with these panel drapes. Originally a sleek silver and black, Stax shines with strong front or up lighting and creates floor-to-ceiling texture for any event backdrop – whether it's an intimate lounge setting or a dramatic staged affair.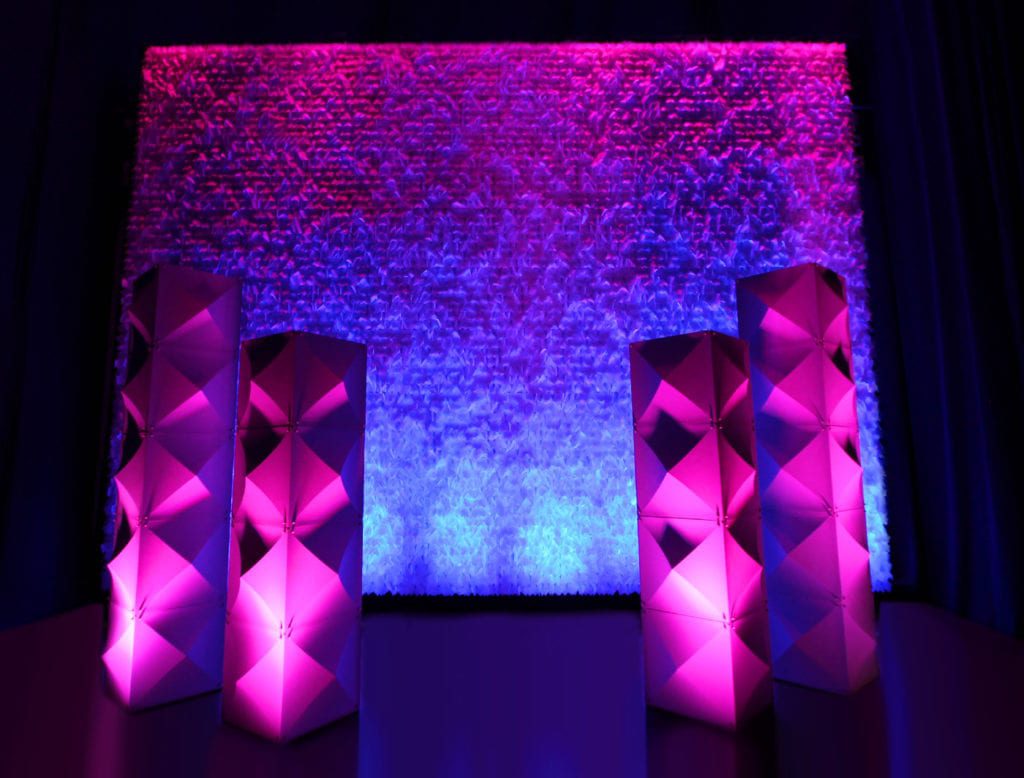 61. MiniGoss SuperWall
Minigoss is a feathery delight that adds an ethereal glow to event staging – whether on a small or large scale. If the feathered style is too over the top for your backdrop, Mini Goss can also be turned 90 degrees for a more clean-textured look.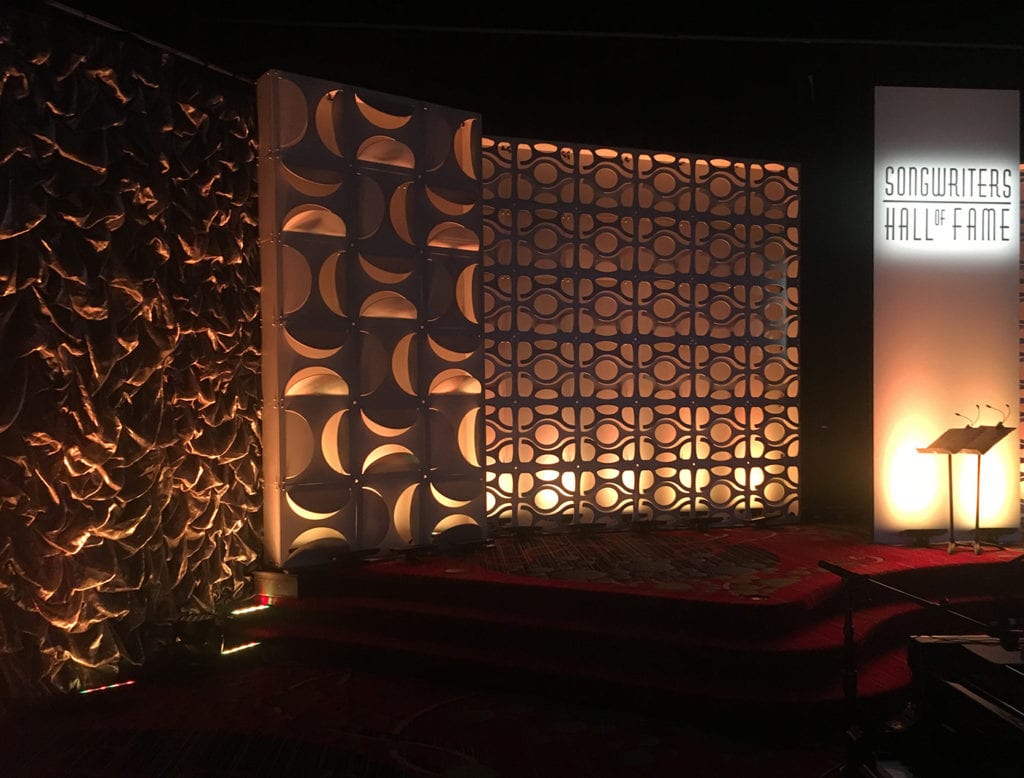 62. Laser
Laser adds drama without the frills. This heavily textured element is set to stun with the help of some rich front or uplighting. Laser works well in all event settings – from conferences to trade shows, award ceremonies and music productions. Look at how incredible it looks in this scenic design alongside some contrasting panels.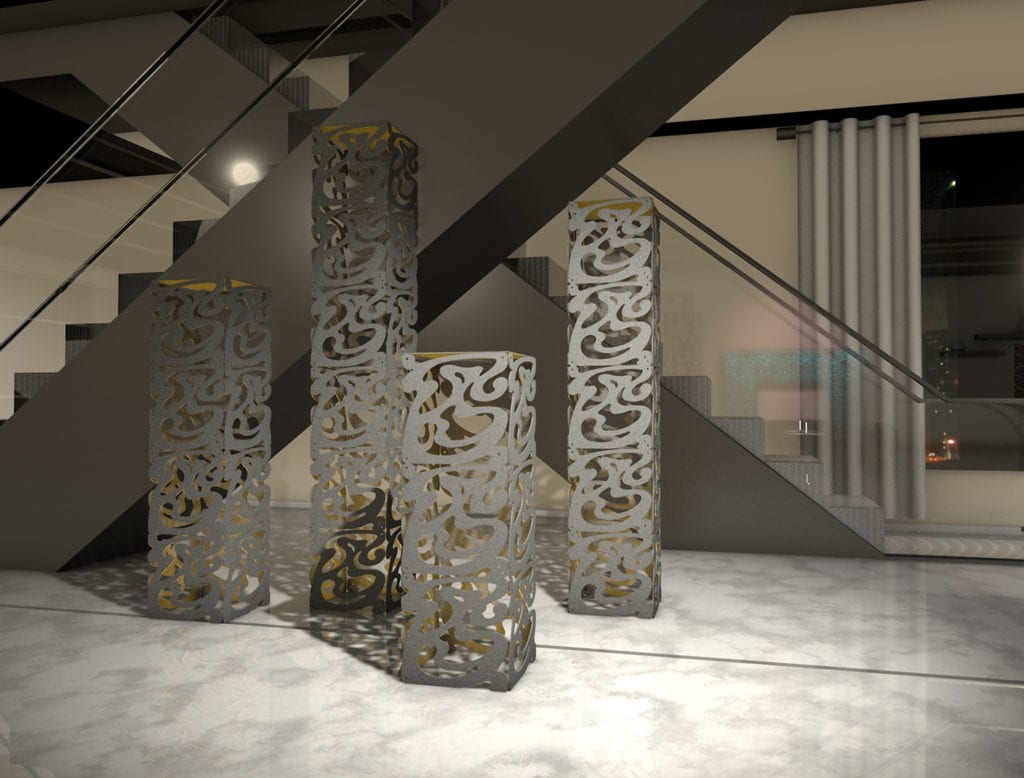 63. ADA Super Columns
ADA SuperColumns are set to be the belle of the ball. While they work well in a lobby, imagine how dramatic they would look teamed with some serious draping in a ballroom or at an awards gala. Add lighting or a custom finish to get the perfect look.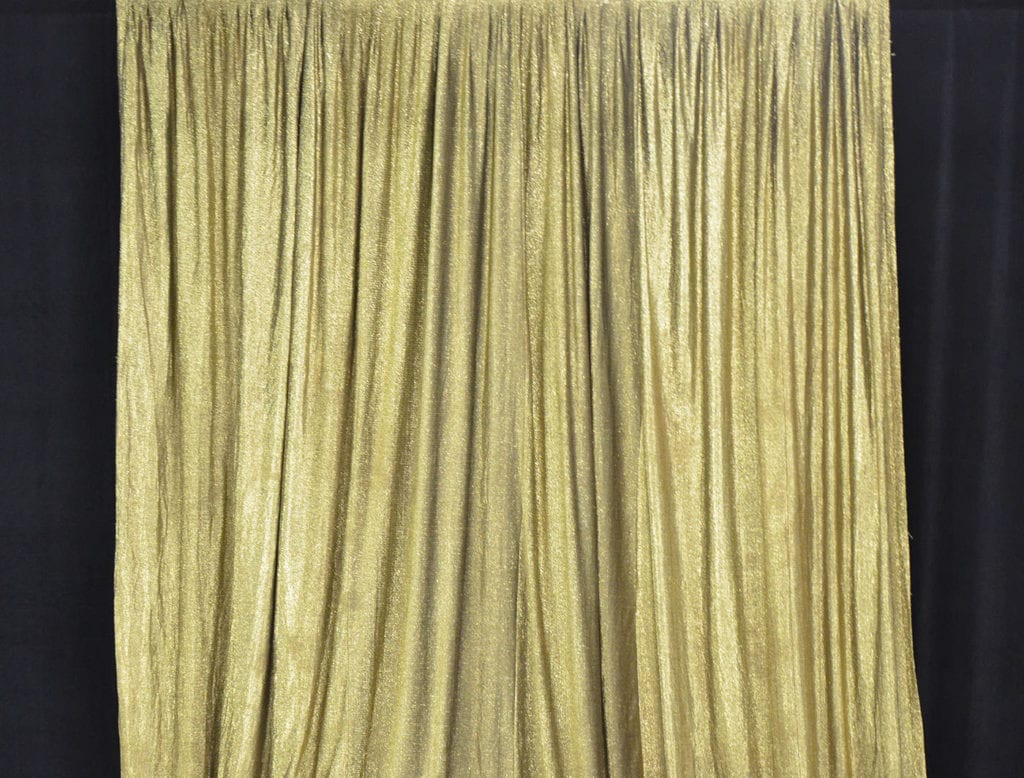 64. Gold & Black
Nothing says glamour like the pairing of gold with black. The textured knit with sewn-in fullness adds a sense of richness not seen in many other drapes. Gold & Black is ideal for scenic design at galas and award shows when teamed with front or uplighting.
Scenic design ideas that look best with no light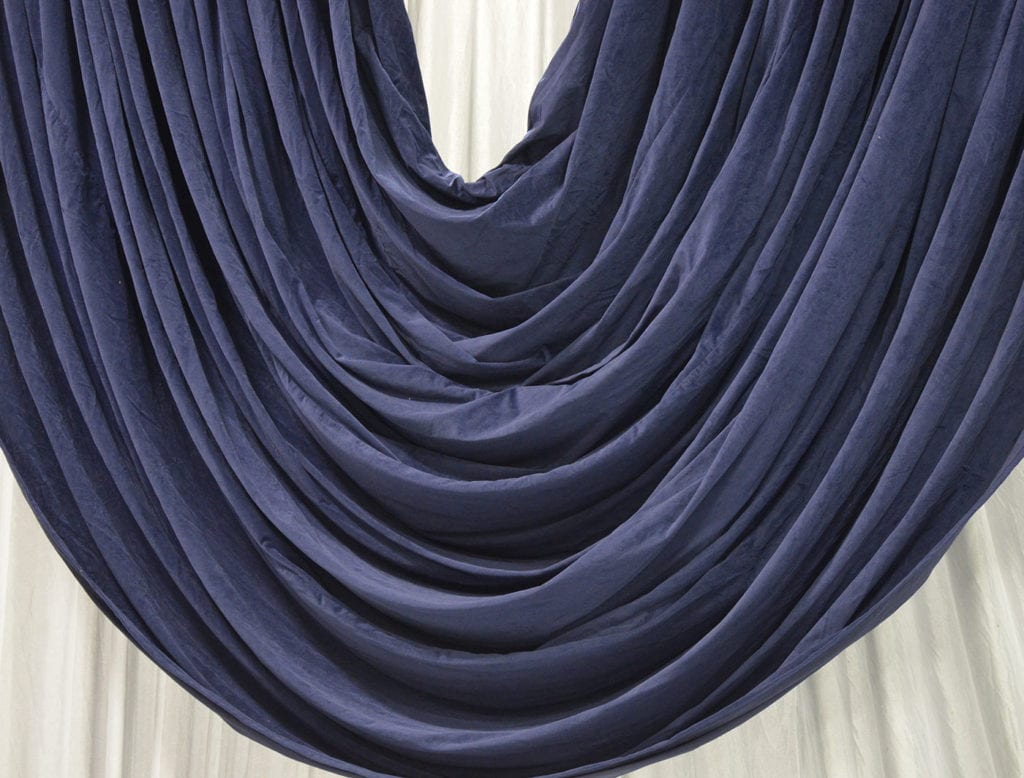 65. Indigo Velvet Swag
Sometimes traditional draping is all that is needed to bring a touch of elegance to an event space. Indigo Velvet Swag is ideal for adding a sense of drama to daytime events because the rich hue and texture perform well in natural light.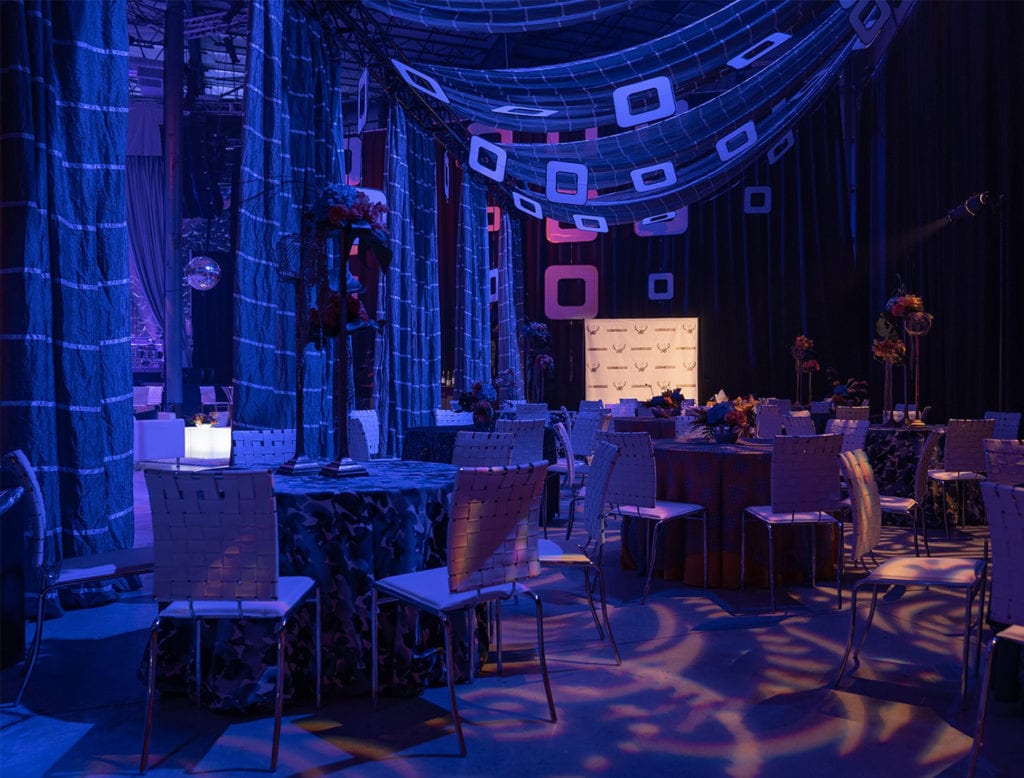 66. Lynes
Lynes works well with front lighting, but it's also useful to have on hand for those events with natural light. It's lightweight, with a clean lined look that's perfect for contemporary scenic design.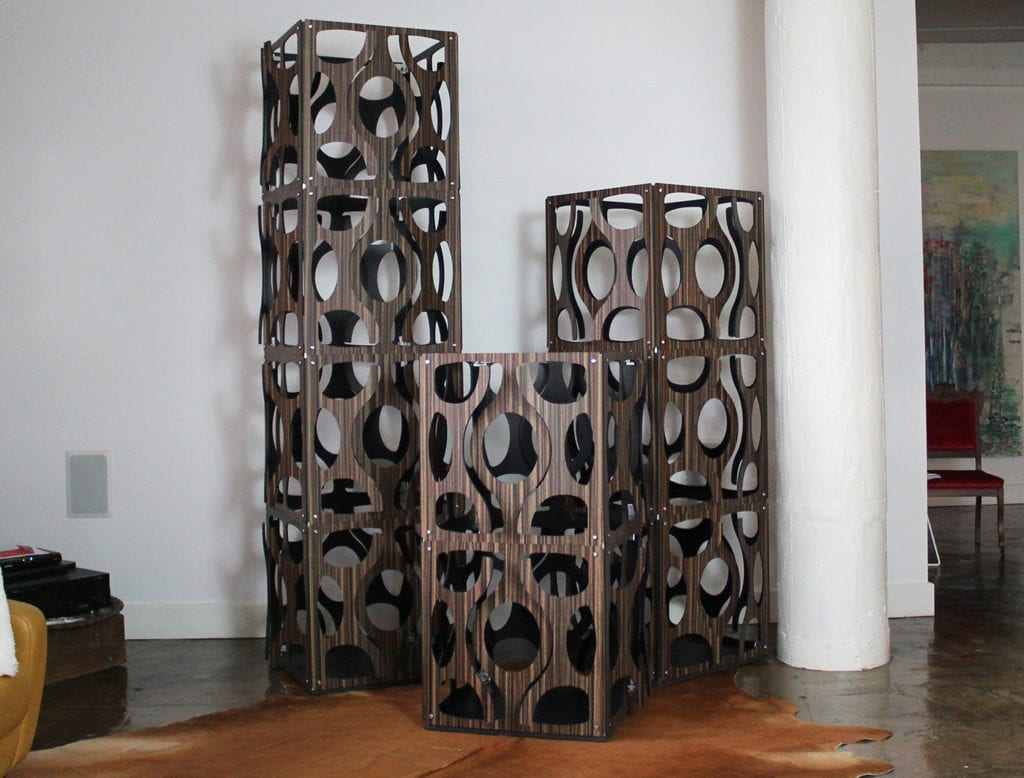 67. Custom Panel (Premium)
Do you have an event lounge space with excellent natural light? Or do you need a scenic design idea for a trade show booth that emphasizes natural textures while maintaining sleek design? Custom Panel (Premium) are modular elements in high-end finishes like wood grain and marble that fit seamlessly with your brand and space.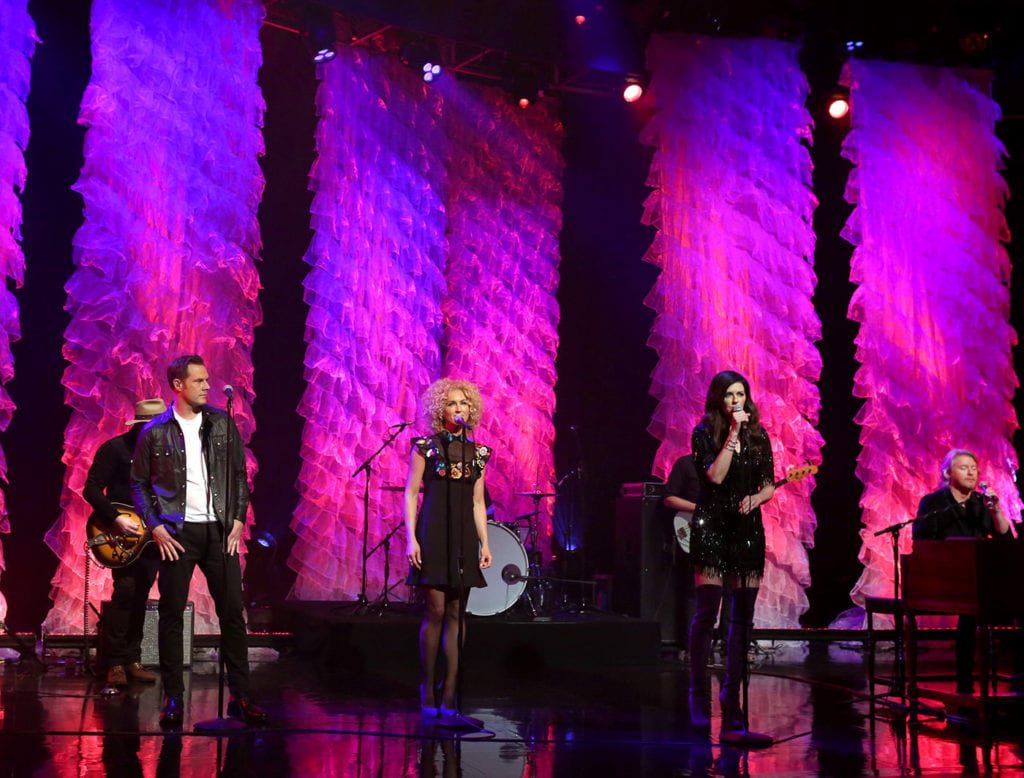 68. Flounce
Flounce zippered panels add pizzazz to stage design, whether dramatically lit, or left to reflect the natural light. Experiment with Flounce for music events, galas, theatrical performances, or lounge spaces. It's pretty with a twist.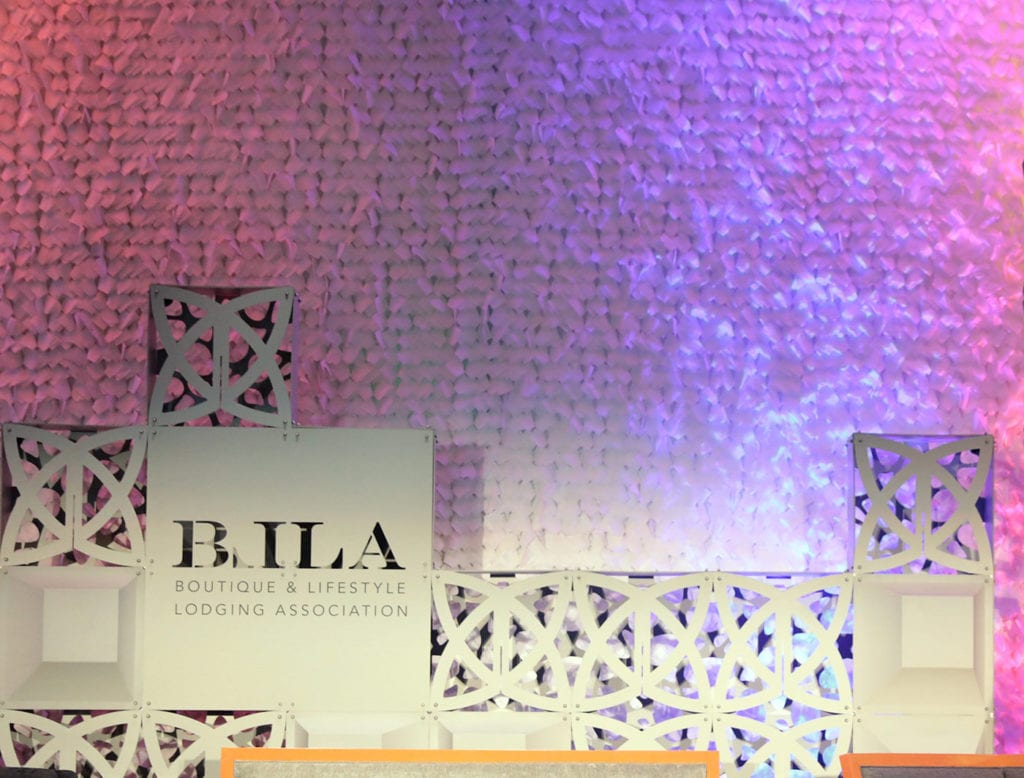 69. Gossamer
Gossamer is "best-in-show" for fluttery texture, which means it looks fantastic in natural lighting too. Use it for a pretty trade show booth backdrop or on a striking music set. Try using it in your scenic design with some contrasting elements made of metal for added impact.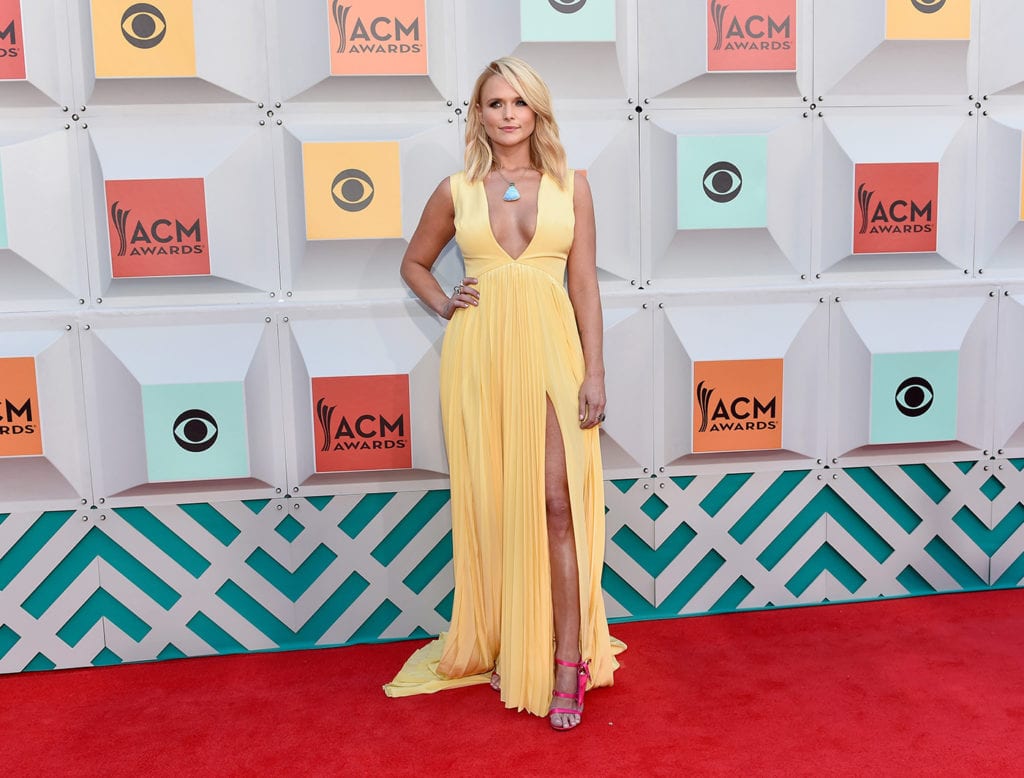 70. Custom Panel – Vinyl
Is branding an essential part of the gala or trade show you're planning? Custom vinyl panels are a go-to scenic design idea that can be produced as a coordinating part of your design, rather than an afterthought that always looks out of place.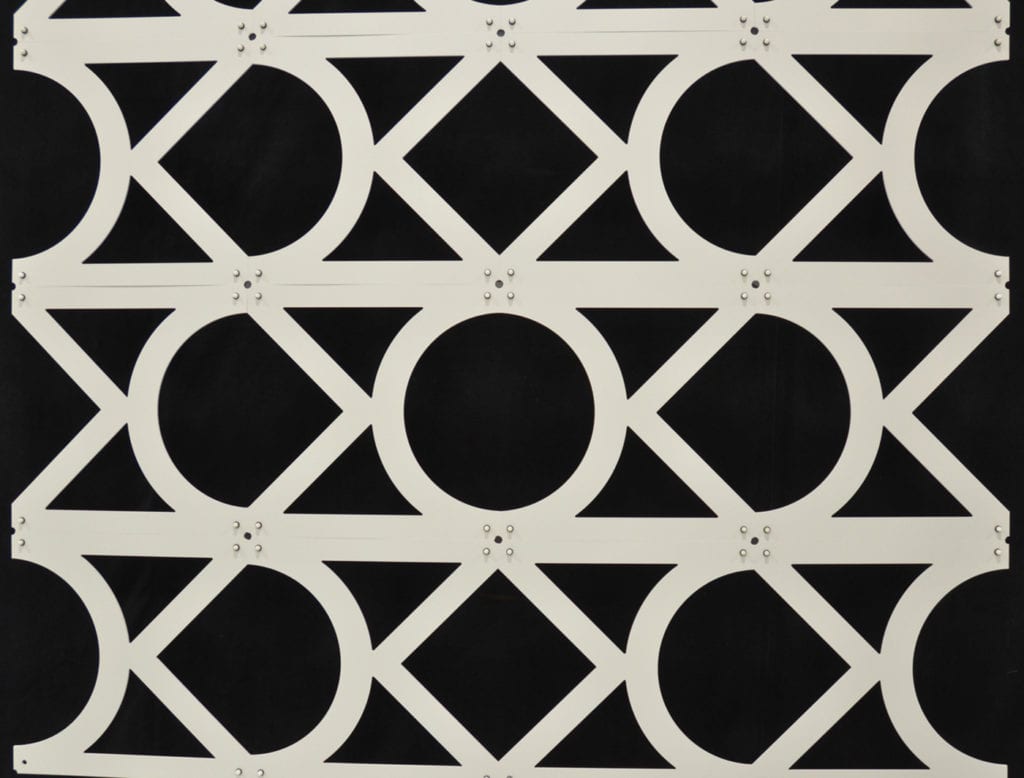 71. OM SuperColumn
Although OM works beautifully with lighting, we also think that OM SuperColumns are just begging to be adorned with greenery and left au natural. That would make them beautiful additions to any event lobby, bar or lounge space, or even a cozy speaking event.
Scenic design ideas that are best for projection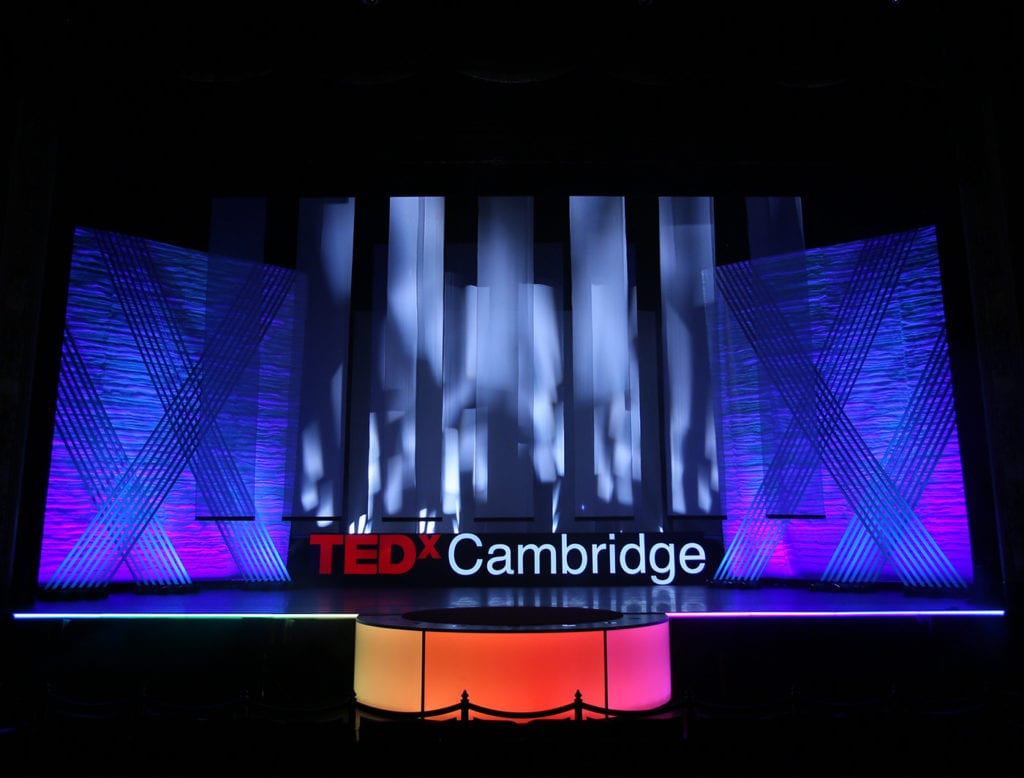 72. Fog
Fog panels are perfect when you want to alternate between projecting light and your own content onto a backdrop, without the cost of LED panels. Check out how well they work at a staged event.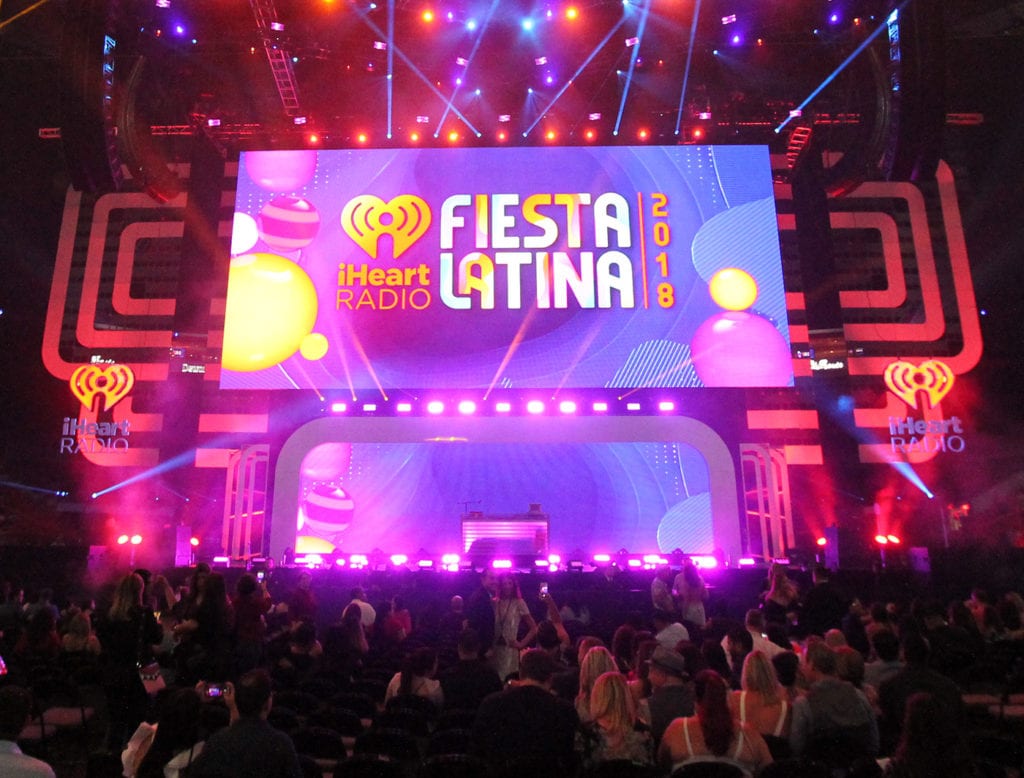 73. Propane
What Propane lacks in style, it makes up for in its video projection abilities. Integrate your Propane projection panels into your modular drop and create the vibrant modular solution of your dreams for staged events of all sizes.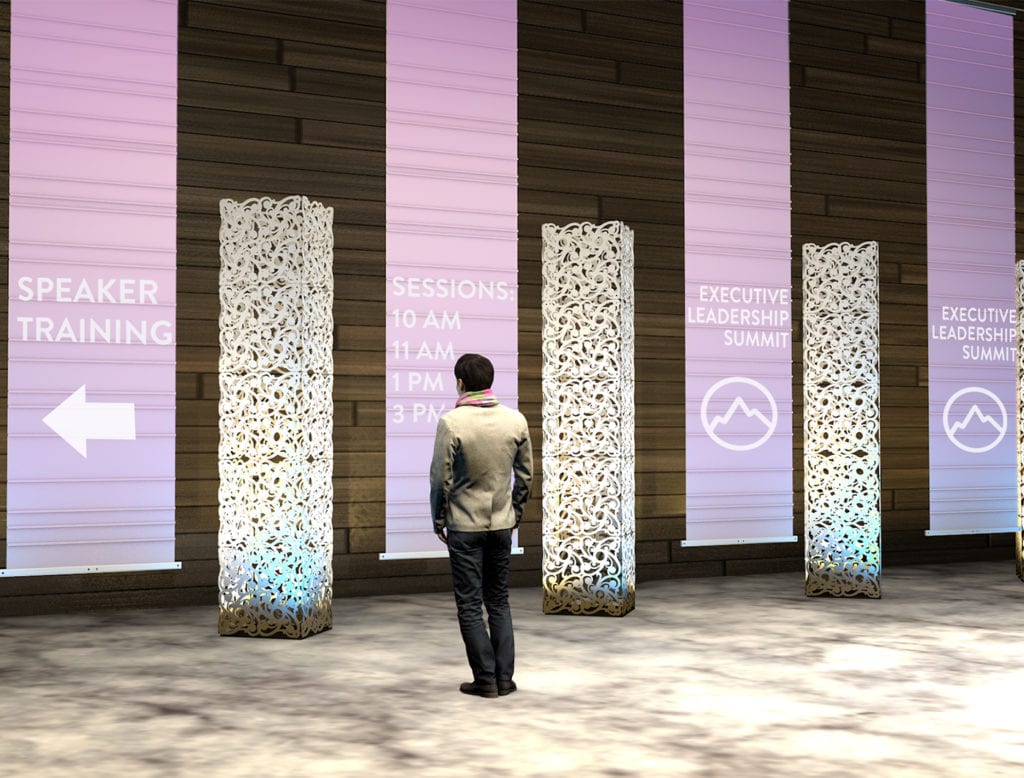 74. Tuck
Tuck fabric panels are a conference planner's dream. Just look at how impactful they can be as a projection background for providing key information and directions to event-goers. Tuck is a very clean-looking element, with just the right amount of texture to ensure they double not only as a projection screen but as part of the scenic design as well.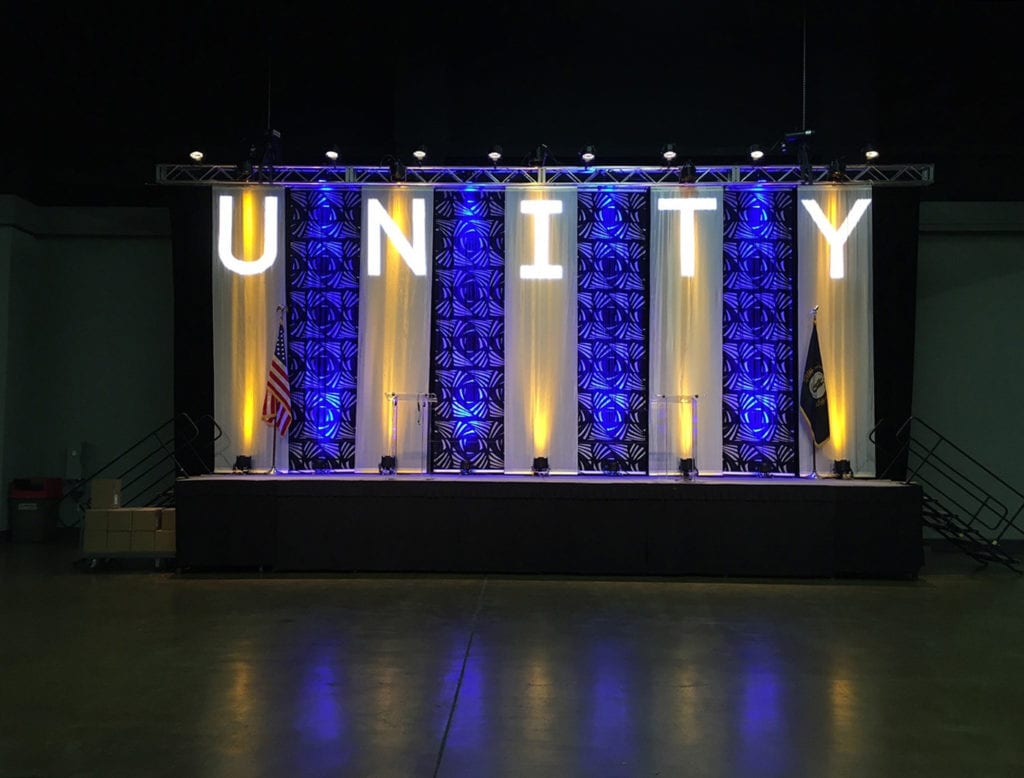 75. Sno
Sno is that silky smooth element to break up the pattern and texture of your other scenic design choices. Not to mention, these hanging panels are perfect for your on-stage projection needs at conferences, music productions, or award shows.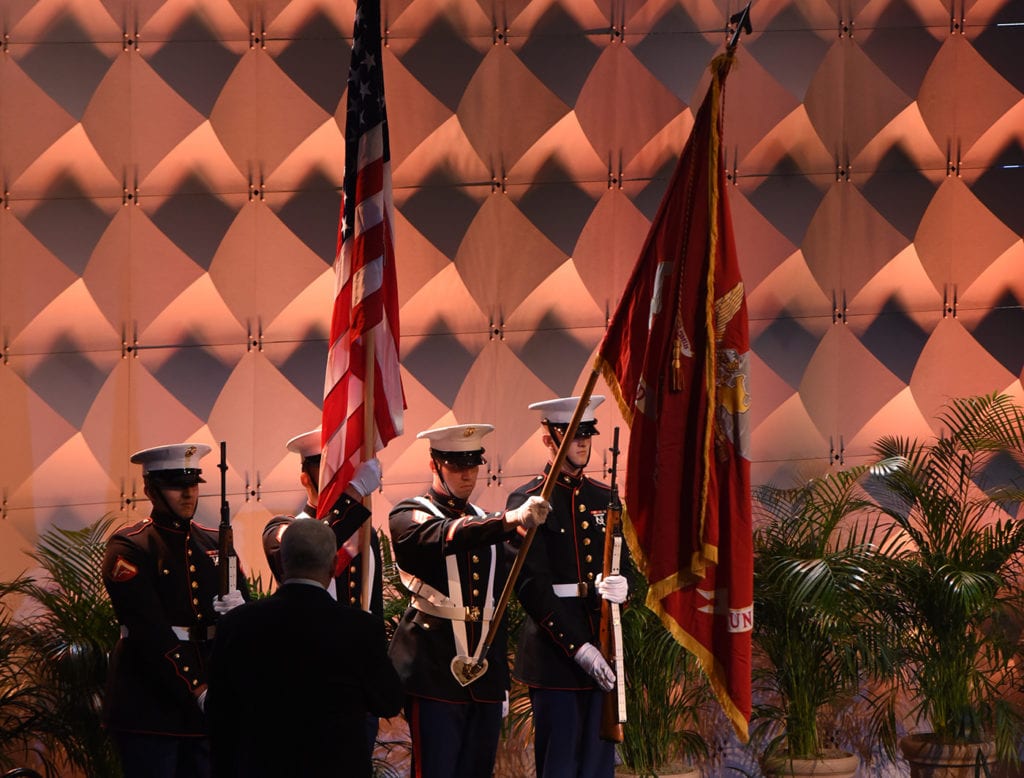 76. Pyramid SuperWall
Insanely versatile, Pyramid SuperWall will be your next favorite scenic design element – because it works as a projection surface too. It works for event design on both ends of the spectrum – from brightly lit and futuristic, to more subdued events with natural styling.
77. Chiclet SuperWall
Do you need scenic design ideas for a cocktail lounge or conference stage backdrop? Chiclet's unique block shape is worth considering, for it can do double-duty as a projection backdrop and design element.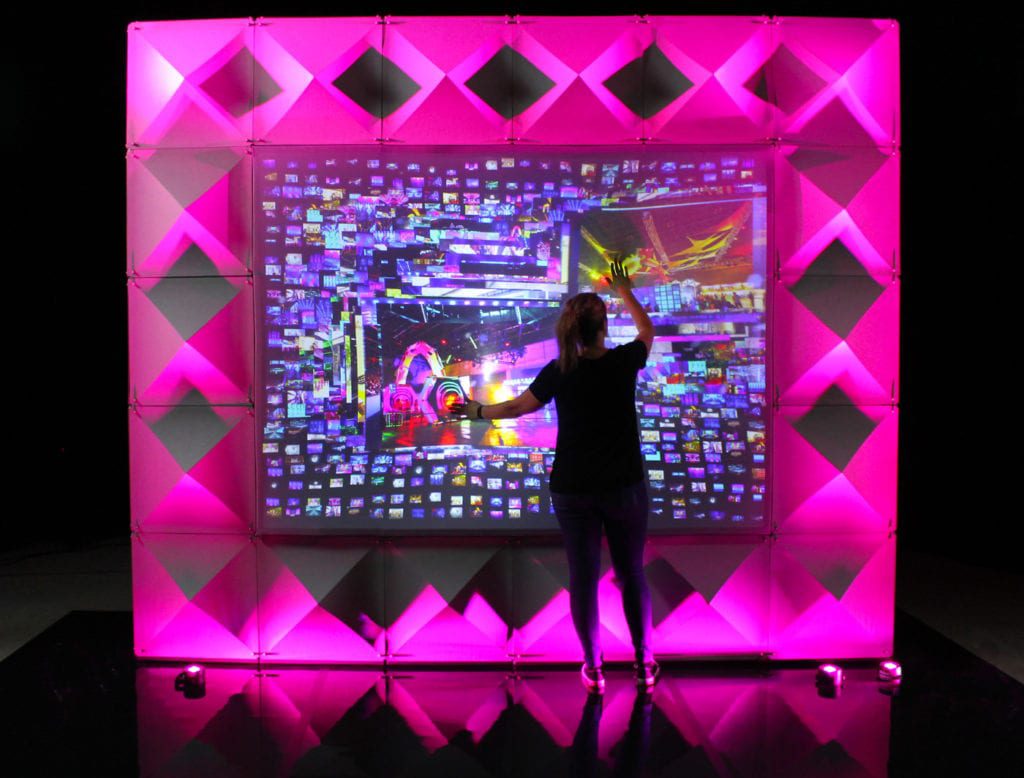 78. xPRESS
Use this ground-supported item in your scenic design to pack an interactive punch. Curate your video content for event-goers to explore by touching the xPRESS fabric screen and take your conference or trade show to the next level.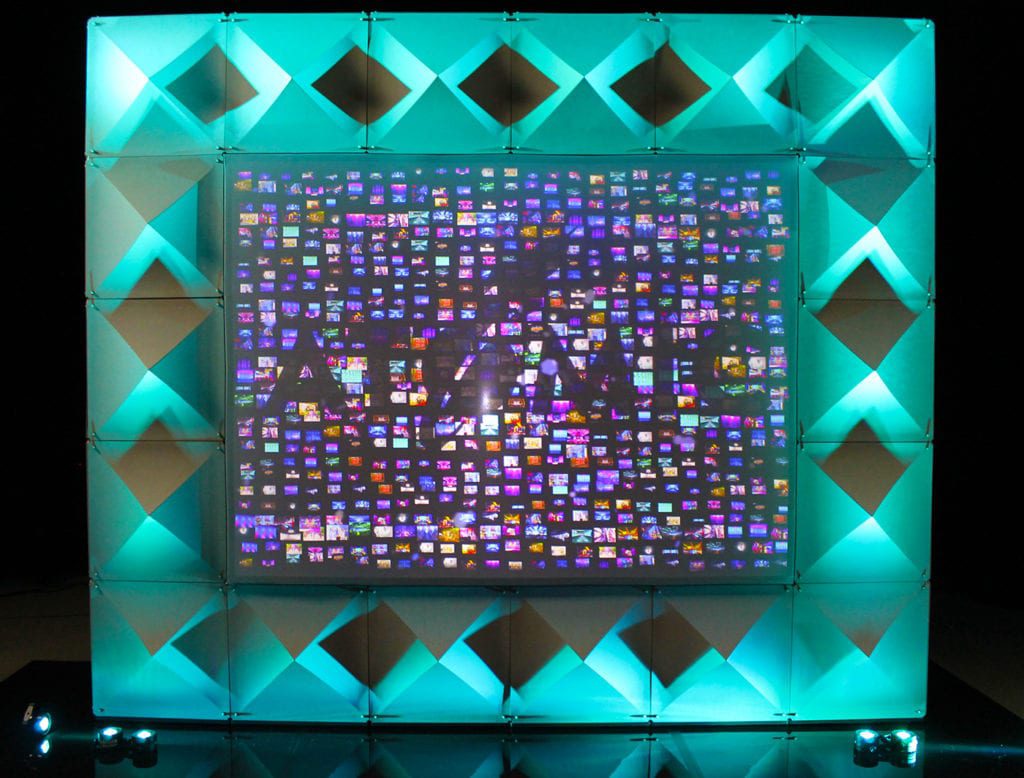 79. xPRO
xPRO is the ultimate fabric screens for gobo or video projection. The fabric is tensioned so that it can be built into your scenic design with other elements like Pyramid or YetiFlake panels which create a statement border for the screen.
Scenic design ideas that work best as space dividers & concealers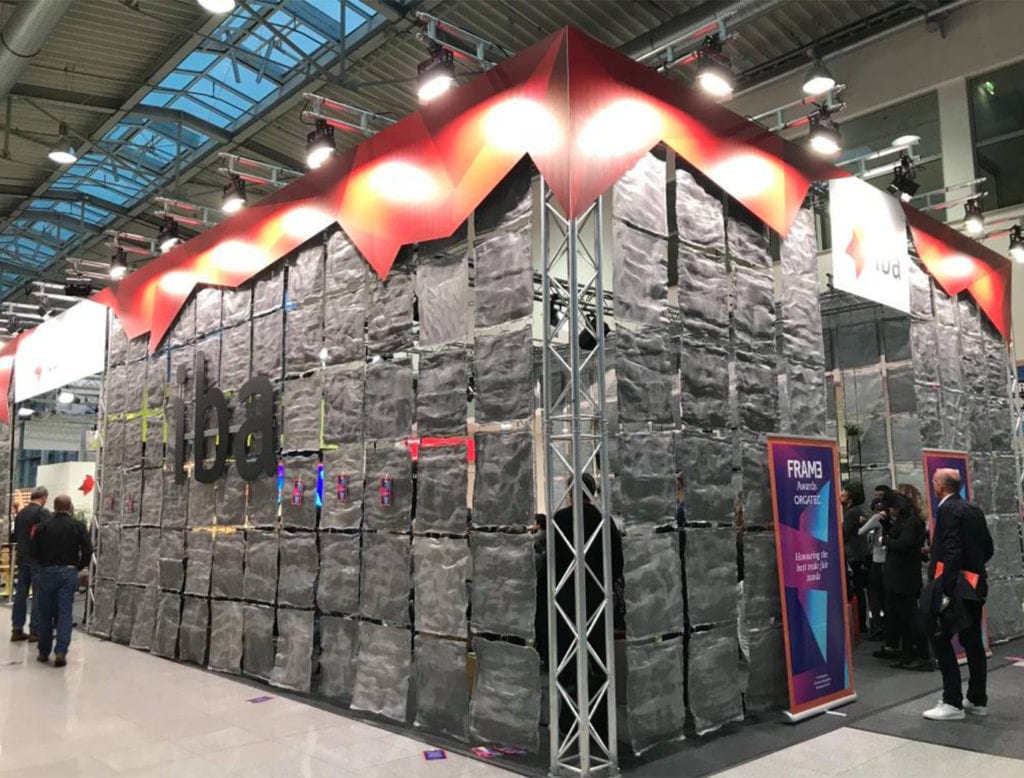 80. Pillow
Pillow panels provide the ultimate versatility, whether they form part of an event backdrop, or even to differentiate a trade show booth without the need for heavy solid walls. Link the individual panels to suit the size of your event space and then light them up or leave them as they are for some natural texture.

81. Pippa SuperWall
Extraordinarily detailed, Pippa looks stunning in smaller event spaces, whether used as a room divider or in a cozy speaking space. Use backlighting to set the mood and add effortless elegance to your event.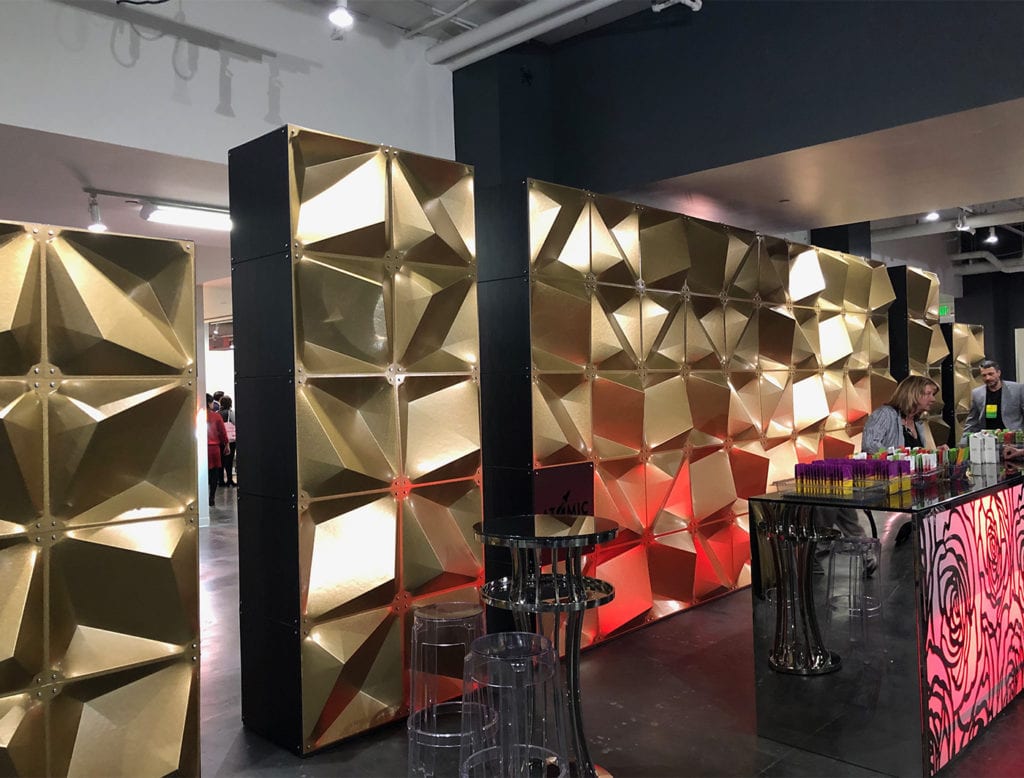 82. Zeddit Superwall
This geometric beauty is ideal for sectioning off areas of lounge spaces, conferences, or even trade show booths – whether you choose to create entire walls or staggered panels.
Snap the panels into place for a sense of depth and contemporary cool, and you'll have the perfect space for event-goers.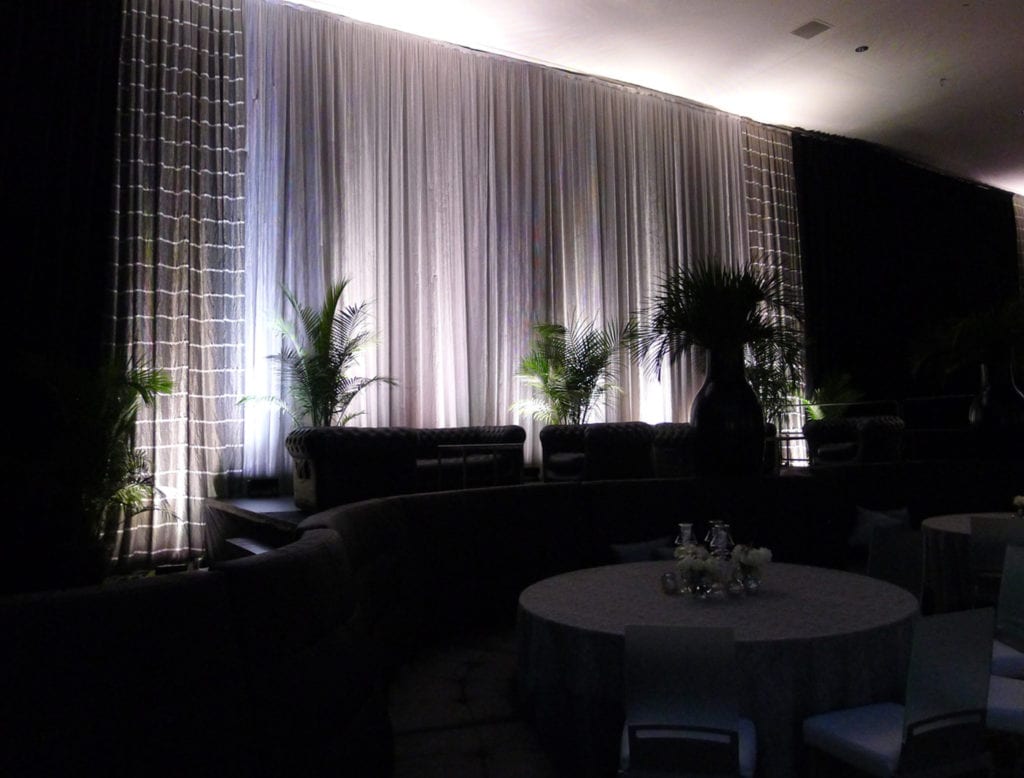 83. Traditional Black Drapes
An event planner's arsenal isn't complete without go-to black drapes. Use them to conceal spaces you don't want to draw attention to or to make your other scenic design elements stand out.
84. Super Vel
Super Vel white drapes are a must-have for every wedding planner, but they are so much more. Use them to add a softness to an event lounge, as a solid backdrop for other scenic design elements, or as a white-hot decoration at a summertime event. Use with front lighting or uplighting for a beautiful glow.

85. Silvet Sheen
Another must-have scenic design idea is the shimmering Silvet Sheen. The light fabric panels with a silvery sheen can be used with just a hint of lighting to divide a space, or with more dramatic front or up lighting to really make an impact. Well-suited to event dining spaces, lounges, or elegant special events.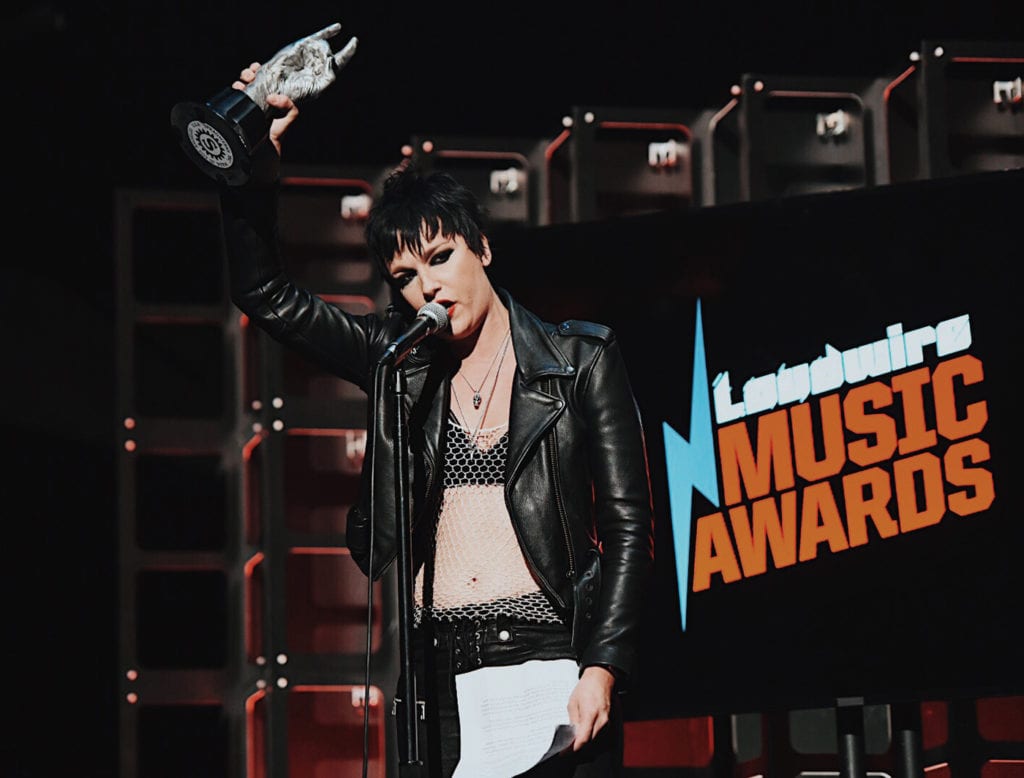 86. Mask
As its name implies, this is the ultimate masking option for concealing backstage elements. Slick and black, Mask is free-standing to make your on-stage disguise-work even easier. The go-to scenic design option when drapes just won't do.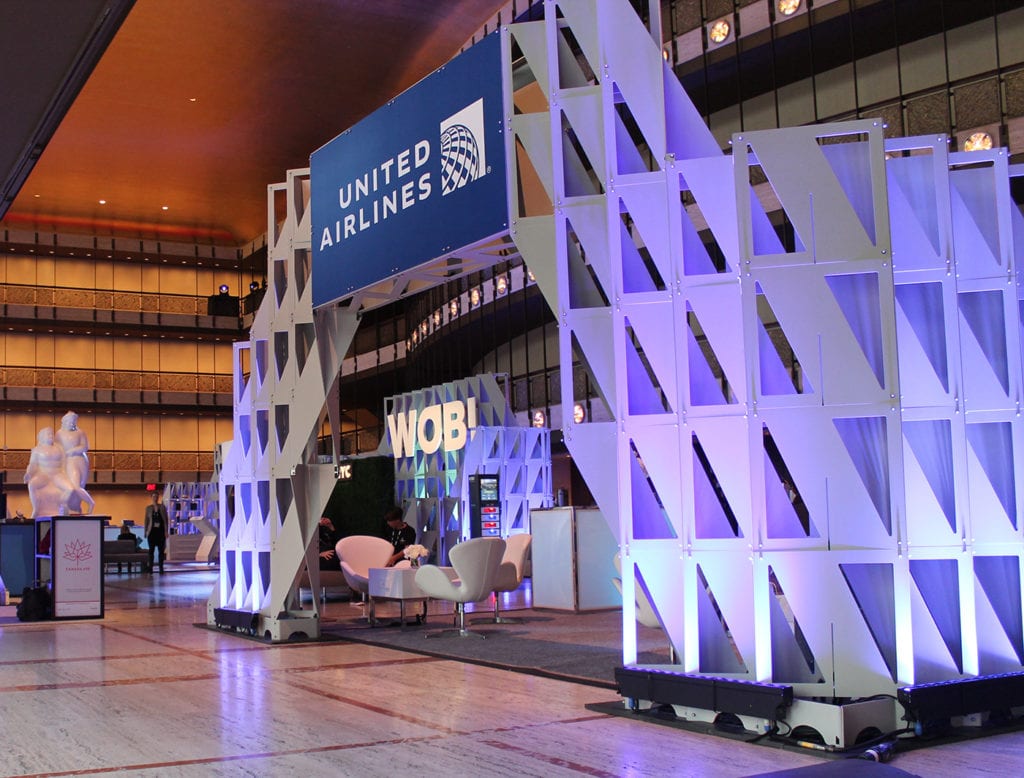 87. Jolt
Looking for a way to dress up a lounge, create an impressive entryway or set your trade show booth apart? Jolt is your answer. This scenic design element uses interlocking panels and your choice of lighting to create pattern, dimension and interest.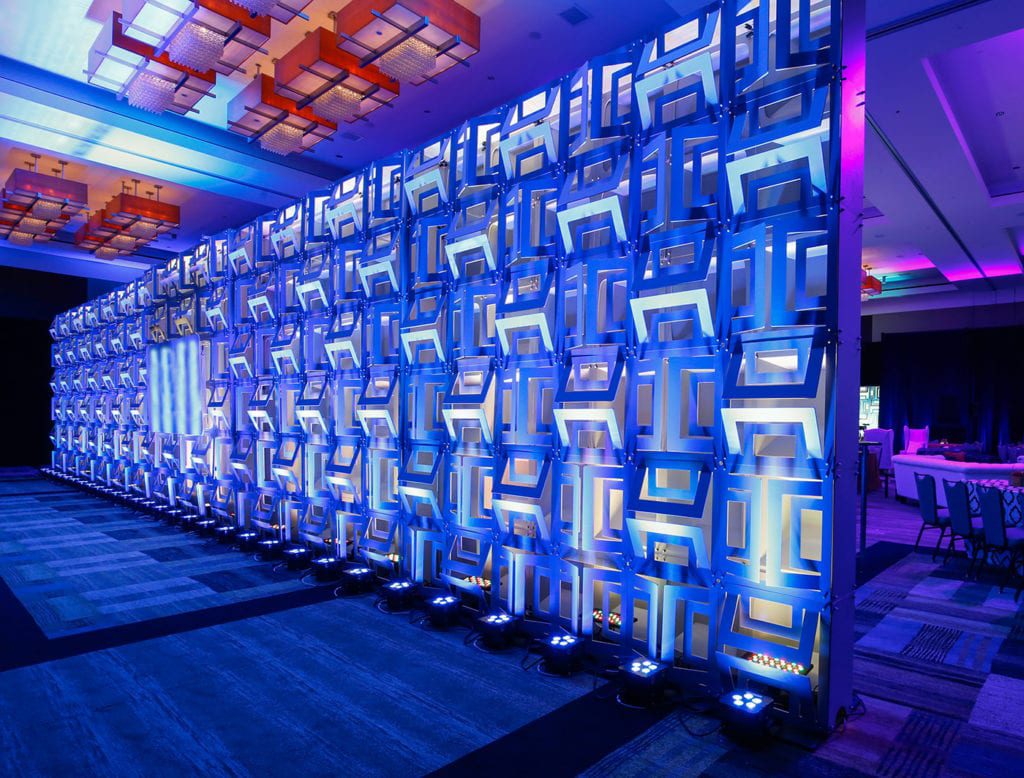 88. Buckle SuperWall
Who said room dividers had to be boring? Why not make your conference room separators a point of interest using Buckle panels to add pattern and dimension, when teamed with statement front or backlighting.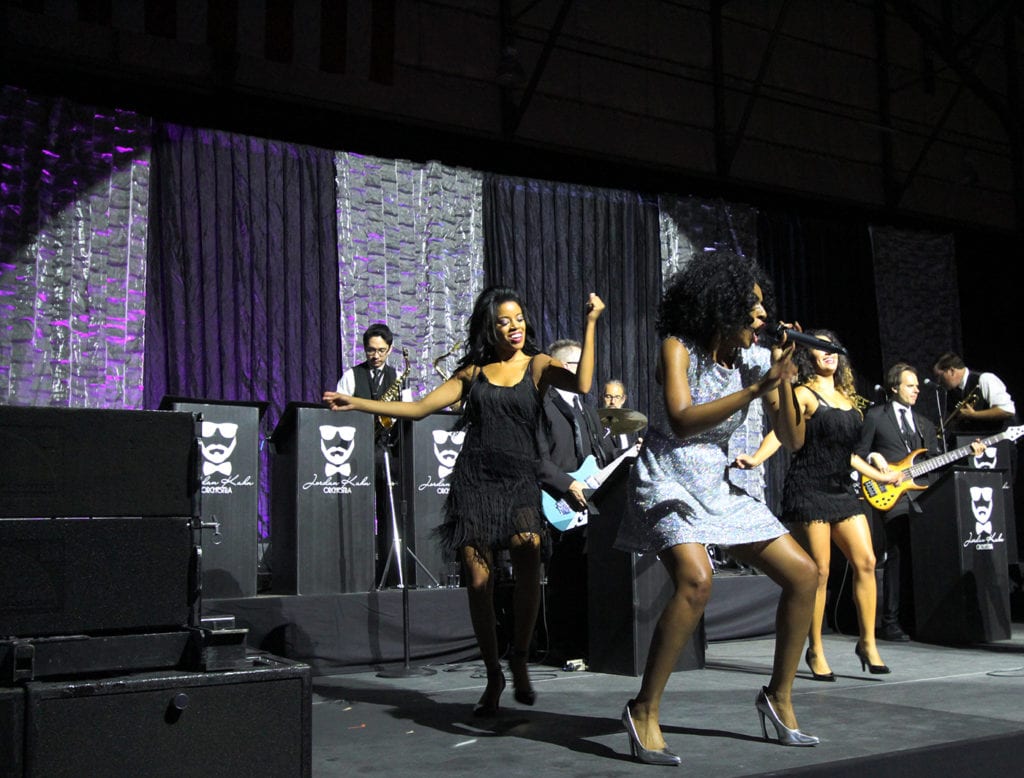 89. Blax
Blax may be recommended for masking backstage elements, but it is by no means a boring part of your scenic design. This element takes front and up lighting to transform its mock-textured panels into things of shimmering and moody beauty.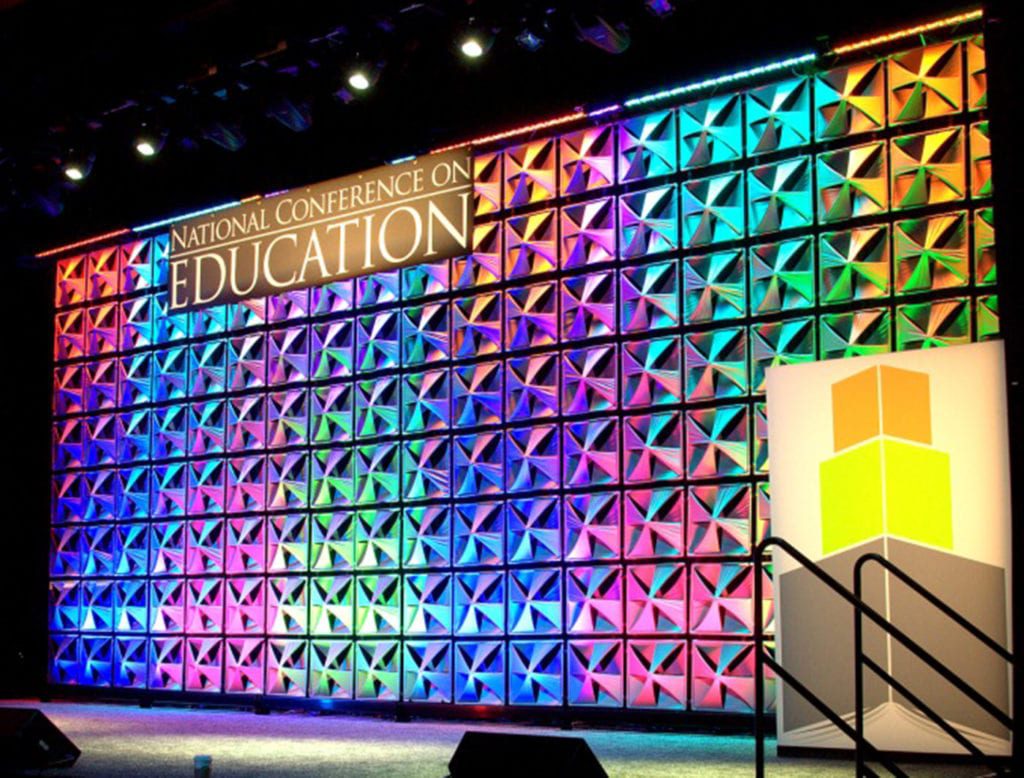 90. Pinwheel
Because Pinwheel is double-sided, it makes the perfect modular solution for a room divider that is just as beautiful no matter which side event-goers are on. It's best enhanced with front or uplighting, and if you're looking for something a little extra, Pinwheel can also be formed into a matching chandelier.
Scenic design ideas for geometric-inspired themes

91. Honeycomb
The Honeycomb is a geometric dream come true for your scenic design. The panels can be used as a wall in an event lounge or as a corporate stage backdrop. But their versatility can be pushed to the extreme in chandelier-like configurations to draw every event-goers eye.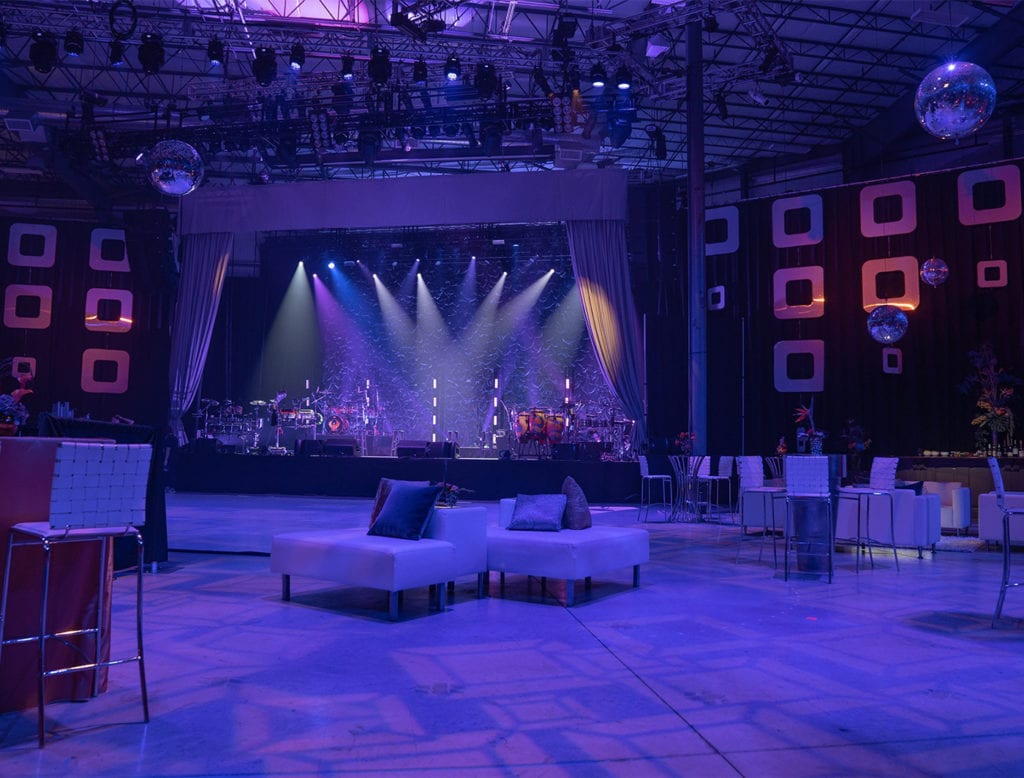 92. Hoop Dreams
Hoop Dreams is cheery retro stage decor at its finest. It can be tightly mounted or even hung free-form to suit your space. Use with front lighting or uplighting to create a mood. Hoop Dreams is perfect for those events that are a little offbeat!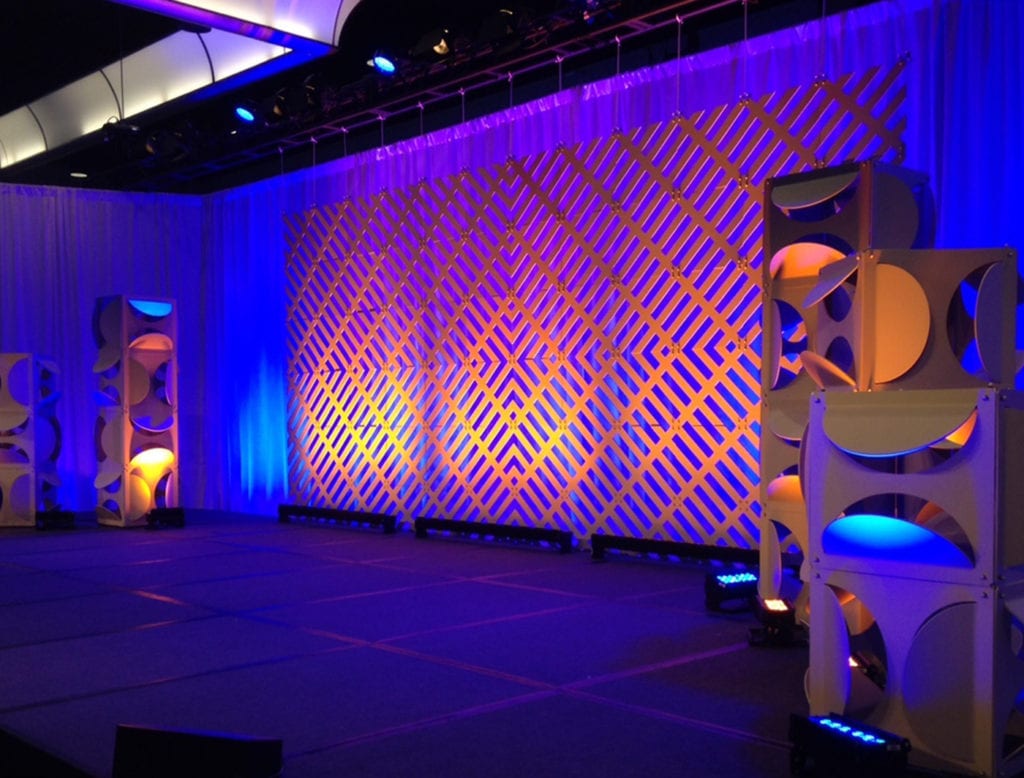 93. Comb SuperWall
Like many geometric scenic design ideas, Comb is the ultimate in versatility. The panels fasten together as backdrops and screen surrounds but also as feature elements like columns and chandeliers. Whether it's a corporate conference, a concert or a gala, Comb always has a place.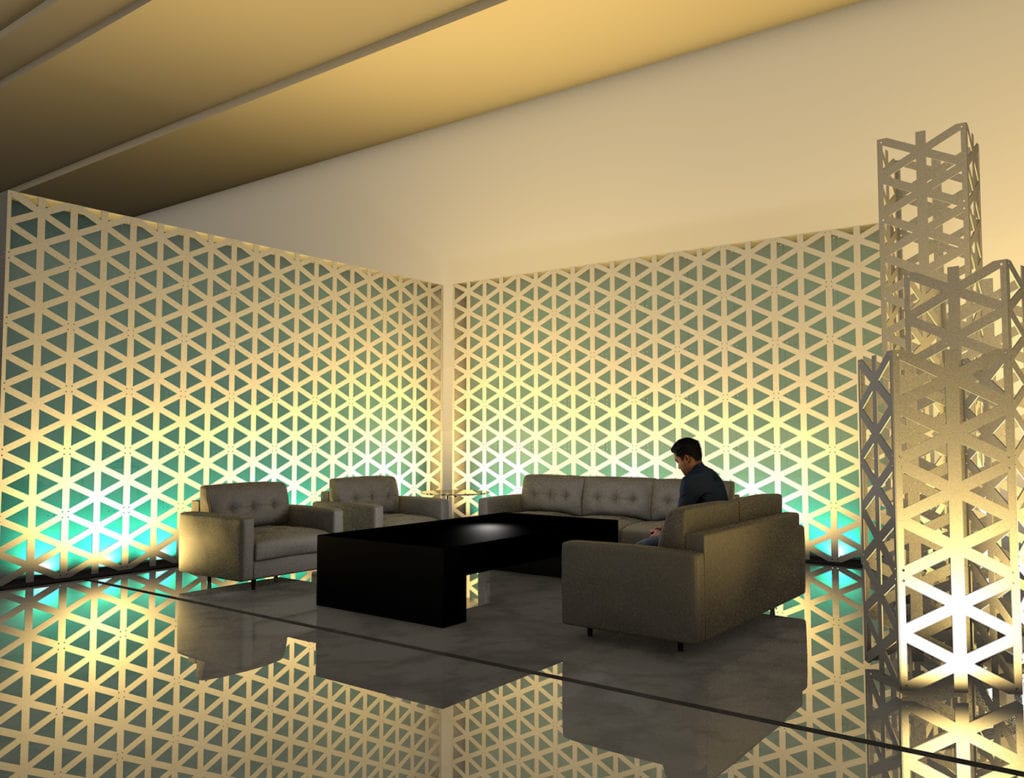 94. Triad SuperWall
Looking to set a mood for your scenic design, but with only a few elements? Make Triad one of them. This is symmetrical geometry at it's best. All it takes is Triad Superwall for an eye-catching pattern, teamed with smart lighting choices, and your event has an immediate mood.
95. Xplode Superwall
XPlode takes geometric scenic design to new heights with 3D design. Whether it's onstage for a corporate event or an awards gala, XPlode creates an explosive impact instantly. Just add lighting!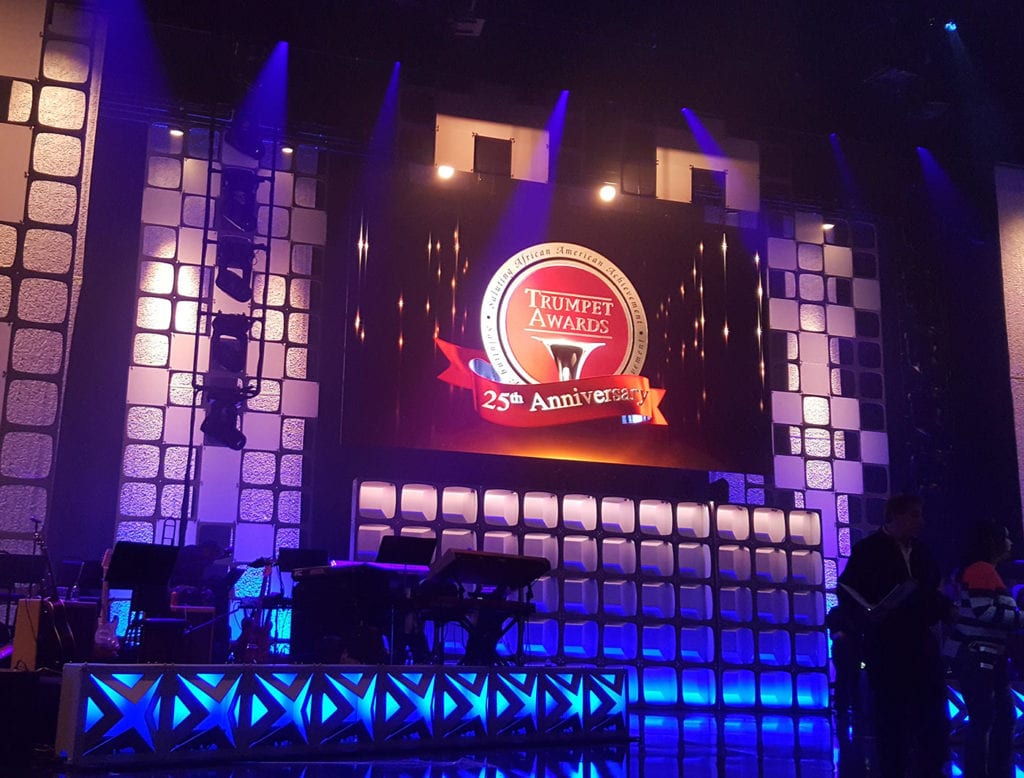 96. Tube SuperWall
Tube open panels are retro geometry at their finest. Reminiscent of old-school TVs, Tube panels work best as an addition to the Chiclet panels to create an impressive sense of depth. Ideal with backlighting, but also work well with front and uplighting options.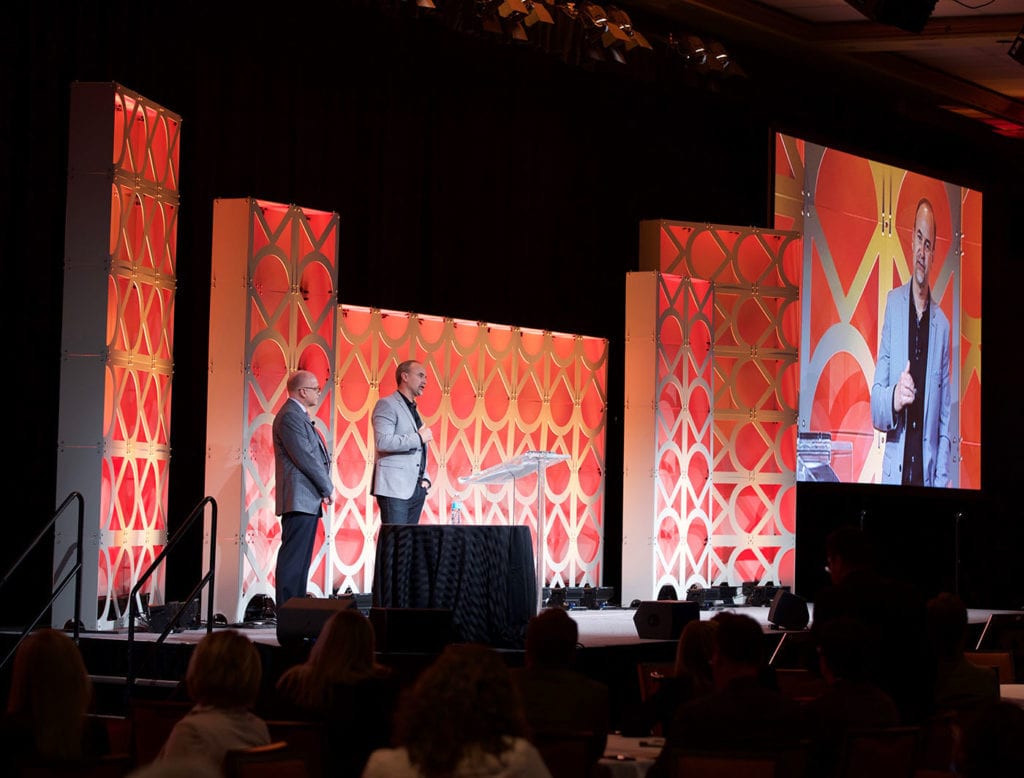 97. OM SuperWall
OM brings a sense of harmony to any event design. Use it as one single backdrop, or create a sense of dimension to your staging with multiple panels running the OM pattern in varying directions. OM is suitable for conferences, award galas, and even event lounge spaces thanks to its instant Zen.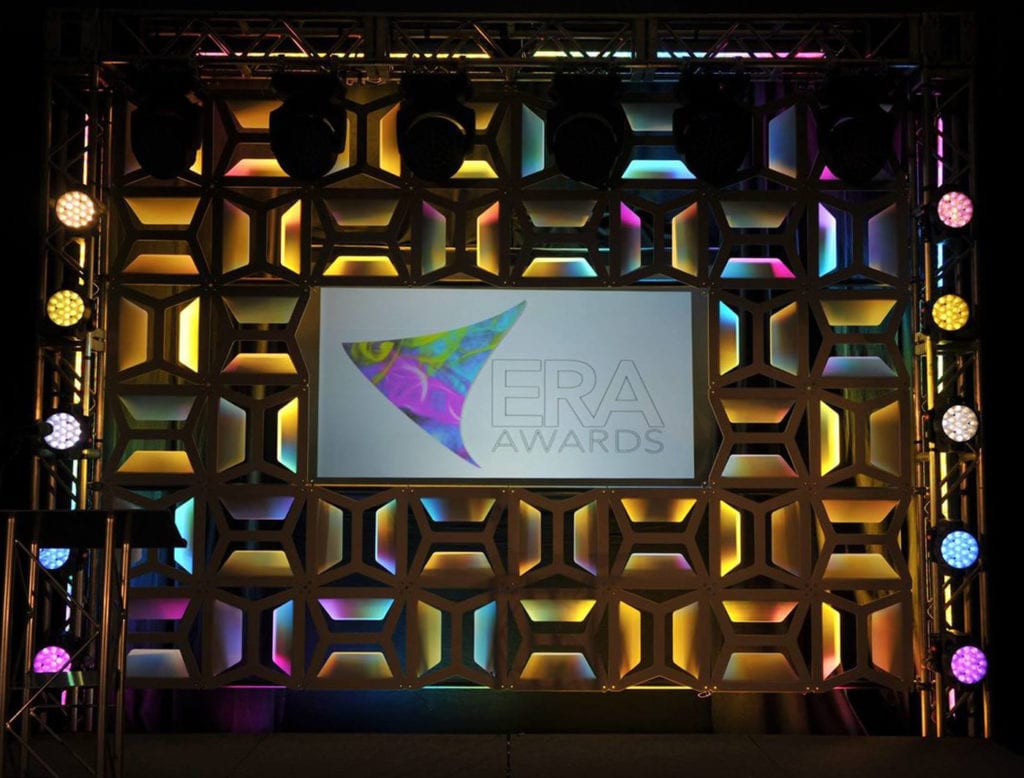 98. Hive SuperWall
Let your imagination take over with the ultimate in natural geometry – the queen bee's Hive. Lit with front or uplighting, this element looks uber-modern and is sure to be a hit. If you want to add dimension with a slightly more industrial vibe to your staging or event lounge space, consider using Hive in natural light.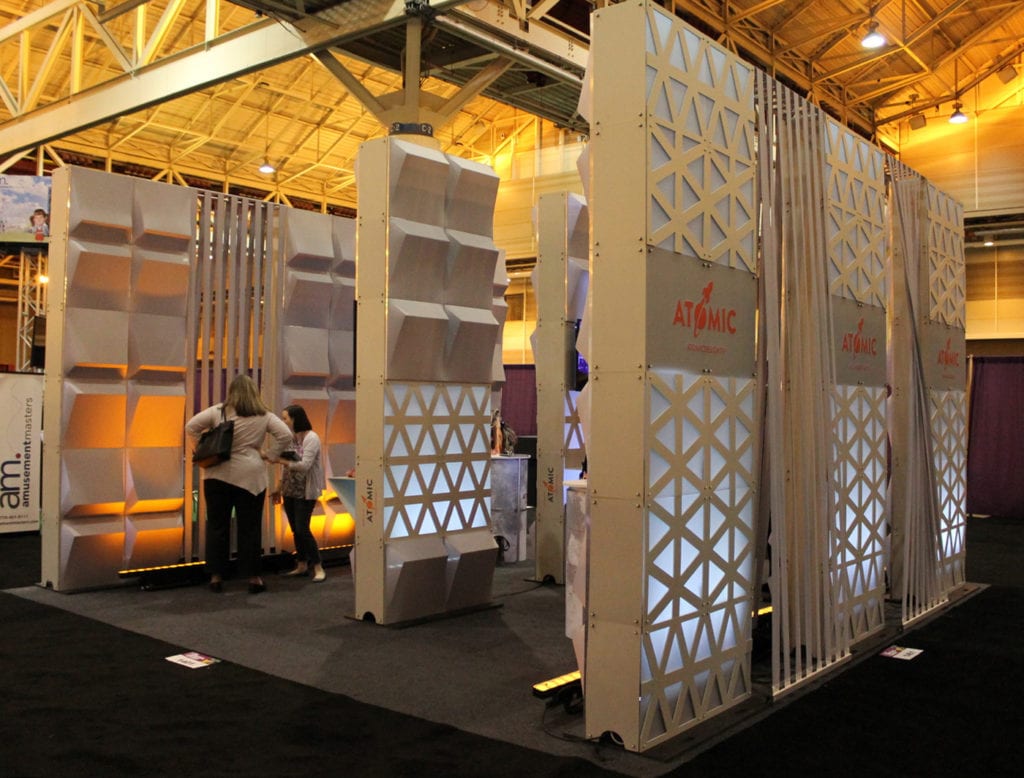 99. Wedge
Why choose 2D when you have 3D elements like Wedge to add interest and dimension to your scenic design? Whether you assemble in columns, as a backdrop, or to complement other elements, as in this trade show booth design pictured, Wedge is sure to draw crowds. Illuminate or turn blocks to create your own unique design.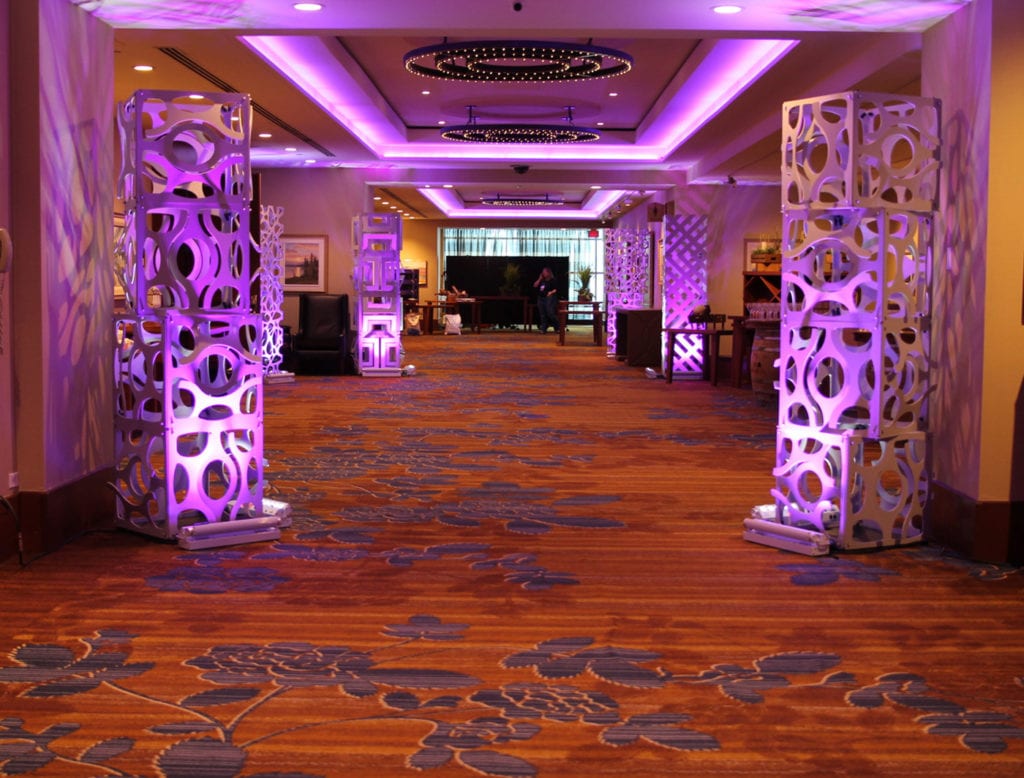 100. Stagger SuperColumns
If you're looking to add even more dimension to your columns, Stagger provides the framework to let you do just that. Whether you choose Blubby, Chadz, or another feature panel, Stagger helps you set the stage for conferences, parties, and lounge areas.
We hope this has given you masses of inspiration for planning the staging and design at your upcoming events.
But if you still need more, you can download our mega list of 150 scenic design ideas coming soon!