Have you ever watched your team setup the audio-visual (AV) equipment for your events? If you're an event or meeting planner, my guess is your answer is a big 'ole NO because you're too busy while it's going on. It's a dance, and every department, including those who rig, takes their turn!
Hopefully you have a team you trust to get it done well every time. There seems to be confusion about what rigging is and why you might floor support your AV equipment instead of rigging it, so I've laid it out for you!
Setting it Up
What is rigging, exactly? Let's start there for those who've heard the word in reference to your AV set-up, but might not understand. Ceilings in expo halls and ballrooms are built with points that are strong enough from which to hold truss, cabling, speakers, projection, and lighting.
Defining the gear
Rigging points – specific places in the ceiling from which you're able to hang things within a venue. These are regulated and maintained by the venue to ensure the weight limits (and therefore, safety) are appropriate.
Rig plot

– this is the diagram created by the venue that shows where the rigging points are — where you can hang from the ceiling throughout the room. As you can see from the photo below, it can get tricky when ballrooms have over-sized lighting / chandeliers!

Truss

– the metal framing picture

d to the right. Motors are connected to the rigging points, and the truss. The

lighting, projectors, speakers (and the associated cabling) are then attached to the truss. The size of the truss will depend on the space and, in part, the weight restrictions for the points.
Cabling

– endless amounts of cable are what gives all of the equipment power. It's typically carefully run in accordance with the truss for overhead equipment (and on the floor for everything else).

Motors

– these small machines are attached to the rigging point and the truss. This enables techs to lower the truss to attach the equipment, and then raise it after it is all attached.

Genie Scissor Lift – this vehicle-like machine is driven around, and can be used to lift 1-3 people (depending on size) as high as need be (sometimes 20 to 30 feet in the air). A scissor lift is used by the rigger to get up to the points in the room, and then by technicians to make adjustments to the equipment. Safety is obviously a big issue with this lift!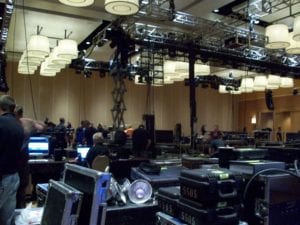 Deciding whether to rig or not
A couple of decisions come in when deciding whether or not to rig your lighting, sound, and projection. Mainly the question comes up based on A. whether there are no (or few) rigging points in the room or B. if there are budget constraints.
Sometimes, unfortunately, hotels and convention centers don't have rigging points in their ballrooms. This is absolutely something you should ask about and consider before signing venue contracts for your meetings and events.
This is also where having a trusted AV / production company that travels with you comes in handy. Get them involved when sourcing venues, and they can help you make decisions based on production needs. If yours is a meeting or event where you're typically hanging lighting, sound, and projection from the ceiling, find out if they charge for rigging points, and what their rules are on requiring you to use them exclusively for rigging services (so you can either negotiate or include those items in your budgeting).
Cost and safety
As mentioned, there are typically venue costs associated with using the rigging points, but the bigger cost comes in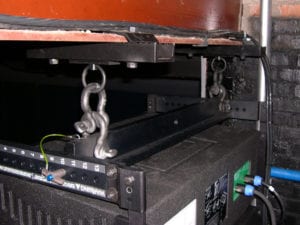 with the labor it takes to get the equipment hung from them. "Riggers" must be certified–no ordinary AV tech can handle the rigging for your events. Safety is a big issue, so part of the fees they're charging include insurance costs; this is also what often drives venues to make the rigging a required in-house service (even if you bring in your own outside AV company). The venues are more familiar with the weight restrictions as well.
Once you've signed the venue contract, your AV / production company should retain the rigging plot from the venue. This plot will help when designing the room, and deciding how to set your lighting, audio, and projection.
Not sure if you need rigging? Well, it's not always your choice
What happens when venues / ballrooms are built without rigging points (no builder worth their salt should be doing that these days, but it still happens!), or perhaps there's a small weight allowance to allow you to hang from the airwall tracks? This means you must floor support most (or all) of the equipment.
I had a client once who booked her conference at a convention center that did not have rigging points available in the main ballroom. We learned this on the site visit, after the budget had already been established. Naturally, adjustments had to be made, having to make the choice to floor support the speakers and most of the lighting.
The ballroom did have the capacity to hang some lighting from the airwall tracks (not ideal), but otherwise the rest of it had to be floor supported using genie towers.
Over-communicate between planner, venue, & AV company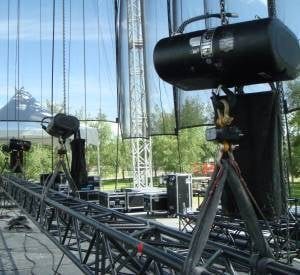 The same client mentioned above didn't fully understand what "rigging" was or why things needed to be adjusted, but she rolled with it. She rolled with it until the show was over and she accused us of floor-supporting the equipment so we could charge her more. The convention services manager also misrepresented her space post-show saying there were actually rigging points.
In hindsight, we should've all sat down together one last time before the show started to talk through everything. This might have prevented this miscommunication! No AV or production company would choose to floor support given an alternative to rig, and it certainly isn't more expensive. And, of course, over-communicating is always better than the alternative as we can see with this example! 
Feeling supportive
It isn't pretty, but it works. As I said, if you aren't able to rig your equipment, the other option is to use genie towers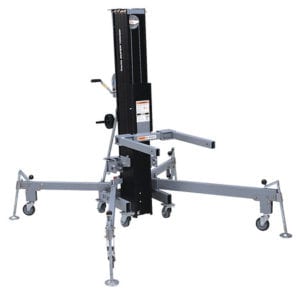 that sit on the ground and raise up the equipment. Towers can support both lighting fixtures and speakers from the ground, rather than rigging them. Because the towers are top-heavy, however, the base of the towers extends out farther than what's ideal. Typically the base of these towers are then covered with black cloth to make them more presentable, and to keep people from tripping on the legs.
Projectors are typically placed on scaffolding with a platform, but where they're located depends on whether you're using front- or rear-projected screens. The type of projector used will also vary whether they're in the back of the room (long-throw lenses are needed) or in "video village" behind the screen.
Budget vs. floorplan considerations
Of course, there are still costs associated with the equipment and labor to set it all floor supporting, but it's considerably less expensive. However, the footprint needed also must be considered when creating the floorplan for the room because the towers take up some space.
While it depends on the size of the room, and how many attendees you have, consider that you could need towers in the front, and delays for the rest of the room.
Floor supporting your lighting, sound, and projection is a reasonable solution to budgetary issues, but the look and feel, and floor space needed should also be taken into consideration.
AV setup / load-in is a dance
As you can see by this photo, truss must be connected to motors that are connected to the rig points in the ceiling.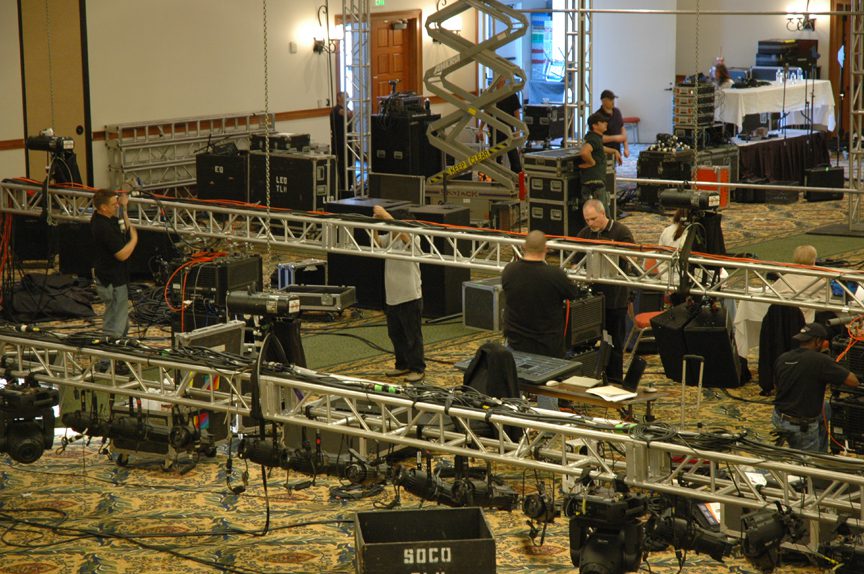 The equipment then must be attached to the truss before the motors raise them up again. Each department takes their turn, with lighting and projection then needing to get up on a lift to focus and make adjustments once the truss is raised again.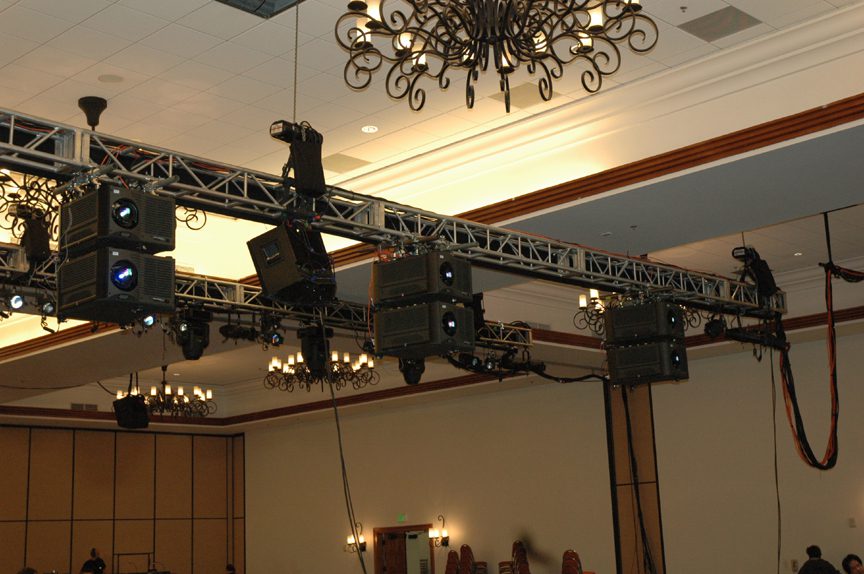 Rigging videos
A line array is a stack of speakers that you'll typically see at concerts, and they're also used for conferences with large audiences.  This video shows how a line-array would be setup on a floor-supported genie tower. Notice the footprint on the floor, and how the technician is careful to step over the legs.


Ground supported truss towers are also used most often in outdoor venues. This brief video shows how it's done. Of course, they make it look easy, as professionals tend to do!


This video shows a crew rigging up a truss with lighting fixtures in a small space. Notice the motor being attached to the truss, and it raising it up and down. Boy, do they work fast!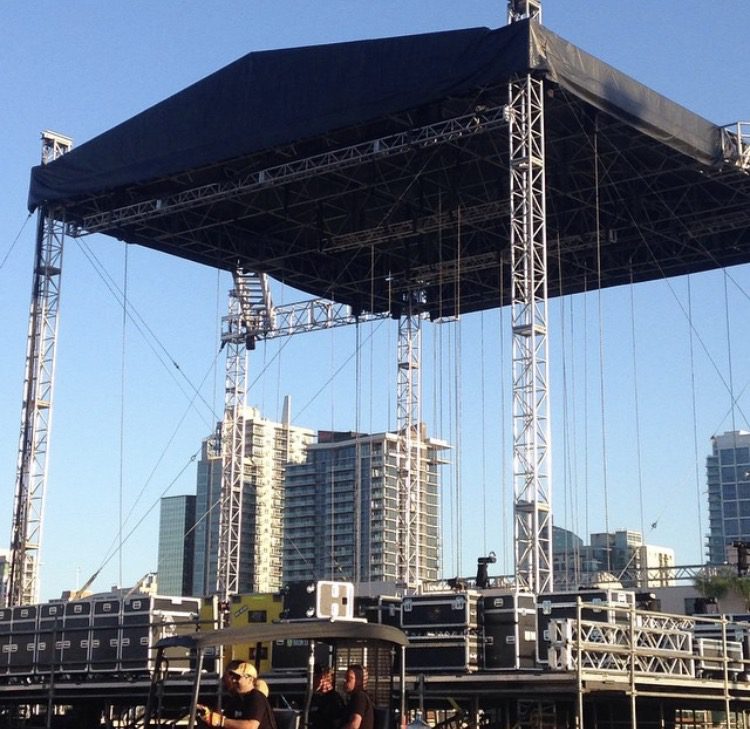 Breaking it down
Moral of the story… When given the choice to rig the AV equipment for your meeting or event? Do it! It's a cleaner look, will allow for more floor space, and will enable you to get more variety in your lighting throughout the room.
Key questions to discuss with your venues prior to signing contracts:
Does the ballroom have rigging points? 

If no, find out what other options there are such as airwall track hooks, and the weight limits.

Do you charge for the points? 

If so, how much per point?

What is your exclusivity requirement for rigging?

Is there availability for x# hours prior to the start of the event?

You must ensure up-front that you have enough setup time.

Is there availability for x# hours after the conclusion of the event?

Require enough time after the event to strike the equipment with the amount of crew your budget will allow (or you could get encroached upon by the next group coming in).
Be sure to discuss all the answers to these questions with your AV / production company as you engage them for a quote, or bring them with you on site visits if you already have a relationship.
Rigging of AV equipment is an essential piece of the puzzle. It should always be front of mind when determining the selection of your venue, and the design of your production setup.
Remember – over-communication is super important on this part of your planning!  It will save you heartache in the long run!