At first glance, it might seem like a hybrid event is pretty straightforward. You take virtual, you take in-person, and you got yourself a hybrid experience! Well, sort of. While it's common knowledge at this point that this type of event merges digital and live together, there are actually several ways you can go about it. You've probably come across the concept of hybrid event models before. Whether you have and you're still confused, or you have no clue what we're talking about, we got you.
But first, you might be wondering why it matters. Put quite simply, it seems to be the consensus amongst event profs that hybrid is the future of our industry. As such, it's only natural that production and management companies everywhere are already adapting. Just like stars, no two events are the same, regardless of whether we're talking virtual, live, or hybrid. And so it makes sense to craft a handful of models in order to help people fully grasp the complexity of the latter. That's exactly what we've done here at Endless, so hold onto your hats, and let's get to it!
Out With The Old, In With The New
In its early days, hybrid meant little more than a live-streamed in-person event. Very little thought went into the virtual audience's experience, their ability to network amongst themselves and the other attendees, the quality of the stream, and the way content was delivered. Rather than equally prioritizing both audiences, the old hybrid event simply offers one-way communication from your event to participants that view the event remotely.
But in a post-COVID world, things took a turn. The events industry spent more than a year learning, producing, and honing the art of virtual events, elevating digital experiences to brand new heights. People all over the world were introduced to a new way of connecting and learning, and for many, the pros of attending events virtually far outweigh the cons.
As we slowly transition into the new normal, event professionals must keep in mind the lessons 2020 taught us. On the one hand, there are millions of people who can't wait to be around other humans and be shoved around in crowds like in the good old days. But there's also another group that will be wary of returning to this way of life, and yet, also wants to be catered to and participate in events for educational or recreational reasons. So what does this mean for the events industry?
The Hub & Spoke Method
A new age of hybrid is upon us. Events will now become a combination of a physical event with elements of a digital experience, fully merged and working in perfect synchrony. Running simultaneously and with overlapping content and interactive elements broadcast over the Internet, with equal attention paid to both audiences.
The in-person audience(s) will interact with the digital attendees, and the experience will be designed to its fullest potential, in a capacity rarely seen before in a pre-2020 world. Hybrid events offer the opportunity to expand an event's reach, engagement, and return on investment for speakers, exhibitors, and sponsors. But how, you may ask?
Enter the hub and spoke method. It involves multiple venues networked together to offer scale and intimacy while keeping attendee numbers within safety guidelines. The main hub venue will act as the primary stage which will be the home base for the majority of presenters and leaders of an organization. On the other hand, spokes will enable smaller groups of attendees, speakers, exhibitors, and staff to convene. That's the gist – now off to the hybrid event models!
The 4 Hybrid Event Models
Keeping the hub and spoke method in mind, let's explore the four hybrid event models you can adopt. In order to make things a little easier to understand, we created a space analogy (you know our Einsteins love analogies!). From the stars all the way to the planets, we like to think that we're taking hybrid events out of their previously boring world and catapulting them into brand new NASA-like heights. And so, the Star, Moon, Planet, and Satellite hybrid event models were born.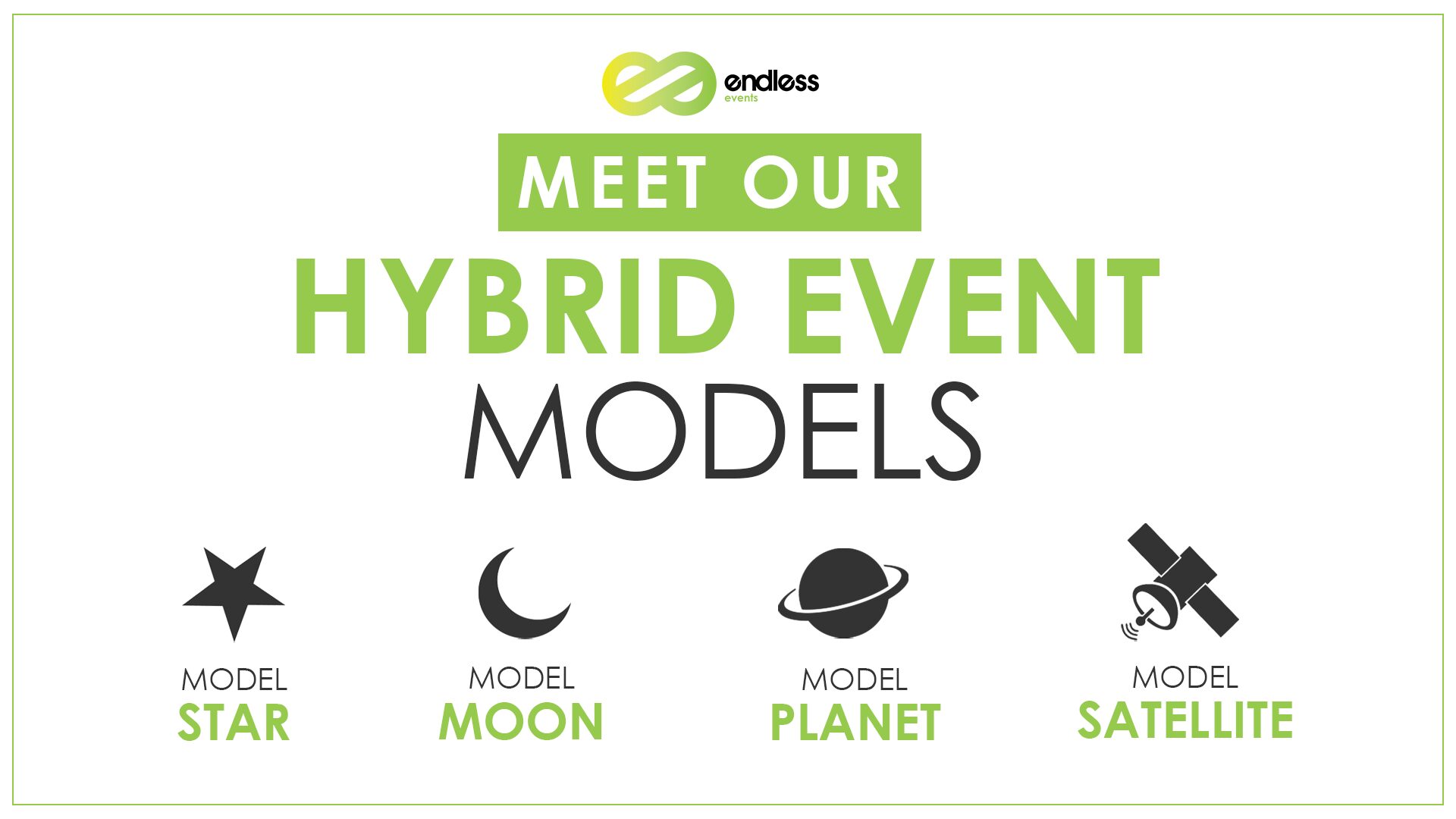 Model A: The Star
We begin with what we call the Star model: bright, bold, and beautiful, but not quite as ambitious as its counterparts. It consists of one onsite studio location with 10 to 50 in-person attendees (these numbers can vary a bit, so make sure to consult with your production company). Why a studio, you might ask? Given the limited capacity for live attendees, you'll want to enhance the production value for those watching elsewhere by adding more graphic elements, beautifully designed environments, and enhanced lighting and camera shots.
Additionally, the Star model would see the inclusion of one onsite indoor/outdoor networking space, a small independent caterer, minimal travel arrangements, and a virtual platform for networking. This model can be either a hub or a spoke as we discussed above. It's also worth mentioning that out of all the hybrid event models, this is currently the safest and cheapest to implement COVID-19 compliance for, mostly because of the limited amount of in-person attendees.
The hybrid event studio at Beurs van Berlage is a great example of the Star. As they put it:
"What makes the Studio Berlage unique is the exclusive setting and the special integration in the virtual Beurs van Berlage. Due to the exclusive setting, speakers and organizers also experience the monumental atmosphere and top service of the event location."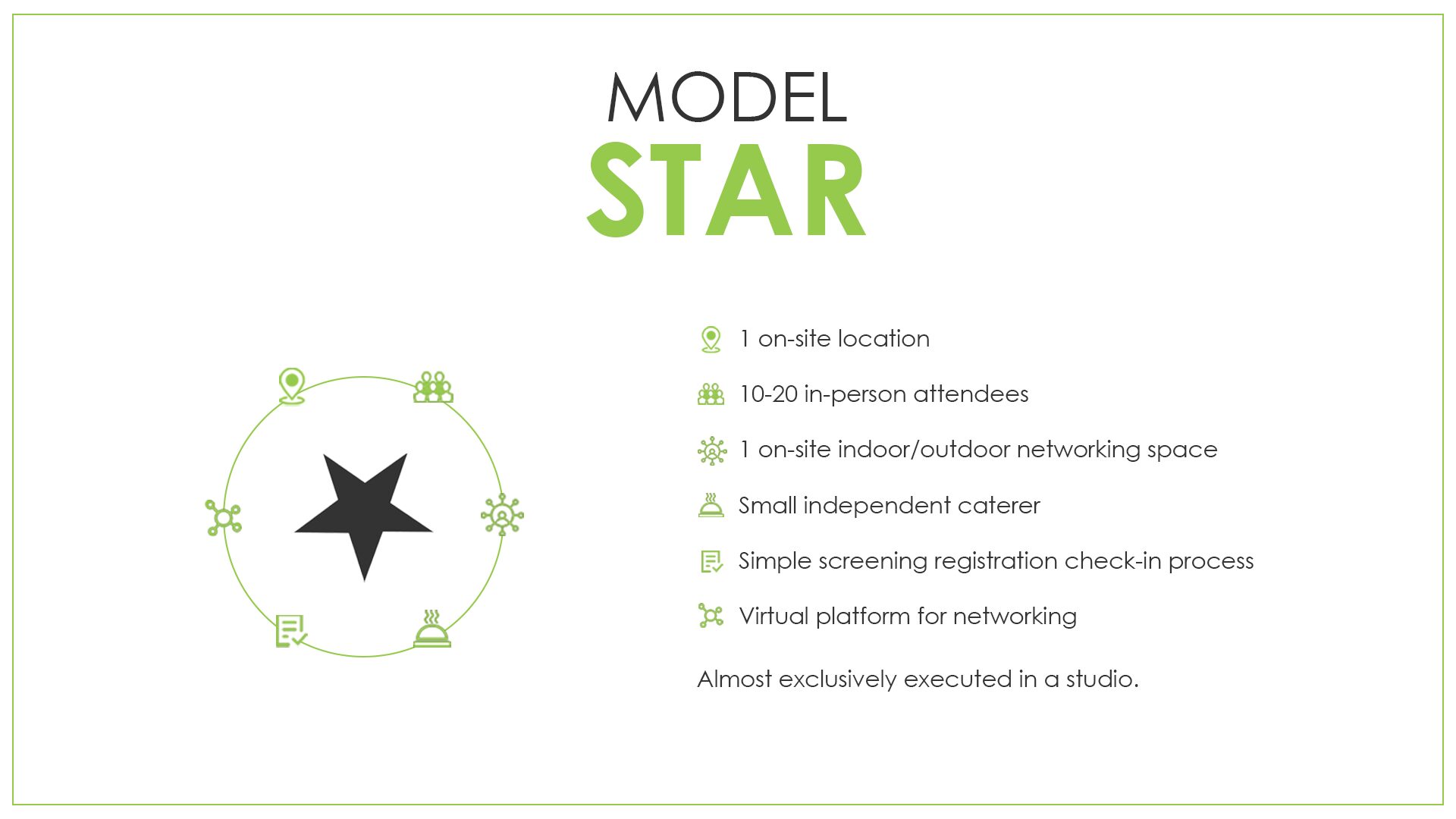 Model B: The Moon
Moving on to the Moon model, this is where smaller venues come into play. This model would consist of boutique hotels or small to medium independent venues with one large presentation space, up to 5 breakout rooms, and a maximum of 200 attendees in-person. The catering would be provided by the hotel or the independent venue, and much like the Star, the Moon can be a hub or a spoke.
TEDxSydney 2020 is a fantastic case study for this model. Issuu reports that the event was streamed live from
"a big and beautiful studio in Sydney using eight cameras, lights, and all manner of creative and technical wizardry. Most speakers presented live across four main stages (…). Each session had capacity for 22 socially-distant attendees, while a virtual hall of faces was used o create the feeling of a larger live audience."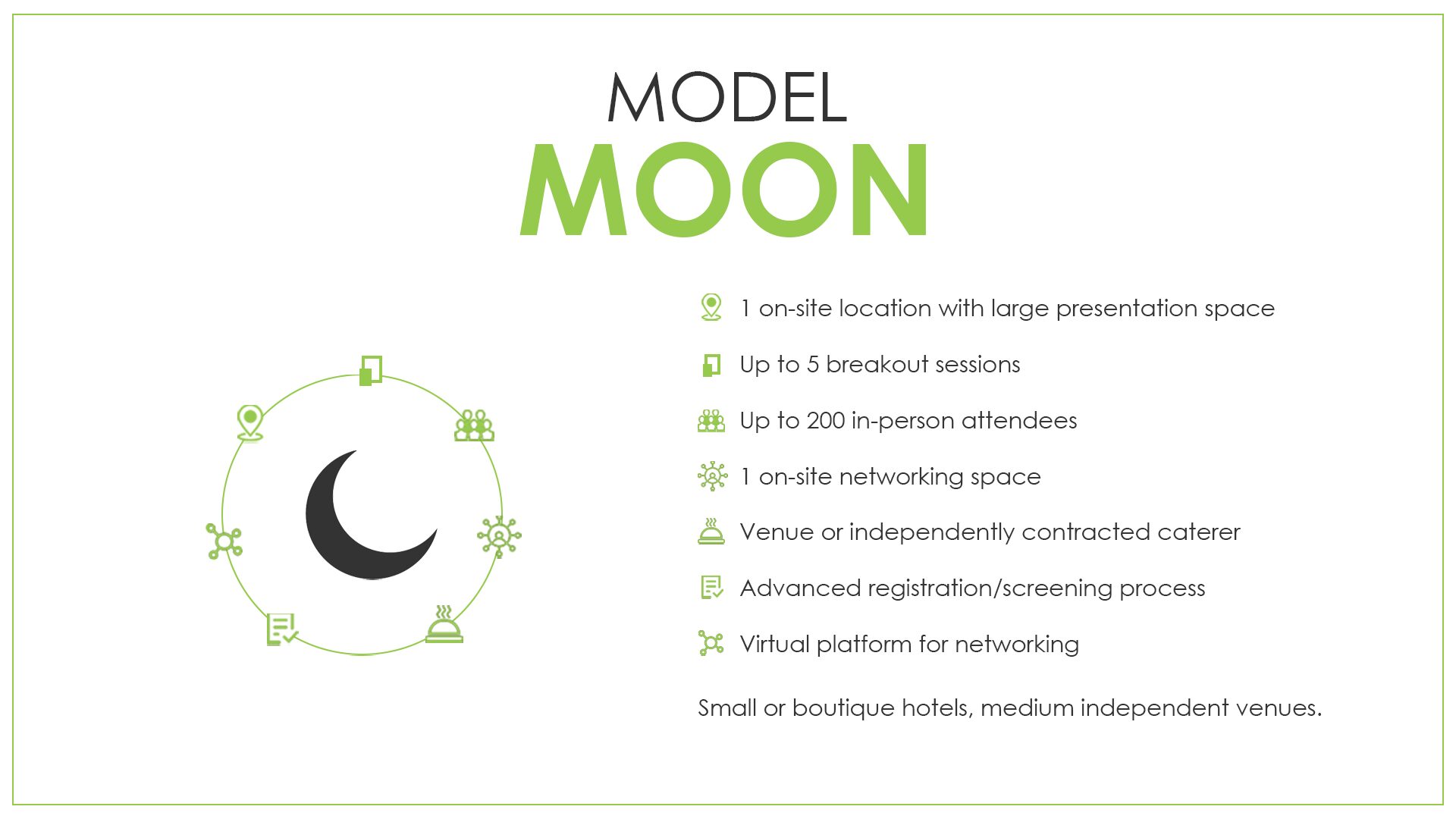 Model C: The Planet
The Planet model resembles the Moon, but it's larger in scope; hence its designation. Instead of the smaller, independent venues we discussed above, bigger convention spaces and hotels with one or more large presentation spaces come into play here. Additionally, you're looking at up to 20 breakout rooms and 500 to 1000+ in-person attendees. There's more room for social activities, and catering is provided by the venue. The Planet can also be either a hub or a spoke.
PCMA's Convening Leaders 2021 was an ambitious hybrid meeting that fits this model. Although there were challenges with inter-audience engagement, as you'd expect from such a large-scale project, it was still a successful event. Northstar reports:
"A few hundred people gathered at a hub in Singapore and smaller groups meeting at several locations in the United States, among them Caesars Forum in Las Vegas and the Gaylord Rockies in Aurora, Colo., as well as in Oklahoma City, and Fort Lauderdale and Palm Beaches in Florida."
The President and CEO of PCMA spoke words of wisdom when he announced to his very own hybrid audiences that hybrid "is the future – period".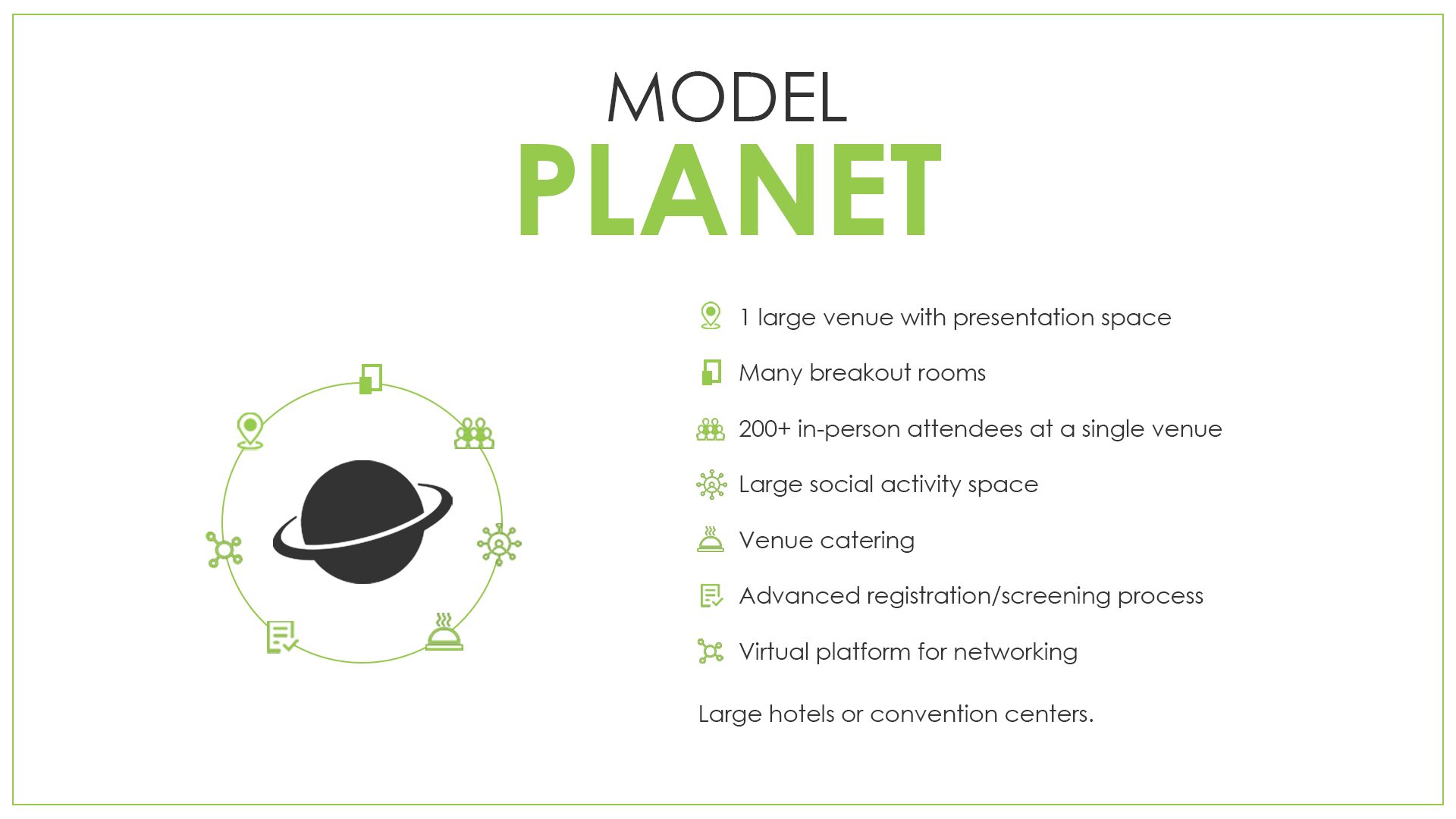 Model D: The Satellite
Unlike the previous hybrid event models, the Satellite is referenced as a pod and can't be a hub, given that it is not an ideal location for the entire event's streaming control room to take place. This model would consist of small to medium independent venues (pods) with one or more independent venue viewing spaces receiving the feed and a small stage for regional speakers.
With the Satellite model, it's time to get creative with your venue selection. Have you ever dreamed of hosting your meeting at a destination like NeueHouse, Pier 17 Rooftop, or Chamäleon Beach? Well, now you can do it by launching unique pods that bring the event to your attendees around the globe in venues with unique character and ambiance. Switch up your pod location each year to where your regional chapters are, where your speakers could be based, or where your sponsors are. Alternatively, you can keep the pod location(s) consistent year after year. It's up to you!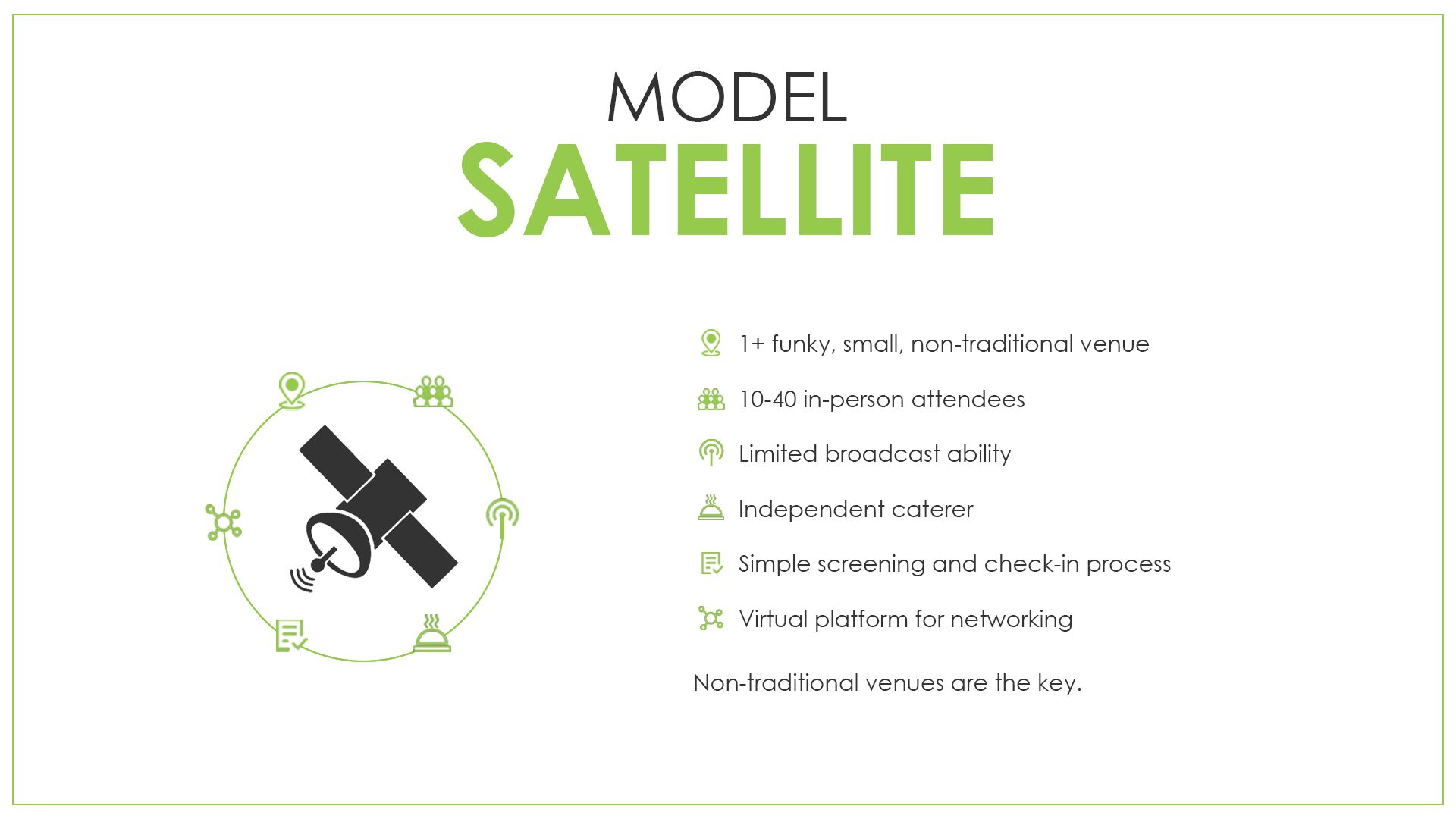 This technique is often used when room capacity at studio events or face-to-face events is insufficient, or when you want to connect groups of people who can't travel, and thus gather remotely in pods to have their own "live events" in other locations. You capture the essence of the video and audio onsite at the live event and stream it out to the pods. Thankfully, today's technology has made it much more affordable to set up two-way communications between pods and remote sites, which allows attendees to actively contribute to the content and the dialogue. You can also have independent events that are interconnected during which each pod has its own programming and connects with other pods for joint sessions. When executed correctly, hybrid truly is a game-changer!