Business and event planners around the globe are raving about this year's C2 Montreal conference. There were over 6,000 participants that attended the C2 Montreal event this year and although the 2018 event was at the end of May, the groundbreaking is already planning for the 2019 conference with the theme of tomorrow.
The C2 Experience
Most people go to the C2 event to experience the future of networking, but it's completely different from any of the networking events most of us attend. C2 is all about setting the stage for creativity and involvement; to talk to others and explore new things that you can take back and implement in your business. C2 reinvents their theme every year which flows throughout each room that you see during the event. Reinventing each year allows for transformation and growth. The attendees are then able to explore new technology and step out of the norm and into the future. For their 2018 conference, the theme was Transformative Collisions to spark the collision of interests, ideas, and realities. Click here for C2's teaser video for this year's conference in Montreal, Canada.

Breaking Barriers
The purpose of attending the C2 conference is to network with others, but it's not true networking or what most of us think of as networking. The event feels completely different from the way we naturally network with others at events. 80% of the event space was dedicated to engaging with others which created a completely different feel from most networking events and conferences. The attire for the C2 is casual which creates a more open feel between attendees and unlike many business conferences, alcohol is available from 8 AM – on. The breakaway from formality at this event allows you to do things on your own and not feel like people are watching or judging you. Your networking hat didn't have to be on unlike networking conferences in the past because the C2 conference focuses on breaking down barriers by changing the way we typically network allowing attendees to relax.
Kilk – A Fluid Networking App
When you register for the C2 event you are asked to create a profile that stores your contact information using the app, Klik.  The best thing about this app is that once you create your profile and you're at the conference, you can do multiple things with just a "klik" of your badge. You no longer have to worry about having your phone out to trade contact information. You can pay for drinks with your badge. With just a "klick" you can get into workshops and masterclasses and you can trade contact information with other attendees. of each other's badges. Instead of the old way of trading business cards, when you "klik" your badges together the person's contact information from their Klik profile is instantly sent to you and waiting in a list format that you can then export to your email for smooth and easy connection.
The C2 event staff and performers can also view your profile using the Bluetooth low energy.  They use this technology to their advantage. When you walk into the event each day, they know instantly who you are and offer you a warm greeting by name and when lining up for workshops or masterclasses the staff can tell if you've registered for the event or not because of your badge.  
The Klik app also has a newsfeed where you can post topics, almost like tweets, and other attendees can join in on the talk or create a meeting, or as they like to call it "braindate" to discuss more on the topic at the conference.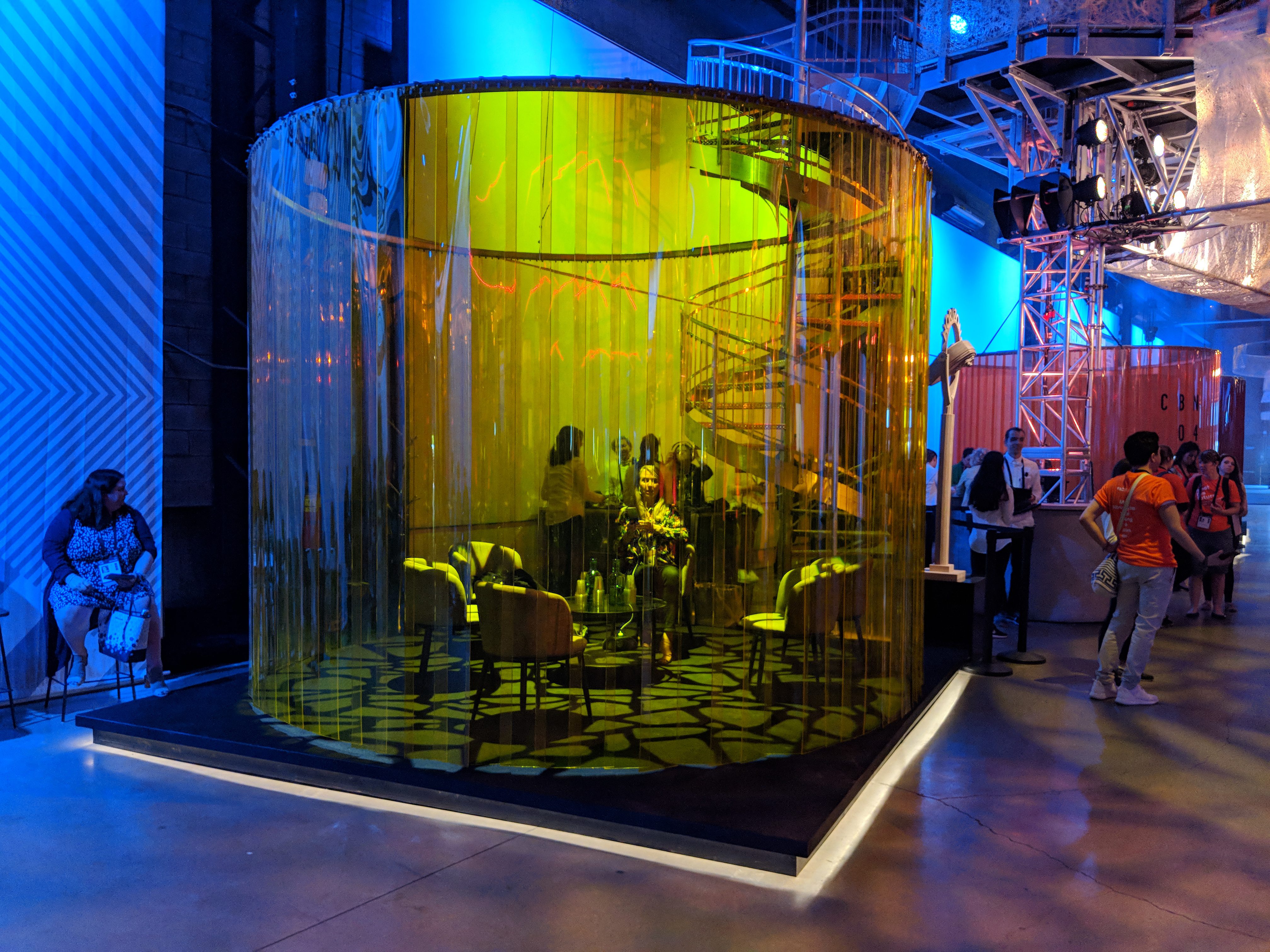 Braindates
The C2 Montreal conference, of course, has sessions you could attend but they also incorporated a platform called "braindates" which was created by the company, Klik. Essentially, you can set "braindates" with trending, high-end people and discuss topics like the latest trends and tech in your industries. You can absolutely go to C2 Montréal and just attend the sessions as you would at any other conference but you would be missing out. What makes C2 Montreal different is that they created an outlet for you to build on your own networking. All of the colorful, translucent pods built throughout the event were used for "braindates".
These "dates" gave you an opportunity to have in-depth discussions with other attendees to talk about anything with big-time players in a non-awkward way. At the end of the braindate instead of trading business cards, you can simply "klik" your badges together to trade contact information.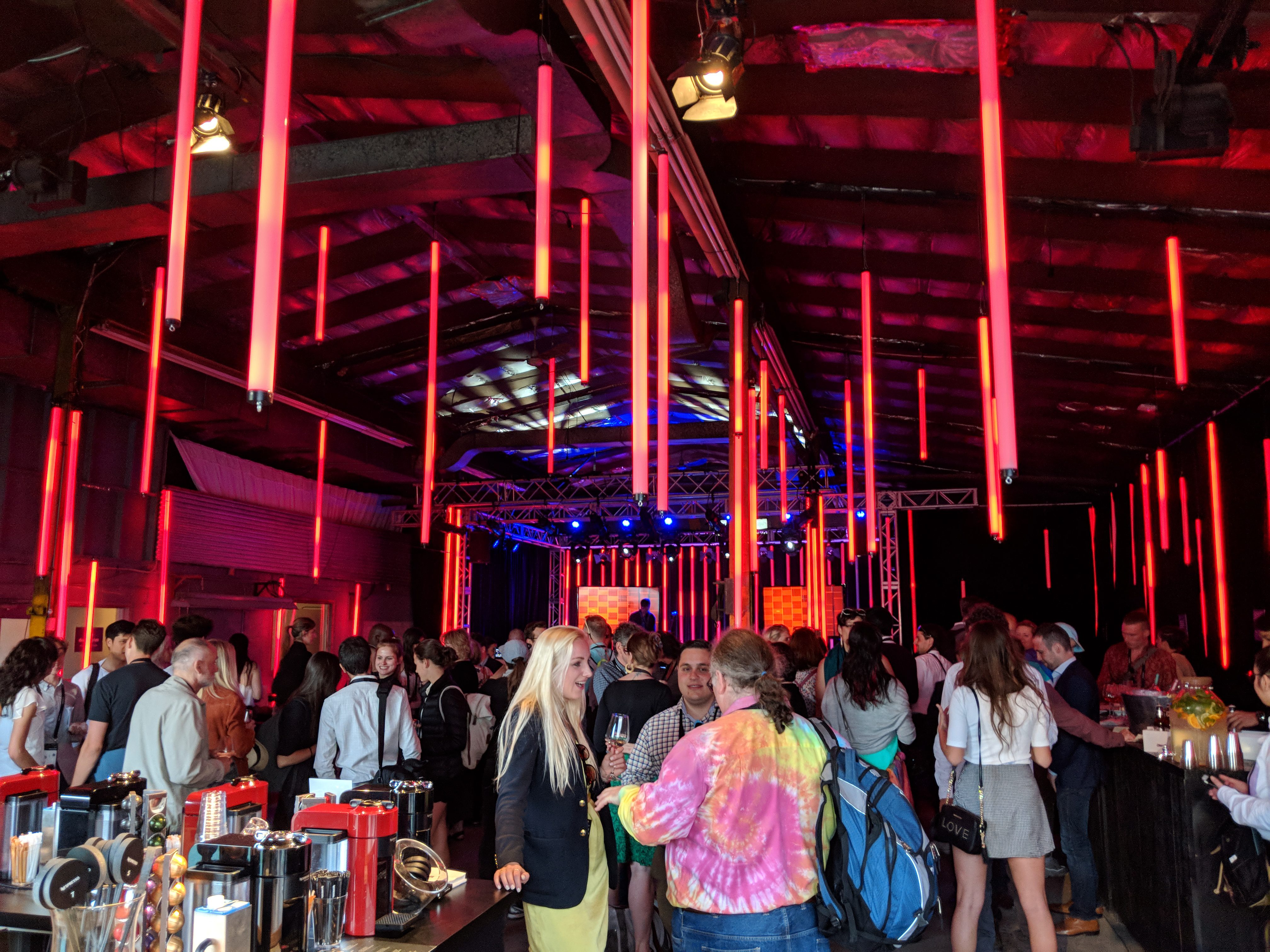 Not Your Average Workshop
The 2018 workshops and masterclasses that were available were ones that pushed the envelope with their content. The speakers were not all traditional speakers, some were non-traditional. This thought-out combination gives the attendees a variety of sessions to attend to cater to their interests.
You are asked to pre-register for the sessions you want to attend but if the session is full, that doesn't mean you won't be able to get in. Each event room had a room attached that was called the garage. If you did not pre-register for the session you had the ability to wait in the "garage" while the pre-registered attendees moved through the line. The garage looked similar to the lines at amusement parks, but it had colorful lighting and screens for viewing the session while you wait to get in. Most of the time they are able to seat everyone but it's great that they provide the option of viewing and waiting in the garage so that you don't miss out on any important content.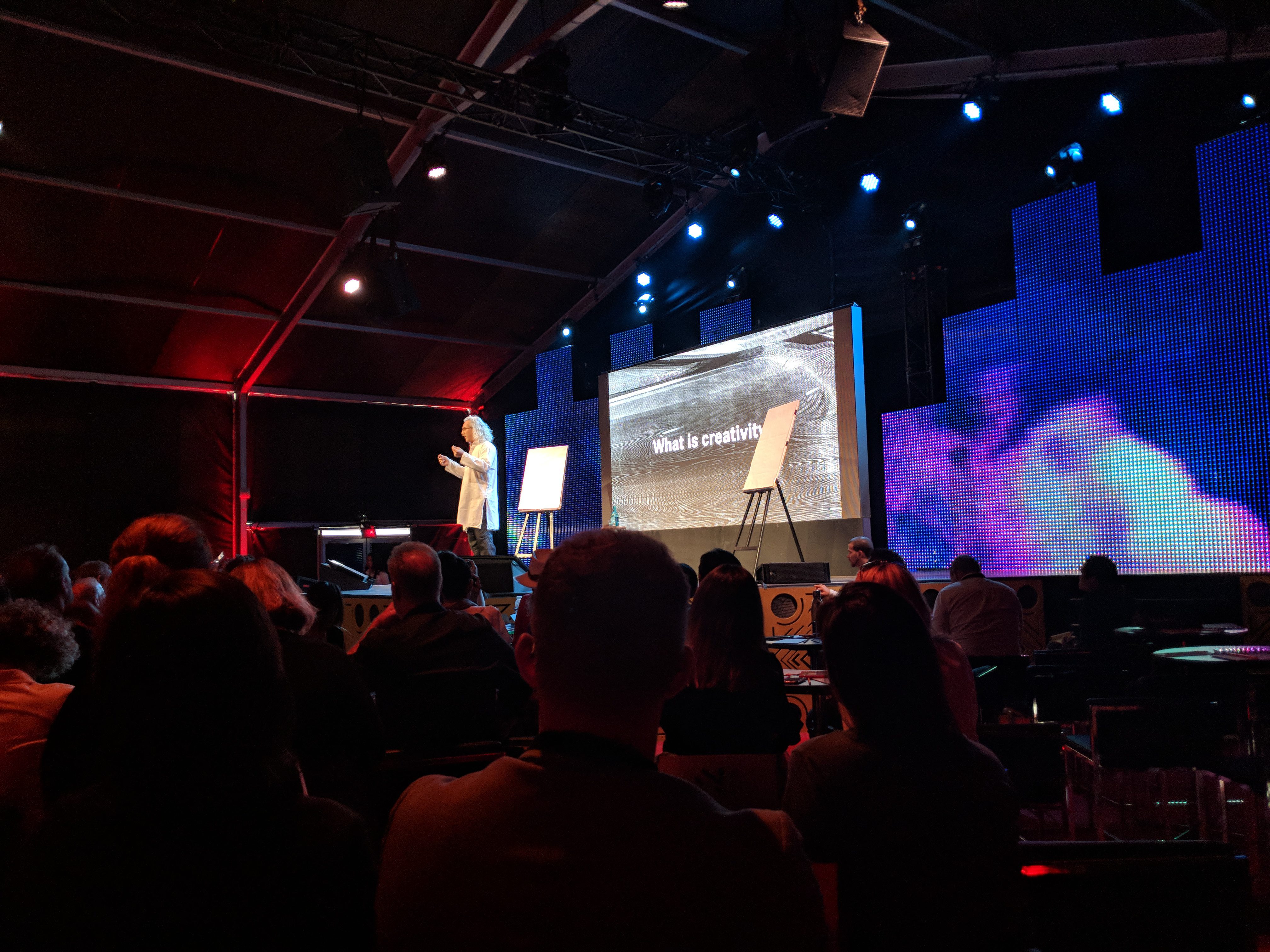 Unexpected Experiences
Cirque du Soleil is a founding partner for C2 Montreal and they help with the transitions during the event and setting a colorful and light atmosphere. In between transitions and the breaking down of stages, instead of the crew wearing all black, the crew wears bright colors and performs during each transition. Typically while the crew breaks down the stage, you look at your phone because you don't know exactly what to do during that time. However,  C2 Montreal turned it into a show by watching Cirque du Soleil elegantly takes down the stage. This keeps attendees engaged throughout the entire transition. Once the crew was done building the set there would be a countdown for the next presenter that would build anticipation and engagement.
Another place you will see these wonderful performers are in the halls and streets surrounding the event. There may be spies hiding in the bushes or people calling out your name while they perform an act in the hall. This lighthearted entertainment allows you to let your guard down and really enjoy connecting with others.
Will Curran (our Chief Event Einstein)  attended a masterclass that was lead by a Disney artist and professional animator, Dave Zaboski. This non-traditional masterclass focused on how to get creative and innovative. He stood on stage with an easel and drew animation and discussed creating while everyone was at highboys. He threw out a quote that really summed up creativity, "Creating is turning a thought into a thing." At the end of the masterclass, Zaboski held a Q&A session and innovatively had the attendees draw while they listened to the questions and responses which replaced the humdrum space that typically comes with Q&As.
Highlights
C2 Montreal is known as the best business conference to attend because they continually reinvent themselves. They know the importance of incorporating communication, inventive stages and keep futuristic ideas in eyesight. Going to C2 Montreal is almost an entirely different ballgame from the standard business conferences most of us attend. During their event in Montreal, there was a continuation of unexpected experiences that made you feel light and reenergized the creativity of your soul.
* Reinventing your event every year or two will increase attendees and promote your business.
Set the Tone
C2 sets the expectations of the event as soon as you walk in, not after you've checked in and went through a bunch of loops to get to the main event. At the Montreal event, C2 set an information desk at the center of the entrance and then off to the side was a 360 rotating bar and colorful translucent pods full of people talking to each other. The entry design set the expectation of the event right from the start.
* Do you have your attendees jump through hoops before they really get to see the event? Think about zesting up the entryway of your event and let the theme of your event shine bright right from the start!
Unique Concierges
Feeling lost at such an enormous event? C2 has you covered. Once you register for the event, you are assigned a concierge that reviews your profile and will help you if needed. Some of the concierges even called to introduce themselves to their list of attendees before the event. At the conference, you could easily see the concierge by their bright orange business suits.
*This special touch, if doable, would make every attendee at your next event feel like they were a VIP member.
Unique Breakout Sessions
What also makes this event stand out from all other events is that each room was different and catered to the speaker. There would be a room with high-top tables, a room with theater seating, and even a room with lounge chairs. Each room was unique and designed with a set vision.
*Do you take time to consider the layout of the room for each speaker? The layout of the room should match the feel of the session.
Build Loud, Exciting Experiences but Offer Escapes
With the loud, exciting experiences flourishing throughout the event there were also quiet spaces to retreat to. They brought in gorgeous phone booths, a cool hair parlor, a Zen meditation booth, other places you could escape to but still enjoy the transformative event.
*Do you have areas of retreat at your events? Think of creating space for those who need to recharge but still want to be part of the event.
Engage the Senses
There was also a guy that walked around with Ipads that controlled the sounds that would play in each room. For example, if they needed to reenergize the crowd, there would be birds chirping in the background or if they needed to build excitement you may hear a fire crackling.
*Lighting, seating, and microphones are not the only things to think about when looking for an event space. Think of how you want your attendees to feel. Add background noise to help liven the attention of your attendees.
Unexpected Elements
C2 is also known to have a speakeasy each year. This year it was hidden in the freezer of the flower shop. Little things like this make the event stand out from all other business events. They continue to break down barriers with their unique style and transformation each year.
They even have an annual art gallery that is only displayed at C2 events. It takes the artists weeks to prepare the gallery for each event.
*Have you incorporated something that is unique to just your event? Take time to think of something that will make your event stand out from other events in your realm.
Improvements
Even as one of the best business conferences in the world, C2 has areas they could improve. As we all know, one of C2's ideals is transformations, so we have no doubt they will always look for ways to improve as any great event planning business would. Here are a few improvements that we noticed while attending the 2018 C2 Montreal conference.
High-Level Content
The content was almost so high level and beyond the application of what most people could do for their business but it conference was for more than just the content, it's about meeting people and going on braindates.
Language Disconnect
It was hard at times to communicate with some of the bartenders and staff because many only spoke French. Make sure to have multilingual staff to keep the attendees connected.
Concierge Services
It took the first day of walking around to really get a feel for the event space and to know where things were. We know this would be very difficult, but it would be nice to have your concierge greet you at the entrance and help guide you on where things were the first day of the event so that you are not using the first day grounding yourself and you can just go straight to building connections with others.
Overwhelming Staff
Although it is a bonus to have such a large amount of staff at your event, it was overwhelming at times to see staff almost everywhere you looked.
Repeat Attendees
It seems like there were a lot of newbies and only a few people that had previously attended the event when asking around. There could be multiple reasons as to why they have such a high rate of newcomers but it's still something to look into as an event business.
Replicable
Before you go to a C2 event, you have to know going in that the C2 event is highly sponsored. Although you may be able to implement some of the stuff, it's good to stick to your budget and think of what's possible for your business. Take the event with a grain of salt.
Overall
Endless Events thinks the C2 event is a must for all event professionals. We would love for every one of our clients to attend and let the event be an inspiration and a way to conduct business. The event by far blew all of the other business conferences out of the water. The C2 event the best place to experience transformations and connect with other business and look for ways of growth and creativity to bring back and implement to push your business towards the future.