After what seemed like a decade, 2020 is finally behind us. To celebrate, let's look at some of the best 2020 virtual events. We've already talked at length about the lessons we learned from the pandemic. And we've been out there dishing out tons of content about successfully pivoting and producing virtual events.
Hundreds of planners around the world took the plunge and proved that digital experiences can be magical. The three examples below were some of the best 2020 virtual events we saw. From raising money for a good cause to bringing thousands of people together, check out what they did right.
Best 2020 Virtual Events: Tomorrowland Around The World
Ending in arguably one of the most raging successes of the past year, the team behind Tomorrowland had a tough task. Turning one of the most famous electronic music festivals in the world into an equally engaging virtual experience would scare the most seasoned event planner. Let alone become one of the best 2020 virtual events! But at the height of the COVID-19 pandemic, Tomorrowland took advantage of people's pressing need for escapism and entertainment, and voilá – Tomorrowland Around The World was born.
By harnessing the power of bleeding-edge tech like 3D technology and combining it with state-of-the-art production, gamification, and special effects, the team took it upon themselves to create a three-dimensional virtual island with 8 stages, featuring artists like Katy Perry and David Guetta. And while this virtual event was all about the music, Tomorrowland went above and beyond to ensure attendees had an unforgettable, engaging experience.
Dogstudio was one of the companies behind the experience. Henry Daubrez, CEO & Creative Director, shed further light on the process, stating:
"We work hand in hand with Tomorrowland's in-house 3D, creative and development teams to build a compelling, immersive, user-friendly, but also highly premium experience. We are building a web-based experience and we are all really pushing the boundaries of what can effectively be done in a web browser."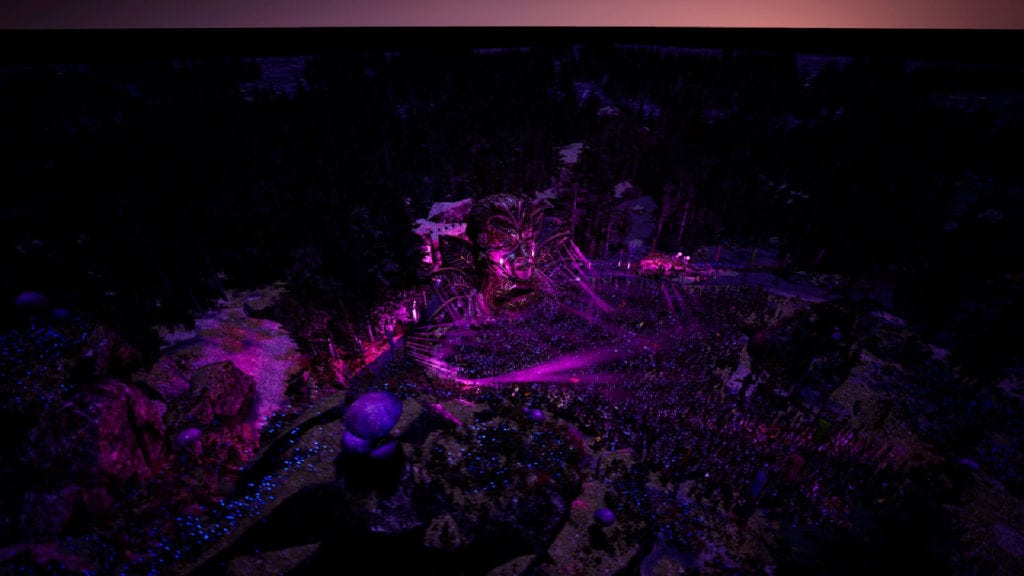 Tomorrowland also collaborated with Epic Games, making use of their real-time 3D creation platform and game engine, Unreal. Ben Lumsden, the Business Development Manager of the company, further revealed how technology evolved to a point where virtual experiences can even surpass the quality of live events.
"Tomorrowland Around the World skillfully mixes traditional techniques such as live camera cutting with our new DMX lighting control integration all within the immersion of Unreal Engine, building a new digital journey that is sure to captivate people across the planet. What the team at Tomorrowland has been able to do in a very short period of time is seriously impressive. Combining the live-action performances of the artists into gorgeous, high-resolution virtual worlds has been a logistical and technological feat."
In the end, Tomorrowland was able to bring in 1 million attendees virtually together, effectively outweighing the success of its previous in-person editions and claiming a spot as one of the best 2020 virtual events. All in all, a shining example of how digital experiences can not only be incredibly profitable and prosperous but even more so than live events.
Salesforce World Tour Sydney
Back when the pandemic first reared its ugly head, the good people at Salesforce were some of the first to be hit hard. What was an exciting event planned to take place in Sydney with 15,000 attendees was forced to make a seismic shift. It was in February 2020 that the team behind Salesforce World Tour Sydney had to face the music – the event thousands of people were looking forward to attending in person simply could not take place within the same molds. A complete makeover was in order.
So, after a lot of pondering, the following statement was released on their website:
"The safety and wellbeing of our employees, customers, and community is our number one priority. By making World Tour an online experience, it eliminates the need for attendees to attend in person and travel to Sydney while enabling them to still benefit from the event content."
Salesforce were pioneers and in spectacular fashion, too. With only two weeks before the event was set to take place, they completely rehauled and redesigned the entire experience, during a time when most event profs didn't even know what a virtual event entailed. And even more impressive was the success of Salesforce World Tour Australia – it garnered over one million video views and a whopping 80,000 people attended, setting the stage for what the best 2020 virtual events would look like. By bringing together impeccable production value through broadcast studios and intelligent engagement strategies through gamification, Salesforce chose to face this challenge headfirst instead of completely shutting it all down. And the results were nothing short of shocking at the time.
Talking about this very event, LinkedIn ANZ Director Prue Cox agreed that
"The experience has shown that companies have been able to reach new and broader audiences. As we continue to navigate these unprecedented changes in our industry, virtual experiences and content marketing are going to play an important role in the marketing community.  It will provide learning on how they shape the future of events globally."
Twitch Stream Aid
Fundraisers have always been some of the most heart-warming events. Since the aim of our industry is to bring people together and help foster lasting human connections, adding a good cause to the mix is the delicious cherry on top. Unfortunately, the world will never run out of causes that call for external support. But on the upside, amazing people all over the world have shown time and time again that they are not afraid to come forward and raise awareness and resources for those in need.
In 2020, the COVID-19 pandemic became of the greatest challenges humanity had to face in recent history. Millions of lives have been lost, businesses burned to the ground, and countless people found themselves in precarious situations. And in the face of all of this, Enthusiast Gaming decided to do something good for the world. In an effort to mitigate the damages caused by the pandemic, the gaming network partnered with streaming giant Twitch to both bring a smile to people's faces and raise money for the World Health Organization's COVID-19 Solidarity Response Fund.
In an interview with CNN, Menashe Kestenbaum, founder and president of Enthusiast Gaming, voiced his satisfaction with the result of the experience.
"To me, the fact that so many are actually doing that really sheds a positive light on how this really unites us. This disease unites the entire globe together in one cause. And the fact that we have so many people who are celebrities and influencers, all utilize that, is a really positive thing."
This extraordinary experience, yet another among the best 2020 virtual events, took place in the early stages of lockdown in the United States. The 12-hour stream brought together celebrities from all walks of life, including pop-stars Joe Jonas and John Legend, YouTuber Lindsey Stirling, and Olympic gymnast Aly Raisman. Tubefilter reported that "according to creator analytics firm Arsenal.gg, Stream Aid garnered peak concurrent viewership of 135,000 on the day of, and a collective watch-time of over 1.2 million hours". In the end, the event raised a whopping $2.8 million for the cause. It's a beautiful display of how our industry can do incredible things.