Whoa, whoa, whoa! What are you doing looking at trends from 2017?! That time has already passed! Be sure to look at our guide to 2020 Event Trends right here!
When creating an event experience, you want it to be a memorable, unique and amazingly awesome. That's where this year's 2017 Event Trends roundup comes in. Add these new technologies, strategies and activities into your planning as early as now to stay ahead of the curve. Don't forget to use our free event planning checklist and make your life 10x easier when encorporating these trends. So you might be wondering what are the top trends? Well, here they are:
Share Event Experiences With Anyone, Anywhere Through Mixed Reality
Make The Physical Feel Digital Via On-Demand Services, Touch Tech, and More
Increase Engagement Via Artificial Intelligence
Deliver Exemplary Event Experiences
Make Better Decisions Through Real-Time Data
Let Participants Run The Show
Hold Events In Non-Traditional Locations
Leave A Positive Message
Create Personalized Experiences
So now you know the trends, let's dive deep into each one and hear from industry experts on why each is such a huge trend.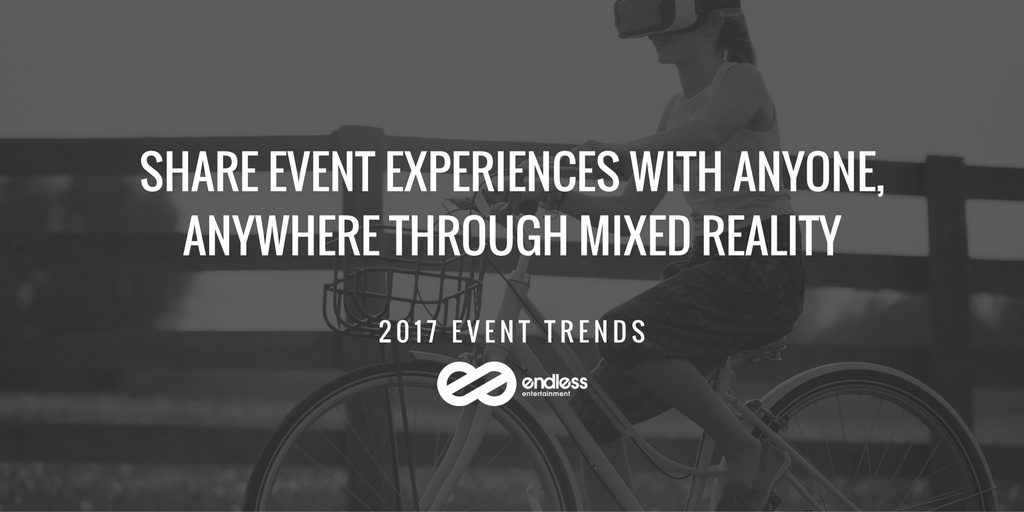 1. Share Event Experiences With Anyone, Anywhere Through Mixed Reality
One of the downsides of live events is that people have to be there to experience it. While this does create a unique experience for the attendees, wouldn't it be better if people could be attendees no matter where they were? That's where mixed reality comes in.
Additional realities: AR and VR
Mixed reality, where people where physical and digital objects co-exist and interact in real time, is one of the newest trends in the events industry. Through augmented reality (AR) and virtual reality (VR), people will be able to walk through the venues as if they were physically there. These two technologies are going to rapidly become mainstream in the next few years (especially with the launch of technologies like Bridge and Structure), making them a must have for future events. With the cost of experience VR dropping with the release of technologies such as Google's Daydream VR, it's becoming easier for everyone to try VR. Let's just hope it doesn't become like the novel, Ready Player One.
Live streaming via drones
Livestreaming is everywhere now (you can even do it in 4K). EventMB also had this one on their 2017 event trends guide, for good reason, this is going to be everywhere! For those who do not have access to VR equipment, they can tune into live event broadcasts courtesy of drones equipped with 4K cameras. Drone streaming is another trend that we expect to see next year, paired with the live broadcast features of social media sites such as Facebook Live and Instagram Live. This will let events achieve game-changing, full-360 degree streaming before 2017 ends. We'll talk more about live tech in the next section.
Virtual meetings
Virtual meetings will allow people to attend events remotely as if they were there in person. Right now that is done with cameras and the same live stream technologies avaliable today but what if the experience could be more immersive? The same set of options available to regular attendees will also be made available to them, through the power of real-time technologies such as the Microsoft Hololens.
Which begs the question: how will people actually interact with each other in a virtual event? This can be done through personalized avatars as demonstrated this year by Facebook. Instead of tiny images and icons, you'll be able to convey physical movement and even facial expressions. We imagine it would be like those holograms in Star Wars, but even more interactive.
"Later, as immersive experiences with AR and VR reach full tipping points in terms of price and capability, AR and VR will expand beyond visual immersion to include all human senses." – Jason Allan Scott, The Eventrepreneur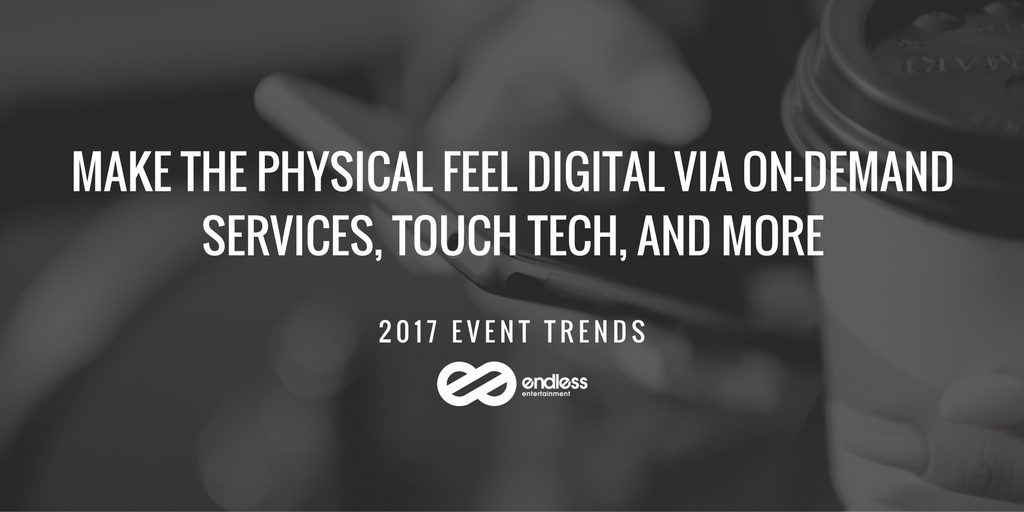 2. Make The Physical Feel Digital Via On-Demand Services, Touch Tech, and More
On the flip side, technology is also making physical experiences feel more digital. The sharing economy lets people access services on-demand, making them as simple as tapping on your phone. Events now have multiple concurrent tracks that let attendees go in and out with ease, just like browsing websites. Technology becomes part of everyday objects, making them smarter and more interactive.
On-demand services
By tapping on-demand services like Uber and AirBnb, event organizers can use crowd-powered services to gain ideas, solutions and services to bolster participation and engagement in events. Event managers and suppliers can use on-demand services to deliver better service at a lower cost.
Choose your own adventure
While big conferences already offer multiple tracks to cater to their diverse audience, smaller events will soon be able to do the same. In addition to participation in different sessions, devices like NFC and RFID cards will also give guests access to specific content. Want to learn more about RFIDs and NFC? Check out our episode 14 of #EventIcons where we interview Anthony Palermo, the godfather of RFID at events.
Touch tech
Physical products are poised to make a comeback in the 2017 event trends. Event engagement will be enhanced by tangible items that on-site attendees can actually touch and hold. Dubbed "touch tech", these items are simple but smart, like Snapchat's Spectacles which lets you take first-person videos through your sunglasses instead of your phone. All we ask is that the touch tech is better than the Touchbar on the new Macbook Pros)
"Distributed commerce is going to grow in importance to event organisers and consumers alike in 2017." – Joel Crouch, General Manager, Eventbrite UK & Ireland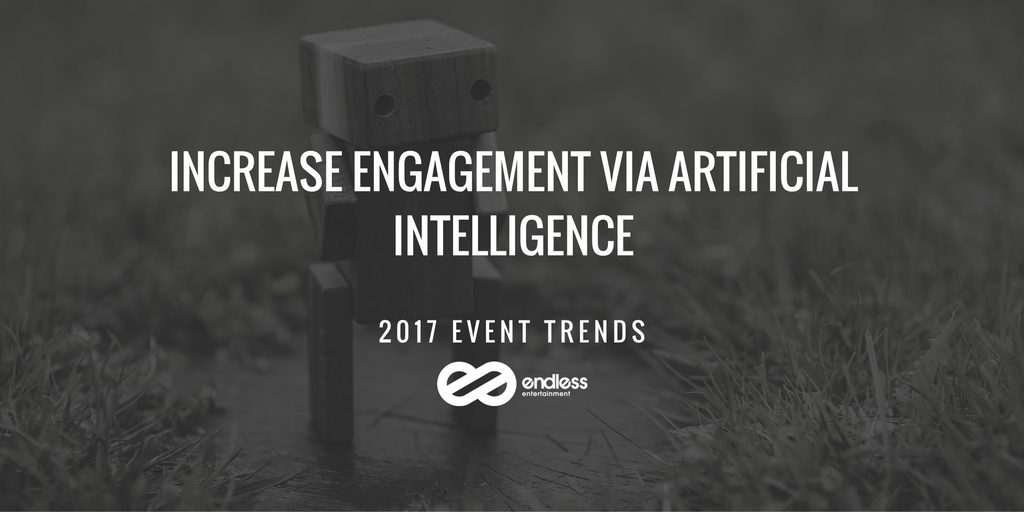 3. Increase Engagement Via Artificial Intelligence
The past year has seen the rise in awareness and usage of artificial intelligence or AI. Apple's Siri, Microsoft's Cortana, and Amazon's Alexa are just three of a legion of AI assistants that people can use everyday. Needless to say, these same AI can be tapped to provide an added boost to events when it comes to personalization.
Personal concierge
Another awesome idea we shared with EventMB's 2017 event trends guide. We also drew inspiration from Inbound 2016, and the launch of Hubspot's Growthbot, which is a chatbot designed to be your personal marketing concierge. Artificial intelligence draws its power from the cloud and the crowd, where it learns by observing questions and responses of millions of users. Not only can an AI deliver information on-demand, it can also provide it even before you need it. On top of that, artificial intelligence can act as a personal concierge since it can process voice commands and even reply just like a human does. Expect a sassy remark or two in your future AI interactions.
Virtual event assistants
Event managers can use an AI as a digital event assistant that can help with anything from registration to budgeting. This helps event professionals build lean teams that can focus on improving attendee experience instead of drudging through backroom operations.
AI as branding
Siri, Cortana, and Alexa have all become household names because of their distinct personalities. An AI can also lends its personality to your event, much like a brand ambassador.
But unlike your regular human spokesperson, this one can interact with hundreds of people at the same time without limits. The AI can then be a more powerful branding tool, allowing people to interact with the "event" itself. The AI can also stand at the helm of a viral marketing campaign. And to top it off, you don't have to deal with a huge ego.
"Imagine delivering more personalized interactions, and we all know our event participants loved to be 'understood' – insert AI" – Dahlia El Gazzar, Tech Evangelist + Idea Igniteur, DAHLIA+ Agency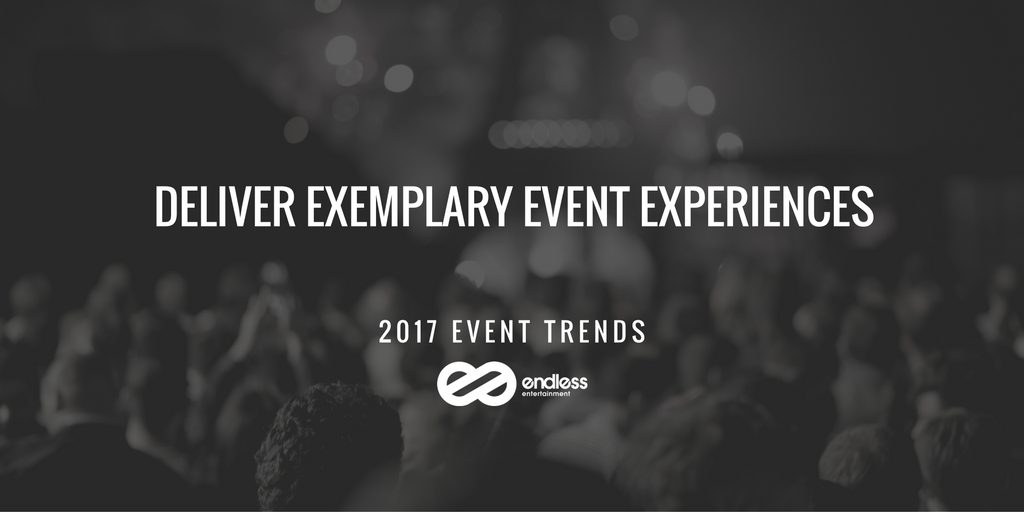 4. Deliver Exemplary Event Experiences
The top currency of today's world is not the US dollar nor is it Bitcoin. It's engagement. This holds true for the events industry as well. Keeping the audience engaged in the event not only adds to the bottom line, it also makes participation in the event a fulfilling activity for everyone involved, from the organizer to the attendee.
Emotionally intelligent events
Emotional intelligence will play a key role, allowing event organizers to cater to the emotional and psychological needs of each attendee. Sensory lounges, recreational rooms, experience areas, and the like can keep participants immersed and holistically satisfied. Different demographics will have different needs, and the organizer will have to create different strategies to keep each engaged. The one-size-fits-all approach is scheduled to die out.
Soft skills will also be useful in the creation of more efficient programs that take into account the needs and expectations of the participant, not just those of the organizer. It's no longer about exchanging contact details, and more on exchanging meaningful experiences.
Connect emotionally with local flavor
Another way to heighten the attendee's experience is the use of local aspects such as culture, locations and even cuisines, to evoke an emotional connection to the event. By creating an authentic and memorable experience, products and brands will find a home in people's consciousness. A good example of this is AirBnb Experiences where people can take part in unique activities instead of just buying travel lodging. In fact, click here for tips to find the perfect AirBnb accommodation .
"It's no longer about having a pen on hand or business card to send off with attendees, but rather giving them something that will heighten their in-the-moment experience and later continue to connect emotion with the event/brand."  – Monica Wolyniec, Marketing Communications Manager, Boomset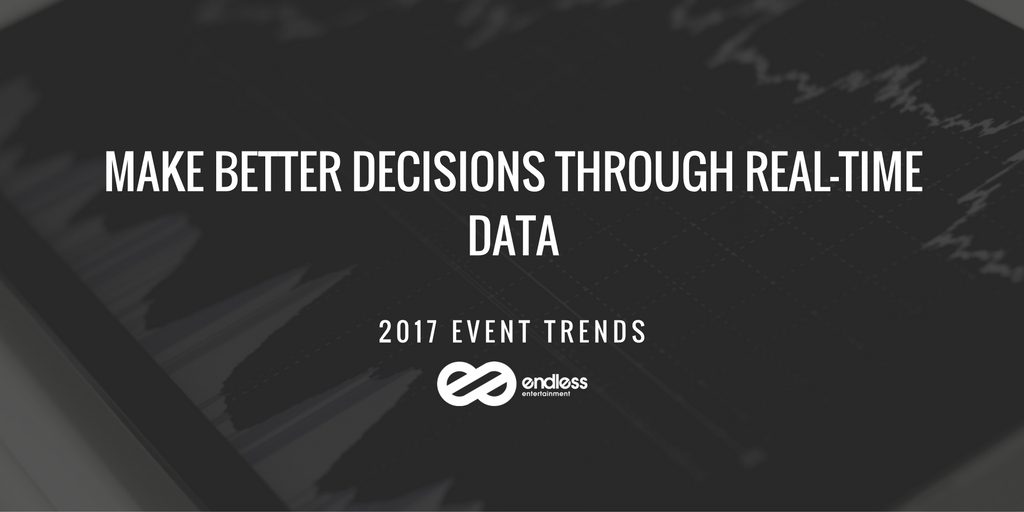 5. Make Better Decisions Through Real-Time Data
One of good side effect of using event technology is that it makes decision making easier. This is because you can gather enormous amounts of data, sometimes even in real time, and distill it down into actionable insights, all without lifting a finger. This makes event planners even more nimble, able to choose the more effective course of action through data-driven decisions.
Measure ROI better
By default, you can already collect data from your event from a variety of means: cameras, sensors, apps, and more. By measuring this data, marketers and events managers can better measure the expected ROI of each event activity.
This also means that you can segment your crowd better and explore promising niche audiences. Generalized events are fast disappearing, and the trend towards niche conventions is gaining ground.
Better logistics and management
Real time data gathering will also play a role in logistics and event management. Demand for anything can be measured on the spot, whether it be ticket sales, session attendance, or crowd density. You can then respond by creating real time content on-site in response. For suppliers, physical stocks can also be replenished depending on the consumption, which can now be measured in real-time. This allows a new level of flexibility when it comes to delivering good, creating activities, and broadcasting content. One of our favorite tools to collect real-time data is Loopd which allows you see where your attendees are in real-time.
"This'll be the year of data playing a big role in determining the effectiveness of events. Marketeers are better equipped to calculate ROI than ever before, and there'll be new technology emerging in 2017." – Ed Poland, Co-Founder and COO, Hire Space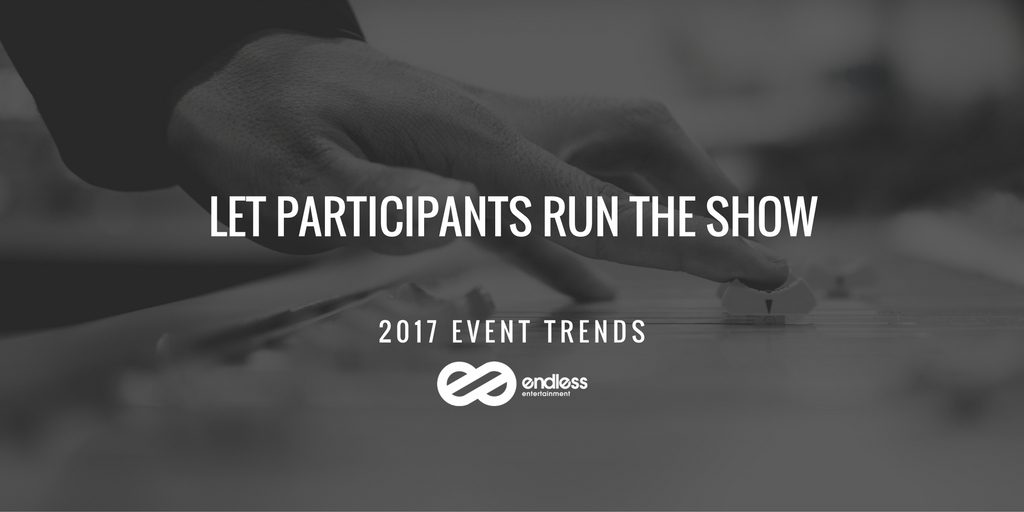 6. Let Participants Run The Show
A mainstay of internet culture is the online community, where members of self-organized groups create content together and moderate their own actions. Because of this, people are clamoring for events where they have a say in its activities. It might be scary to hand over the reins to your attendees but you'll find that it might be worth your while doing so.
Speakers and participants learn from each other
Next year will see the gradual decline in the keynote speaker-dominated events structure. Instead of having just one keynote speaker dictating the tempo, future events will focus on the creation of "learning sessions" where both speaker and audience can share the limelight. Existing examples of these involve the AMA's or Ask Me Anything threads that proliferate online, where there is a direct interaction between speaker and audience.
PS: We do this on a small scale every week with the #EventIcons show where we let the audience as the questions, not the hosts.
Hear attendee chatter
One of the sidelights of many events are the talks among attendees, often held in between booths and activities. The next year will see this being absorbed directly into the framework of events. Imagine creating an impact in an event even when you're just chatting in the corridors.
Create events together
Events can also be more engaging to people if they have a say in how it is made. Organizers and the audience can get together to plan the content and activities. Of course, if people are engaged, they can also become the most viral form of advertising. By tapping into services that allow live social media broadcasts, you can get people to share not only the event's proceedings but what they think about it as well.
"For corporate events we are going to see conventional conference formats change to allow much more participation in the delivery of content – that's the attendees making more contributions both before and during the event." – James Morgan, Founder, Event Tech Lab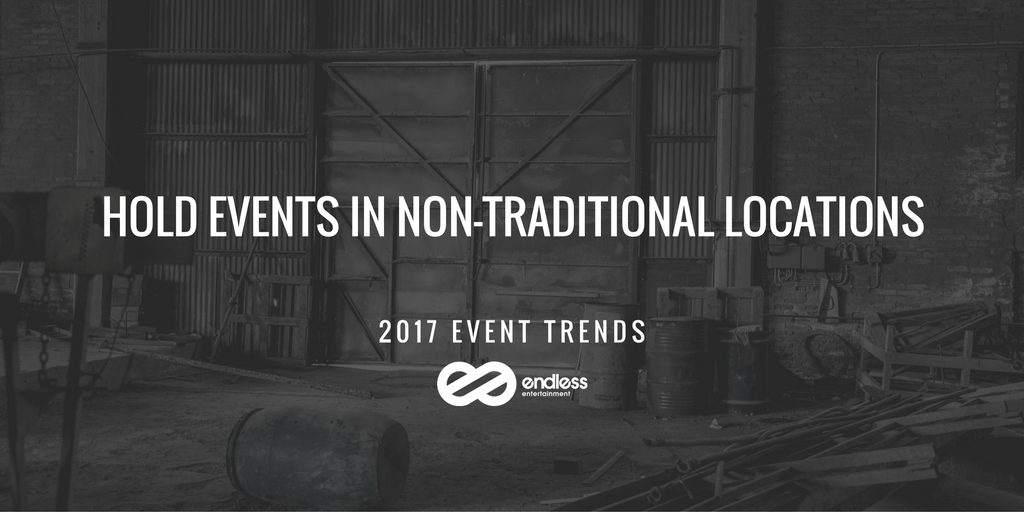 7. Hold Events In Non-Traditional Locations
The use of dedicated meeting places will take a hit, as organizers become more unconventional in their use of space. Informality is fast becoming the new norm, and this spills over into the use of more casual locations. This includes places like rehearsal studios, lofts, and more.
Surprising "pop up" events
Aside from using new venues, organizers are also getting into the "pop-up" event bandwagon. This is the use of an unlikely place that has been remodeled to fit the brand or event's message. These events are usually announced shortly before they begin, tapping into the surprise factor. The old, familiar, unsuspecting place is then found to have been transformed into an experiential location, to the delight of the audience.
Exploring new event grounds
As well, event organizers are moving away from the usual upscale venues and into the more unknown locations. It is not uncommon for events to be held far from central districts, in an effort to avoid the convoluted traffic, bustle, and other conditions of mainstream, high-demand locations. Second and third-tier locations are expected to make even more appearances this 2017.
"From coffee shops that host drinks receptions in the evenings and nightclubs that transform for conferences in the daytime, to empty meeting rooms in busy offices where visitors can brainstorm for an hour or two, there are so many innovate ways we can think about venue hire."  – Andrew Needham, CEO, Headbox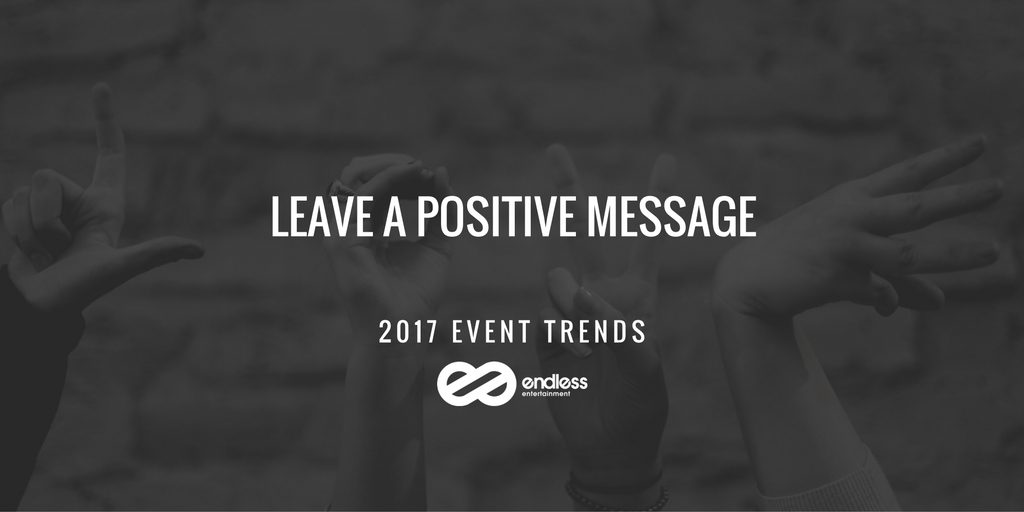 8. Leave A Positive Message
Making a social impact is also an important item making an appearance in events this 2017. Leaving a positive message is always a welcome thing. However, these changes ought to start within the event itself.
Diversity
The white-man-in-a-suit figure as the top gun in an event is fading out fast. Increased technology and social awareness has decreased the barriers to entry, allowing more and more people to participate as authority figures. Organizers can induce diversity in the event by encouraging audience participation. Social media walls, for example, can help nudge people into sharing in the discussion.
Safety
Of course, being participant-centric and leaving a positive mark also means showing the audience that you care for them. Crisis management preparations are bubbling up as a trend, ensuring that the audience is cared for in any eventuality.
"It's not just about "being green" but also what makes good business sense in terms of company profit and giving back to the community as well." – Damian Oracki, Founder & CEO, ShowSlice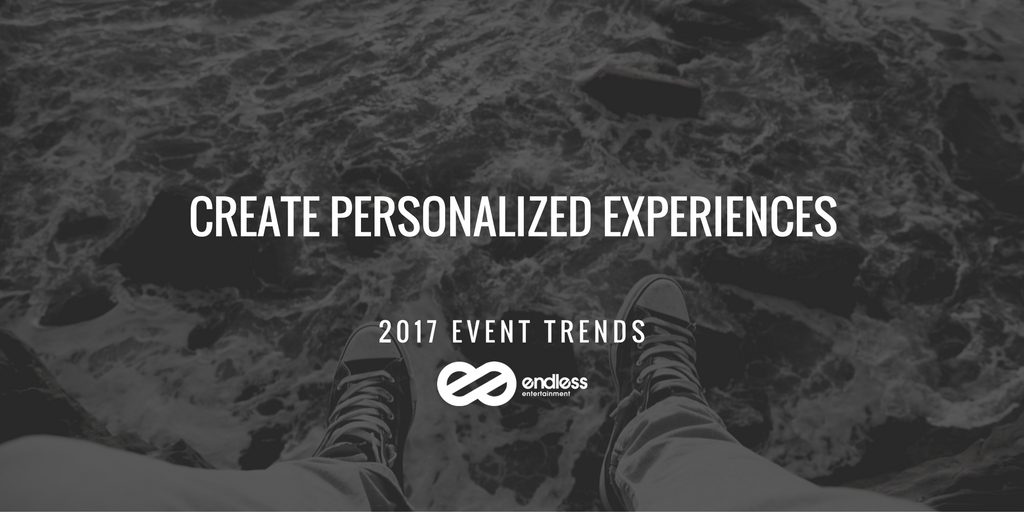 9. Create Personalized Experiences
Everyone wants to feel special. It might be something as simple as seeing your name (spelled correctly, of course), in your coffee cup. Or it might be a grand experience celebrating your achievements. Big or small, technology has made it easier for event planners to personalize their events, from emails to activities and even to giveaways.
Personalized offers
Google is a prime example of how your current interaction helps it make predictive assumptions on your future activity. This helps make things easier for participants by giving them what they want, when they want it.
Aside from smarter, activity-based emails and timed prompts, these personalizations will provide better value to customers by throwing in promotions specifically tailored to the peoples' preferences.  This is like the product suggestions in retailer websites, only at a much larger scale and much more tailored to what you want.
Personalized solutions
Personalization also helps make happy campers out of irate customers and attendees. Different people with different concerns call for different strategies. While the shotgun approach prominent in today's industry can be effective, it can be much more efficient for event planners to provide laser-focused solutions based on the individual's profile.
"The biggest trend that will continue to grow in 2017 for me, is the shift towards participants dictating their personal event journey." – Stephane Doutriaux, CEO, Poken
View the trends in Slideshow format:
---
Last year we only had five event trends in our sights, which now doubled to nine top level topics. Of last year's five, two make an appearance this year, with seven brand new trends moving the event industry forward into the future. What's surprising is not just the new tech, but also the new attitudes and expectations of attendees for future events.
Want to learn more about trends affecting the industry? We highly recommend you check out the following resources:
Want to see how last year looked in comparison? Check out some of these:
For event planners like you who want to be in the forefront of the industry, it's time to take a close look at each of the above trends and see which ones can turn your next event into both something memorable and something with impact.