It's finally time to discuss the hot topic of hybrid events. Over the past few months, we've been focused on providing all the educational content we possibly could about virtual events. But now that restrictions slowly begin to lift, mentalities need to shift. Virtual events will continue to be relevant from here on. However, and as you've probably heard, hybrid is the future. And there's a lot of information going around about this particular type of event, which can be overwhelming.
And this is why we'll begin diving into educational content on the topic, alongside virtual events. As always, the Endless team is here to provide you with all the answers you've been looking for. Today, we'll begin by addressing questions related to hybrid events that most planners considered at least a couple of times. There's a lot more to come in the future, so stay tuned! But for today, let's just jump right into the topic and answer the hybrid event questions you absolutely need to know.
What Is A Hybrid Event?
First things first, let's address the basics. What is a hybrid event and why is it that, suddenly, it's everything people seem to be talking about? Well, very simply put, a hybrid event is an experience that brings together people at a physical venue, where everything is taking place, with a virtual audience. It's essentially the best of both worlds, particularly in a time where the world is struggling to fight against a pandemic.
A hybrid event allows you to gather a certain group of people physically, according to the restrictions put in place. This will, of course, vary from state to state and country to country. But just the fact that you can bring back a certain aspect of in-person is great! And it's even better because you can harness technology capabilities to add a virtual audience to the experience.
Do I Have To Plan Two Different Events?
The concept of a hybrid event does entail extra planning – certainly more than an in-person or a virtual one would. Obviously, you'll have to take the time to outline a strategy for the virtual audience and one for the physical audience. The good news is if you've planned in-person and virtual events in the past, then you have the necessary knowledge to make a hybrid event work.
Everything you'd have to consider for an in-person event is still relevant – the venue, the speakers, the entertainment, the catering, and so on. And simultaneously, the production aspects pertaining to virtual events will also require attention – the platform, the engagement, and the technology. But don't think about it as planning two different events! It's the same one, only heightened and elevated to new levels. Plus, if you have the right people working with you, there's nothing to worry about.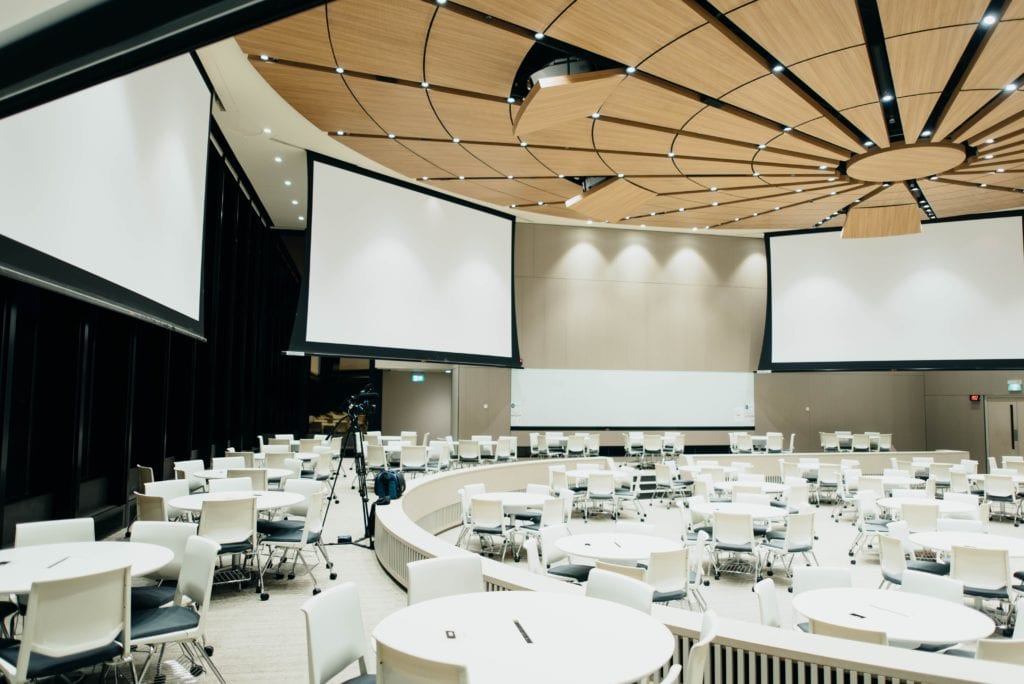 How Do Physical & Virtual Attendees Interact?
One of the biggest concerns planners have with virtual events is related to audience engagement. And with hybrid events, you will have to consider that aspect plus the dynamics between venue visitors and virtual attendees. How can both of your audiences interact with each other within this brand new and exciting format?
Some options include hosting discussions and Q&As that include both the in-person and virtual attendees. With a moderator present, conversations can be facilitated and engagement between the two audiences can easily be promoted. Someone needs to be on call at all times to ensure that everyone attending is on the same page. Tools like social media channels, hashtags, and email submissions go really far in making sure everyone is included.
What Do I Have To Consider Entertainment & Education Wise?
Deciding on the entertainment and educational sessions might be a tad more challenging than it would be if this were an in-person or virtual event. Because this time around, you'll have to consider how well the content you provide in-venue will translate into virtual. Very loud sounds and dark rooms make for a great live experience, but not so much for a good remote one.
You can always plan for common parts that will work in perfect synergy for all the moving parts of the event. Simultaneously, you can add features and sessions that have been crafted specifically for the virtual audience and the in-person audience. This way, everyone feels included and grateful that someone took the time to create seamless experiences for both circumstances.
Do I Need Outside Help?
The short answer is yes, you do. The long answer is the same we've been preaching in regards to virtual events. Even though hybrid is the future, it's still fairly new ground for most planners in the industry. And the fact that it requires so much extra production and considerations that weren't necessary in the past means a significant increase in workload.
You will want a specialized production team on your side. People who have been working in the field for years and who are also pros in putting together virtual events. Professionals that know the ins and outs of AV in venues but who are also experts in the art of engaging virtual audiences and offering a holistic solution for your event. The best way to ensure success, particularly with hybrid events, is, and always will be, to surround yourself with the pros.
What Are The Keys To A Successful Hybrid Events?
The success of your hybrid event will mainly depend on three things – content, community, and production value. As we've mentioned above, the kind of content you'll provide – both for educational and entertainment purposes – will have to be adjusted for both audiences and personalized accordingly.
In addition to this, establishing a strong sense of community and belonging is paramount. Virtual and in-person attendees have to feel cared for and tended to at the same level. Finally, the production value can truly make or break the experience. Lightning, sound, internet speed – these are all things that gain increased importance within the realm of hybrid events.

What Kind of Reach Can I Expect?
One of the best things about hybrid events is that they give you the power to reach a much wider audience than in-person events ever could. Not only are you catering to people who are physically present, but you're also giving people all across the globe the chance to be a part of this amazing experience.
If the goal of your event is to raise brand awareness or generate leads, hybrid events truly represent the best of both worlds – especially if you go above and beyond to ensure everyone has a memorable time!
What Should Venues Be Equipped With?
Now that venues are allowed to open their doors to a certain number of people, planners should keep their eye out for a series of standards. As we discussed above, hybrid events demand a higher level of production than standard ones do. Depending on whether or not you hire a production company, things can vary.
But stuff like robust Internet with good speed, state of the art cameras and microphones, onsite technical support, and the ability to test and rehearse as many times as possible should be things the venue either provides or somehow facilitates. Remember that technology can be a dangerous pitfall if you don't put enough thought and resources into it!
What Are The Advantages of A Hybrid Event?
Now more than ever, the biggest advantage of a hybrid event is that it will allow you to have a certain level of genuine human connection and interaction going on. After so many months of mandatory social distancing measures, people are hungry for feelings of togetherness and touch – even if it's in small clusters.
Add the perks of being able to reach a worldwide audience that's interested in the content you're providing, and you have a fruitful and very lucrative opportunity on your hands.
What Are Some Examples of Successful Hybrid Events?
Even though hybrid events are relatively unexplored ground, there are some great examples of successful experiences put together by some big names. One of them was produced by the team here at Endless for our client Morton Salt – check out the video here!
Other great instances of hybrid events include Apple's 2019 "Special Event", CDC's Public Health Informatics Conference, SBC's 2020 Digital Summit, and the 2019 Growth Marketing Conference. All of these are perfect examples that showcase the power and the possibilities behind hybrid events!