🔥 The Best of the Best: 
✨ Make sure your event Wi-Fi is exactly how you want it for the price you want it! Watch our webinar on Negotiating Hotel Wi-Fi.
Coronavirus Madness 😷 – (from the perspective of a moderately-informed average human being)
I just sat down at a family dinner with my boyfriend's mother who is a nurse. She was consoling me about the hysteria of coronavirus while my boyfriend was on his phone frantically reading about the active cases around the U.S. and reading all the details aloud to the table.
These are the two types of people I keep seeing. People who are saying that if we aren't careful, this virus will infect us all in a matter of weeks, and people who say that if we simply wash our hands, everything will be okay.
While it is really easy to get caught up in the whole hysteria of this disease, I also don't think that we should take things like this lightly at all. My fabulous intern Grant who is currently studying abroad just informed me that if London goes from its current level two status to a level three, he will have to leave within 72 hours. If the entire UK isn't taking this lightly, why should I?
I keep doing research and finding the same two things:
1. It's fine, just don't go around touching everybody
2. We will all die soon
Our team talked about coronavirus and its impact on the events industry on an episode of Event Brew. However, that was more than a month ago and so much has happened since then.
Even my freaking yoga studio is getting involved.
However, regardless of which camp you fall into, you cannot deny that tangible things are being impacted by COVID-19. Especially in the world of events. Lots of people are turning towards canceling their events completely to keep people safe. While I do understand why these particular measures are being taken, my team and I at Endless want to propose another solution.
Continue reading for more information:
❌ Rethink canceling your event due to coronavirus!
Rather than canceling events, we urge people to think about making their event virtual. Many organizations are turning towards this option as a solution. Even the NCAA said they might think about having March Madness games with no live audiences. And the TED conference is even considering a digital event.
This sounds crazy at first, but there are tons of great resources out there that can help support event planners shift towards this direction.
This newsletter is not meant to feed into the hysteria and act as click-bait! Instead, we want to inform event planners that there are more options out there than canceling. I hand-selected the following articles to help guide you in the direction of thinking creatively and keeping your event afloat.
🌊 5G is about to make some waves (18-minute read)
The topic of 5G and events is something we've tackled before. You might remember when Will and Brandt dedicated an entire episode of the Event Tech Podcast to it. As our resident tech-savvy, innovation-loving experts, these two have plenty to say on the subject of 5G and events. 
✨ Related articles and resources
🔌 Keep AV in mind while doing a site visit! (19-minute video)
It's time to learn the AV related things on a site visit that you must check. We all know how easy it is to not think about them at first. And you're visiting a potential venue, so there are a million other things on your mind. But that doesn't mean that AV should take a step back! Will Curran points out the 17 AV-related things you should be watching out for on a site visit.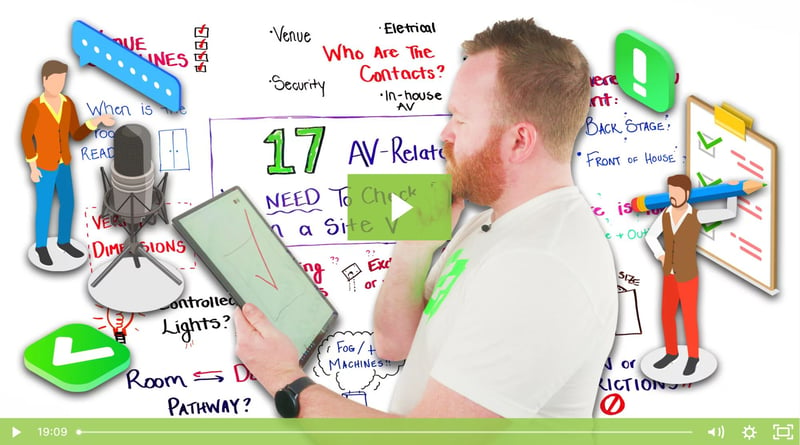 ✨ Related articles and resources
▶️ Latest shows and podcasts
📆 Upcoming events
March 24th – Will and Brandt are speaking at MPI's Northern California Annual Conference and Expo
April 21 – 1:00 pm CDT – Will and Brandt will be hosting a free webinar on 5G and Digital Events: Evolution or Revolution
🌎 Where in the world is Endless?
Did you know we're completely remote across the world? Let's see where the team is this week…
Anna is vacationing in Iceland
Will is partaking in Creative Event Team meetings in Las Vegas and then is headed to Belgium later this week!
💥Silly Scientific Findings
One of the more entertaining aspects of the Coronavirus: isitcanceledyet.com
💡 Got one last thing for ya!
"Championing the power to speak and reach out to your audience and fans has been a great tool and hence all the event professionals, James Morgan, Julius Solaris, Will Curran begin utilizing it."
Will was spotlighted in an article about event industry podcasts! Read the full article here.