🔥 The Best of the Best:
✨ Curious on how to navigate virtual events? Maybe you have some questions that you desperately need answers to. I highly suggest you tune into our free webinar tomorrow 3/24 at 4 PM EST on how to convert your in-person event into a virtual one.
It's not looking pretty…
With multiple cities going on lock down, warnings that 15 days of social distancing might not be enough, companies going through rounds of layoffs, and no way to predict how long this will go on, it honestly isn't looking good.
Its hard not to get sucked into the negativity, the stress, and the panic. I am personally really struggling with the mental aspect of all of this. However, some small things this last week have really helped my sanity and mental health.
For starters, my dad woke up one morning and told me that he needed some yoga in his life. I walked out to the backyard to see this awesome setup with music playing. This small gesture significantly lightened the mood of a really heavy day.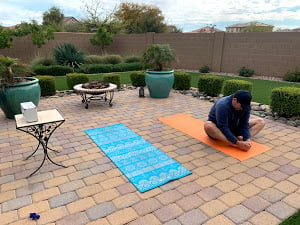 Then, later in the week, I was able to be a part of a couple virtual happy hours with my company and other event professionals:
And that's when everything started to change for me. I started to realize that during this insane time, I have actually been MORE social – just through different mediums. My team has come together in ways that we never have before, and I feel this extreme sense of unity spreading within the events community.
I am not glossing over the fact that this has been a difficult time for people, but I am trying my hardest to find some light in the darkness.
I'm heartbroken that people are out of work, seniors around the world aren't able to celebrate their graduations,  and people are feeling isolated. However, I have seen first-hand so many wonderful qualities of humanity in the last couple of weeks.
I am very uncertain of what's going to happen to the world, but I truly believe in the people who inhabit it. Even if we have to drastically change the way we operate or completely start over from scratch, I know we will all find a way to get through this together. ❤️
🔄 Convert your in-person event into a virtual one (17-minute read)
It's finally here. With all these changes happening crazy fast, we wanted to make sure you had the tools and information you need to be equipped for this insane turn of events (a little event pun to lighten the mood 😏?) Our content team did an incredible job creating this all-inclusive guide to converting your in-person event into a virtual one.
✨ Articles and resources
🔉 Did you know Endless can help convert your in-person event into a virtual one? (see what we do)
We have been doing virtual and hybrid events for a while now. We are here for you if you need your event to be converted into a virtual one. If you are overwhelmed and don't know where to start, we've got you.
👎 All-In-One solutions just aren't going to cut it (10-minute read)
It seems like everyone is starting over in events. With everything switching to virtual, you might be doing a ton of research on what to do and what platforms to use. There are a lot of great platforms out there, but at Endless we are urging people to stay away from all-in-one virtual event platforms – here's why.
✨ Related articles and resources
▶️ Latest shows and podcasts
📆 Upcoming events
✔️March 24th (Tomorrow!) – 4 PM EST – Endless is hosting a free webinar about How to Convert Your In-Person Event Into a Virtual One (Available spots are running out fast!)
✔️ April 21 – 1:00 pm CDT – Will and Brandt will be hosting a free webinar on 5G and Digital Events: Evolution or Revolution (The webinar is still a go! Yay for virtual events!)
🌎 Where in the world is Endless?
Did you know we're completely remote across the world? Let's see where the team is this week…
Our team is remote working from home 😌 and we hope you are too!
If you need some remote work help check this out: Remote Work Tips: A Guide For Life On The Road!
💥Silly Scientific Findings
New Endless employee spotlight: Chloe!
Due to the current state of everyone working from home, we have acquired a new employee, Chloe! She enjoys making snowmen in the Denver snow and checking in on her staff during meetings. 😂
If you have any fun WFH stories/pictures, send them my way!
💡 Got one last thing for ya!
We started a Slack group to bring the entire events industry together as we work through these times.
We have 175 event professionals in the chat and it's growing! There have been so many amazing conversations and connections taking place! Feel free to join!
Have a wonderful, safe, healthy week!