🔥 The Best of the Best:
✨ Believe it or not, we actually made an entire webinar all about how to negotiate AV prices. Check it out! ⤵️
🌳 Enjoying A Change of Scenery
Currently working at one of my favorite coffee shops in Tempe, Infusion Coffee & Tea. It's the perfect place to enjoy today's high of 72° in Phoenix while sipping on some coffee. I just needed to get out of the apartment and change my scenery while writing the newsletter.
For an even greater change of scenery, this weekend I am planning a girls trip to Joshua Tree, California with five of my closest friends just to get away from the city and see something new. I am so excited about it I can barely concentrate. I have this giddiness that reminds me of when I was a kid and I couldn't sleep the night before a field trip. Wasn't that the best?
I was wondering why this giddiness seems to be less apparent in adult life. Most people have 9-5 jobs in offices that take away some of the excitement and spontaneity of life. I am fortunate that I work remotely, but I started to think about you – the people who read my newsletter.
From what I have seen of the events industry, this is one of the best jobs to spark one's giddiness. Although it is an extremely stressful job at times, there are so many opportunities to get a change of scenery. One day could be an office day full of planning and logistics, but the next day could be full of site visits or even international travel.
Especially for experienced event planners, I'm sure being on the road all the time is monotonous and living out of hotel rooms is the least glamorous thing on Earth. However, I challenge everyone to enjoy just one change in scenery this week.
Whether it's working from a new coffee shop, scheduling some time for personal travel, or just taking a  moment to enjoy doing a site visit in a new city, I think we could all benefit from being present in unfamiliar surroundings.
I'll be sure to check back next week from a new coffee shop and I'll have some pictures from J Tree!
And now, here's the Weekly Soundcheck!
💲 Get those AV prices that you want! (16-minute read)
Negotiating is honestly the worst. Both sides have a number in mind, want to win, and want to end up with a better deal than the other person. Those are just the facts. Luckily, Kristen Cooper wrote an article about the key things to keep in mind while negotiating AV prices. This article also includes tactical tips like how to prevent that dreaded extra invoice and how to watch out for underbidding on AV labor.
✨ Related articles and resources
❔👍 The 11 best questions to ask your AV company (13-minute read)
You may have worked with a ton of different AV companies and could have produced hundreds of amazing events. But are you asking these questions to ensure that you're creating the best event possible? Read this article by Kaitlin Colston to learn about these questions that you need to ask at your next AV meeting.
✨ Related articles and resources
🕗 Did you know a long event day could be costing you more money?  (12-minute video)
The first thing that most people think about is how many days their event is going to take place. Are we talking about a week-long conference or a one-day festival? But most people don't initially think about how long each day will be and how that can affect AV labor costs. This video from Will explains exactly how this works and how you can save money by taking some extra time to plan.
✨ Related articles and resources
▶️ Latest shows and podcasts
📆 Upcoming events
Did you know we're complete remote across the world? Let's see where the team is this week…
Speaking of change of scenery, Katie went to Antelope Canyon this last weekend 😍😱 ⤵️
💥Silly Scientific Findings
So I don't know about you, but when there is nothing in my Apple Music library that I'm vibing with, or I need to read and just need some nice background music, my go-to is always lofi hip hop radio – beats to relax/study to.
If you are unfamiliar with the popular YouTube station created by Chilled Cow, the image below might help jog your memory. 
If you still don't know what I'm talking about, I highly suggest you go ahead and give it a listen! 🎵😅
As I said, this is one of my go-to's, so when I heard this morning that YouTube banned Chilled Cow and deleted their account, I was extremely distraught.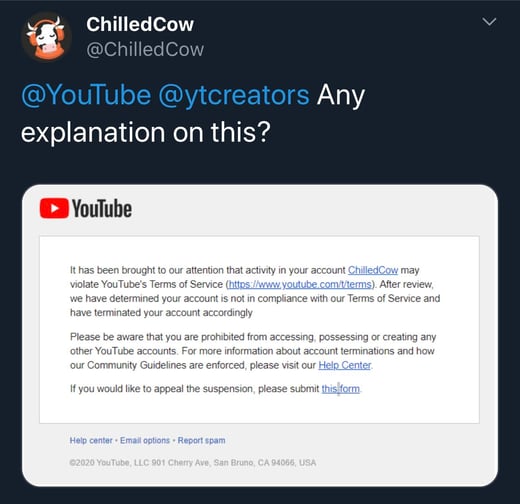 .. However, it turns out that the account was removed by mistake and we can all go back to listening to those chill beats.
So go check it out before the terror that is YouTube accidentally takes it down again! 😂